8 Healthy Themed Easter Basket Ideas
Are you looking for Easter basket ideas with a health theme?  Instead of a basket only full of candy, use this opportunity to give your kids some fun items that also encourage healthy living! 
Easter can symbolize spring, fresh starts, and discovery. For my own kids, I've enjoyed filling a basket for Easter morning, full of things the kids would enjoy outdoors and cultivate hobbies that encourage them to be healthier. These 8 Easter basket ideas are my favorite health themed baskets that we've given over the years.
Sports Themed Easter basket
Full details on this sports themed basket: Baseball Mom Stuff
You can customize the basket for your child's favorite sport.  If your kids are into more than one sport – include a variety of items for different sports. Here are some ideas to include:
New Ball (baseball, basketball, soccerball)
New Water Bottle
Hair Tie
Socks
Baseball hat/ glove
Sports collectors cards
Sunglasses
Stop Watch/FitBit
Trail Mix
Outdoor Themed Easter Basket  
Spring is officially here, and the kids love some inexpensive things to play with outdoors. You can find so many of these things at the dollar store, or your regular big box store. Our kids have loved making all sorts of pictures on the driveway with sidewalk chalk, that it has occupied them for hours!
Sidewalk chalk
Jump Rope
Knee pads, elbow pads
Squirt Guns
Kite
Frisbeee
Sand toys
Sunhat
New Swimsuit
Beach Towel
Full details on this outdoor basket, from My Mommy Style
Hiking Themed Easter basket  
Our family has done a lot of hiking over the years, and it's definitely more fun when the kids have some of their own supplies! A hiking basket will get them excited for your next outing! Even a mini camelbak of their own makes the journey a little more enjoyable.
Gardening Themed Easter basket
It's time to start a garden, so what better way to get your kids excited than to have a basket of their own gardening supplies. Even if you start with a small sprouting kit in the window sill, or you have a full garden in your yard, they can be involved and learn vital gardening skills for life!
Details for this gardening basket: Jennifer Perkins!)
Cooking Themed Easter Basket 
There is no shortage of basket ideas for a child who likes to bake or spend time in the kitchen! I love this idea as an opportunity to get kids excited about cooking healthy food and to expand their skills into making more food than toast!
cookie cutters
Whisk
Rolling Pins
Cutting board
Knives
Mixing Spoons
Cupcake liners
This cute baking basket is from Night Owl Blog
6) Spiritual Themed Easter Basket 
A Christian themed basket is not only a GREAT idea for a holiday like Easter (of course!) but it also helps to reinforce your families spiritual journey. Use the basket as a chance to share your faith and items that represent your faith with your kids and to talk about the meaning of the season.
A journal with a new pen
Pictures of Christ
Inspirational Books
Scripture pens/ stickers for marking scriptures
Inspirational Music
Religious based jewelry
Fill plastic eggs with scripture quotes
Christ Centered basket from Happy Home Fairy
Summer Themed Easter Basket
With summer just around the corner, get your kids set up for your first visit to the beach! If you won't be making it to the beach anytime soon, you can still use sand toys in a sand box, and sunglasses, towels, and sandals at the local pool.
Beach towel
Sandals
squirt guns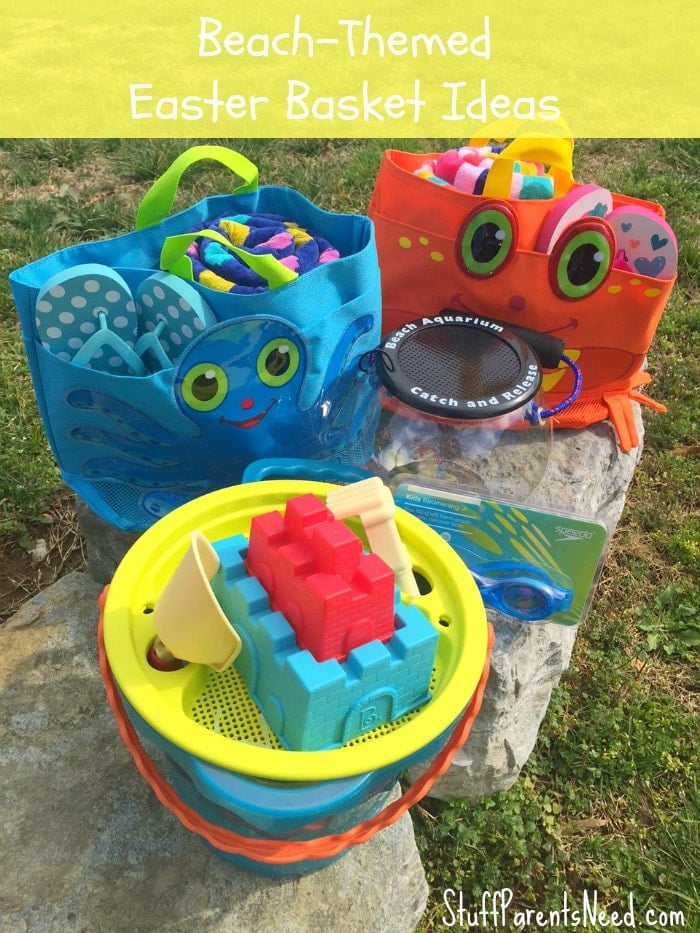 Beach themed basket from Stuff Parents need
Healthy Food Themed Easter Basket
And lastly, a basket full of healthy snacks is actually really fun for my kids. We don't buy a lot of "fun food",and these snacks are considered fun for them. Truthfully, this is what my kids are going to get this year, because the next day we're headed on a flight,and they are going to want some snacks to bring in their carry on!
Trail mix
Juice boxes
Dried fruit/freeze dried fruit
Applesauce
Single serving fruit cups
Protein bars
This Healthy snack basket from Kitchen Stewardship
And that's it! Other themed baskets that we didn't include in other non-healthy ideas would include an arts and crafts basket, a spa basket, hot wheels theme, Lego theme, Disney theme, sewing theme, books/reading theme, fishing theme, and tools-handyman theme. What other ideas can you think of?
PIN AND SHARE!!
What other Health themed Easter Baskets can you think of?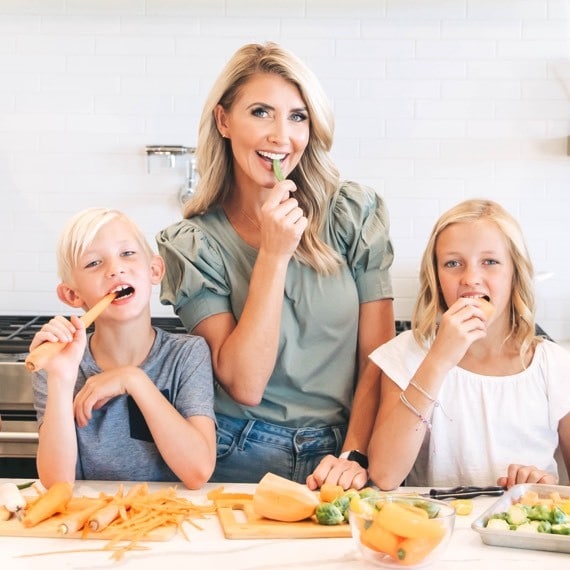 Natalie Monson
I'm a registered dietitian, mom of 4, avid lover of food and strong promoter of healthy habits. Here you will find lots of delicious recipes full of fruits and veggies, tips for getting your kids to eat better and become intuitive eaters and lots of resources for feeding your family.
Learn More about Natalie