Guide to Toddler Portion Sizes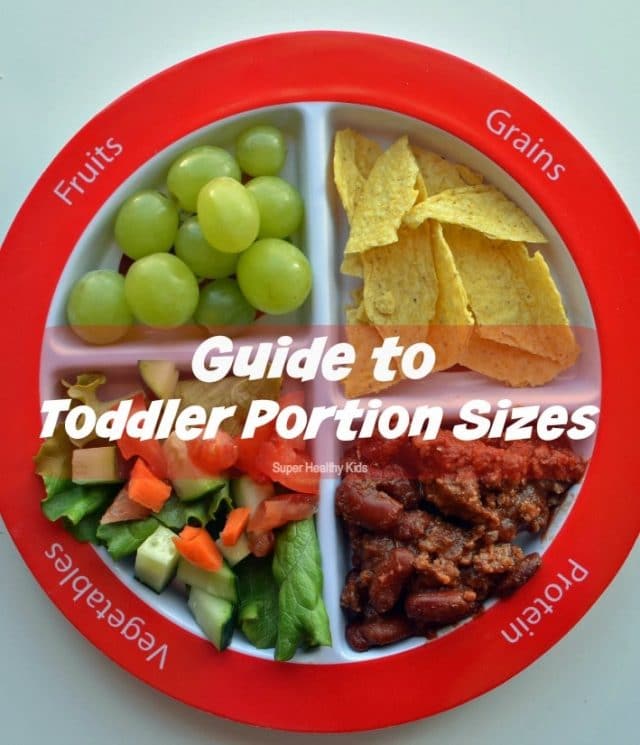 It's so exciting when your chubby little baby begins to walk, or 'toddle' their way into a toddler. But with that comes the challenges of feeding and introducing all sorts of wonderful foods to this little person. A lot of times, it seems they are barely eating enough to sustain a bird, let alone a body who is constantly on the move! How do you know how much to feed them?
Generally toddlers are very good at listening to their hunger and satiety cues. Sometimes as parents, we don't trust their cues and think "Surely they must be hungry, they haven't eaten in 3 hours!" This is where the feeding relationship comes in.
The parent's role is to buy the right food, and prepare it in a nutritious and creative way. The child determines how much, when and if they eat. Erratic eating habits are normal for little kids – they may eat well one day and practically nothing the next day. It's better to look at your child's eating habits on a weekly basis – not daily – it's much less stressful that way! I strongly believe in this feeding relationship and definitely use it with my children. We are all happier when we are focused on our own roles.
There are however some basic guidelines as far as portion sizes go. It is helpful to know if the portion you are serving your toddler is appropriate for their needs. Here are the basic guidelines for daily amounts and portion sizes for your toddler.
| | |
| --- | --- |
| Protein Foods | Vegetables |
| 2 ounces Daily | 3 portions daily |
| One ounce equals: | One portion equals: |
| 1 oz of cooked beef, poultry, or fish | 1/4 – 1/2 cup chopped fresh, cooked or canned vegetables |
| 1 cooked egg, or 1/4 cup cooked beans | |
| | |
| | |
| Dairy | Fruits |
| 4 portions daily | 3 portions daily |
| One portion equals: | One portion equals: |
| 1/2 cup milk | 1/4 – 1/2 cup chopped fresh, cooked or canned fruit |
| 1 oz cheese | |
| 1/2 cup yogurt | |
| | |
| Grains | |
| 6 portions daily | |
| One portion equals: | |
| 1/2 – 1 slice bread | |
| 1/4 – 1/2 cup cooked cereal, rice or pasta | |
| 1/2 cup read-to-eat cereal | |
| 2 small crackers | |
| 1/2 waffle or pancake | |
| 1/2 tortilla | |
| 1/2 hamburger bun, roll or 3-inch bagel | |
If you don't like measuring, a sectioned plate is a great way to estimate portion sizes. 
Toddler Size Meal Examples
---
Peanut Butter Toast, Peaches, Boiled Egg, Hash browns, Yogurt
Barbeque Chicken, Orange Slices, Steamed Green Peas, and Sweet Potato Crescent Roll
Chili, Baked Corn Chips, Green Salad, Grapes
Grilled Chicken, Brown Rice, Steamed Green Beans, Grapes, Blueberries, Strawberries
Homemade chicken nuggets, Green Pepper, Carrots, Orange Slices, Multigrain Roll
 So what if your toddler doesn't finish their plate?  It is OK!!  Offer them a variety of nutritious foods, be an example by eating those foods yourself, and don't stress!  Remember, toddlers are good at listening to their hunger cues.  Being consistent in offering healthy choices and having them stocked in your pantry and fridge is one of the best things you can do to get your kids to eat healthy foods.  What will be on your plate today?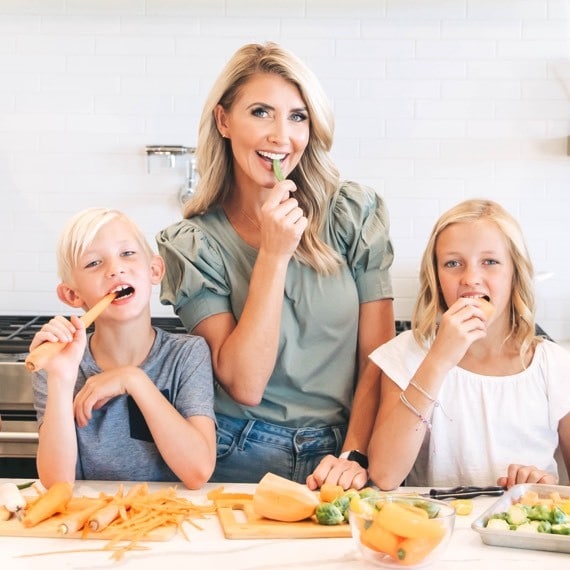 Natalie Monson
I'm a registered dietitian, mom of 4, avid lover of food and strong promoter of healthy habits. Here you will find lots of delicious recipes full of fruits and veggies, tips for getting your kids to eat better and become intuitive eaters and lots of resources for feeding your family.
Learn More about Natalie