Chicken Kabobs with Asian Dipping Sauce
Easy, healthy, and delicious meal idea for kids. Chicken kabobs! Check out this recipe from the cookbook, Real Food Diet, by Dr. Axe.
Kids love eating food on a stick, right? I love to eat food on a stick. So, instead of corn dogs on a stick, why not make them something healthy and delicious.
When I've tried grilling or broiling Kabob's for my family, I always burn the sticks. This time was different, thanks to the instruction I was following in a cookbook "soak the kabob sticks in water for at least 2 hours!!" Genius! I have no idea why I didn't know this (while I'm sure the rest of you did) It worked beautifully, and the chicken Kabobs turned out delicious!
This recipe is shared with permission from the cookbook by Dr. Josh Axe's, The Real Food Diet Cookbook.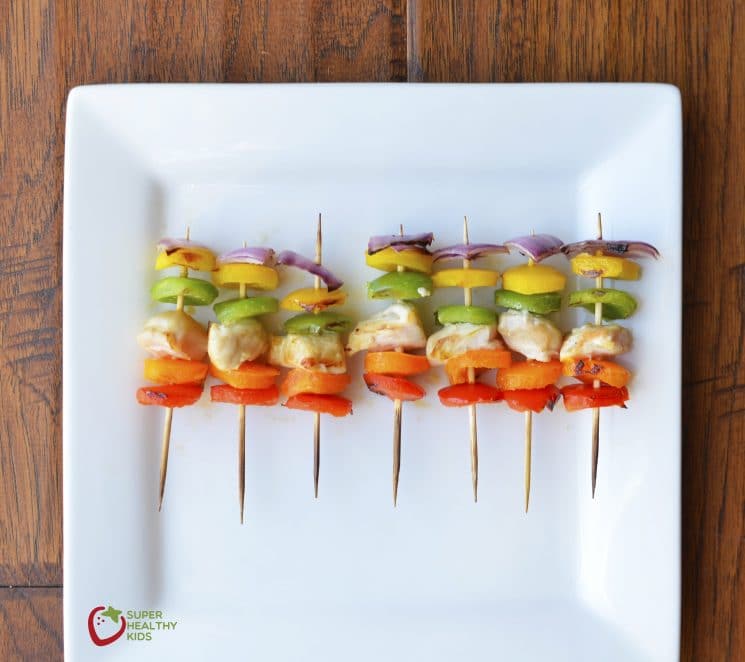 Chicken Kabobs with Asian Dipping Sauce
2 lbs. chicken breasts, cut into cubes
1/2 red onion, chopped in large pieces
1-2 bell peppers, chopped in large pieces
Soak Kabob sticks in water for at least 2 hours!! (very important)
Slide Meat and vegetables onto kabobs
Grill or broil until done.
Sauce:
1 TBL. honey
1/2 cup cashews (or 4 tablespoons cashew butter)
2 TBL. Fresh lime juice (I actually used lemon, and it still turned out amazing)
1 tsp. fresh minced ginger
1 clove garlic, minced
1/2 cup coconut milk
2 TBL. Bragg's liquid aminos
1 TBL water
Crushed red pepper flakes to taste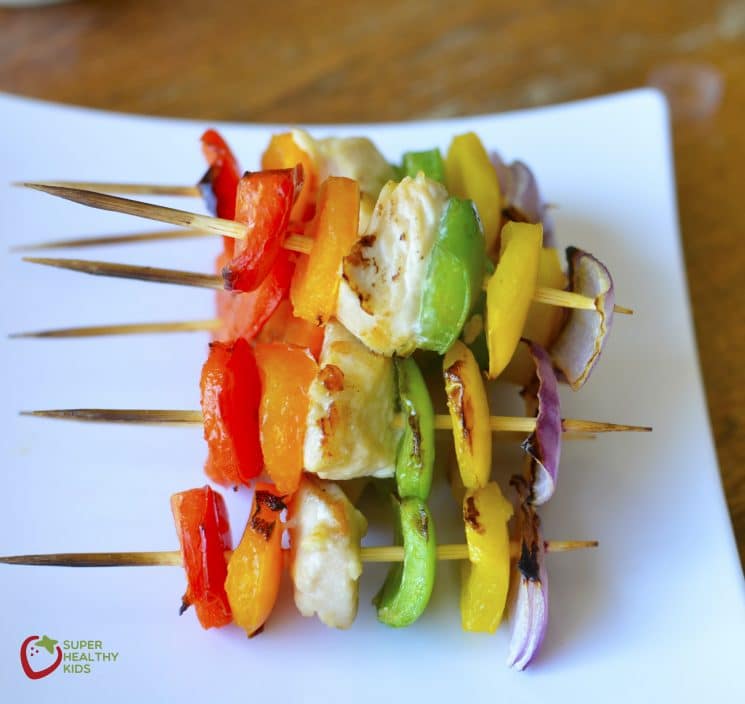 Ooo, la la! Totally divine and we'll definitely making these again, if not often. It was so easy, delicious, and fast. There were no leftovers.
What do your kids like to put on your dinner kabobs?
If you need more dinner ideas, please check out our meal plan service! We add 28 new recipes each week and design a meal plan with kids in mind that are packed full of fruits and veggies! Learn more about it here.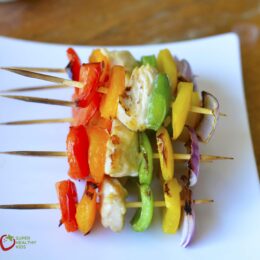 Ingredients
16

wooden

skewers

2

pound

chicken breast

1

medium

onion, red

1

medium

bell pepper, red

1

medium

bell pepper, orange

1

medium

bell pepper, yellow

1

medium

bell pepper, green

2

cup, chunks

pineapple
Sauce
1

tablespoon

honey

1/2

cup

cashews

2

tablespoon

lime juice

1

teaspoon

ginger root, fresh

1

clove

garlic

1/2

cup

coconut milk

2

tablespoon

Bragg liquid aminos

1

tablespoon

water

1

teaspoon

red pepper/chili flakes
Serve With
6

large

pita, whole wheat
Instructions
Soak Kabob sticks in water for at least 2 hours!! (very important)

Cut chicken, veggies into uniform sizes. Slide chicken, veggies and pineapple onto kabobs (place an even amount of each ingredient onto sticks).

Grill or broil until done. (Broil is a setting on your oven and the heat source is either on the top section or the bottom of the inside of the oven).

Combine ingredients for sauce in a high powered blender or food processor until smooth.  Use sauce for dipping.

Cut pita into triangles and serve with kabobs. (Serving size: longer kabob sticks will be about 2 kabobs per person as well as 1 full pita)