Freezer Meal: Extra Summer Veggie Lasagna
This week we want to share our favorite freezer meals! This weekend I was so grateful to have some lasagna in our freezer. We've had a whirlwind of a summer. Our Japanese exchange student just left yesterday and I wanted to get our house back in order- but I had about 50 lbs of apricots I was trying to pit and dry. My kitchen (and the rest of my house) just feels like it's in chaos. The last thing I wanted to do was add to the mess by making dinner.
Enter- the frozen lasagna! Wahoo!!
We don't prepare many freezer meals just for the sake of having it in the freezer, but with the same amount of effort, I will double our lasagna dish whenever I make it. The first thing I always start with in making dinner for my family, is to decide how much veggies I can pack into our dish! So, I used the summer squash I had in my garden, and then some from my fridge. Yellow squash, zucchini, spinach, and carrots.
I put all these veggies into a food processor and mixed it into our marinara sauce– easy as that!
Then, I prepared two lasagna pans! One to cook tonight- and one to put in my freezer. Some tips from our process:
I DO NOT pre-cook the lasagna before freezing. You can do it either way, but since we'll have to put it in the oven post-freezing, why cook twice?! I prefer once, so the entire UN-Cooked lasagna goes in our freezer.
Neither do I pre-cook my lasagna noodles! Never have, and I NEVER buy the special "No-cook" noodles. Not necessary.
I never spend a day freezing meals. You can just double your dinner and freeze them one at a time. Resulting in the build up quite a supply doing it this way.
You can use a variety of containers for freezing your lasagna. I prefer the disposable aluminum pans, but you can also use reusable freezer containers if you choose.
If you bake from frozen, your cooking time may possible double! You can also thaw it first, then cooking time will be normal.
(Full Recipe Below)
We'd love to know what meals you love to freeze! Please share below.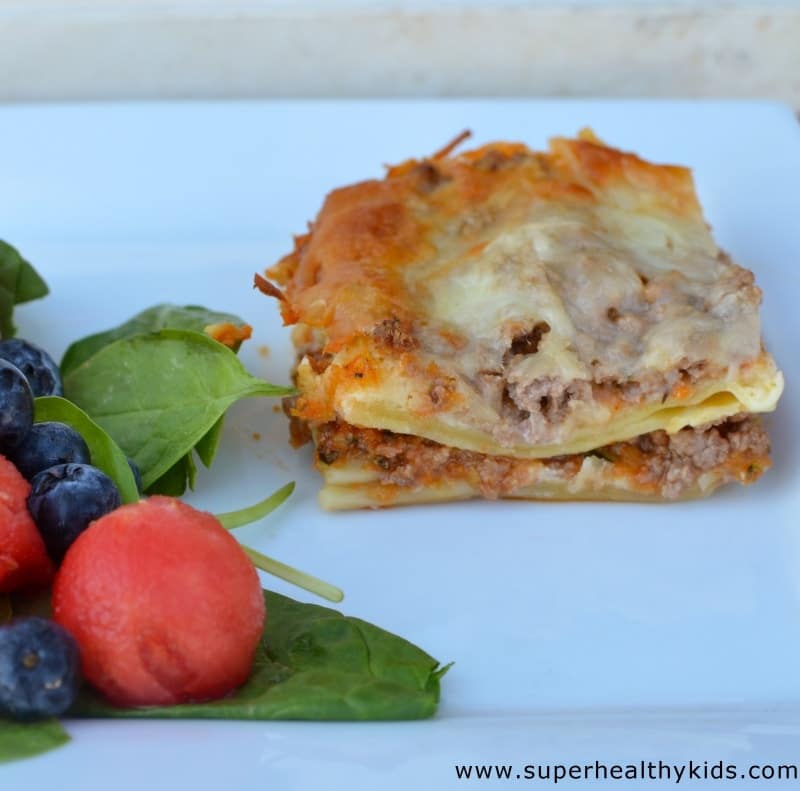 Ingredients
2

medium

zucchini

2

medium

squash, summer

2

medium

carrot

1

cup

spinach

2

cup

spaghetti or marinara sauce

2

cup

cottage cheese

2

cup

mozzarella cheese, shredded

1

tablespoon

cream cheese, low fat

1/4

cup

Parmesan cheese

1

large

egg

8

ounce

lasagna noodles, dry
Instructions
Using a food processor, chop all veggies into very small pieces. Blend with marinara sauce.

Mix cheese with the egg and set aside.

In a freezer and oven safe 13X9 inch pan, spread sauce layer on bottom. Layer uncooked lasagna noodles and half of the cheese mixture. Spread another 1-2 cups of sauce over the top. Layer more uncooked lasagna noodles. Layer once more cheese, then sauce. Sprinkle extra mozzarella cheese on top. Cover tightly with foil. Be sure to pinch or seal edges as best as possible. The less air gets into your lasagna, the less likely it will be to get freezer burn. Store in the freezer for 3-6 months.

When you are ready to cook, simply move straight from the freezer to the oven. Make sure there is no plastic packaging when you do this. Cover the top with foil. Cook at 350 degrees for 1 1/2 to 2 hours! Cook until the lasagna is hot all the way through. Remove foil and cook for ten minutes longer to melt the cheese on top and make it hot and bubbly. It is helpful for cutting to let the lasagna sit for 20 minutes after cooking is complete, otherwise, it can be too runny.
Nutrition
Calories:
296
kcal
|
Carbohydrates:
35
g
|
Protein:
19
g
|
Fat:
9
g
|
Saturated Fat:
4
g
|
Cholesterol:
49
mg
|
Sodium:
692
mg
|
Fiber:
4
g
|
Sugar:
10
g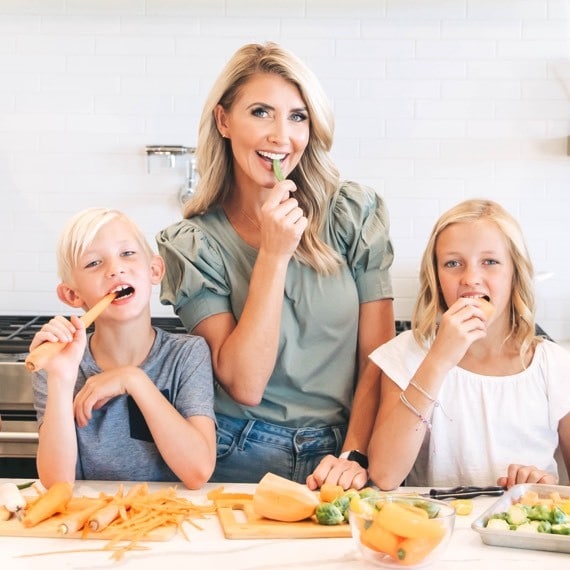 Natalie Monson
I'm a registered dietitian, mom of 4, avid lover of food and strong promoter of healthy habits. Here you will find lots of delicious recipes full of fruits and veggies, tips for getting your kids to eat better and become intuitive eaters and lots of resources for feeding your family.
Learn More about Natalie