Instant Pot Freezer Meal: White Chicken Lasagna Soup Recipe
A filling and flavorful soup straight from freezer to table in 1 hour! This creamy, veggie-packed white chicken lasagna soup will have your family slurping it up. And your Instant Pot will be your new freezer meal best friend.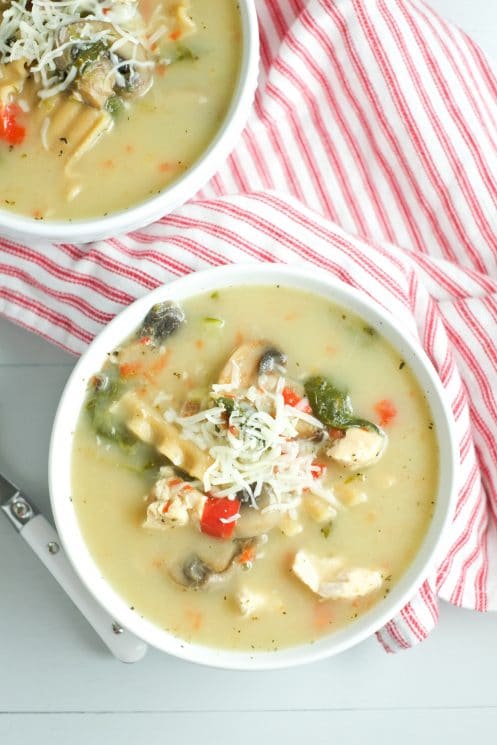 You know how freezer meals usually want you to thaw them out before cooking? Yet, you usually wish you could make one when it's last minute? Well, an Instant Pot solves that problem!
Seriously, it is a wonder to me the way you can cook from frozen in Instant Pots! This meal essentially uses the Instant Pot to thaw and cook everything, then add the noodles and cheese once the pressure is off. All in one pot!
Why we love this freezer lasagna soup
I watched the clock, and from start to finish it took 1 hour. From FROZEN. The longest part was just waiting for the Instant Pot to reach pressure since everything inside was frozen. But from there, you're on the home stretch. That's pretty amazing, and pretty great for weeknights.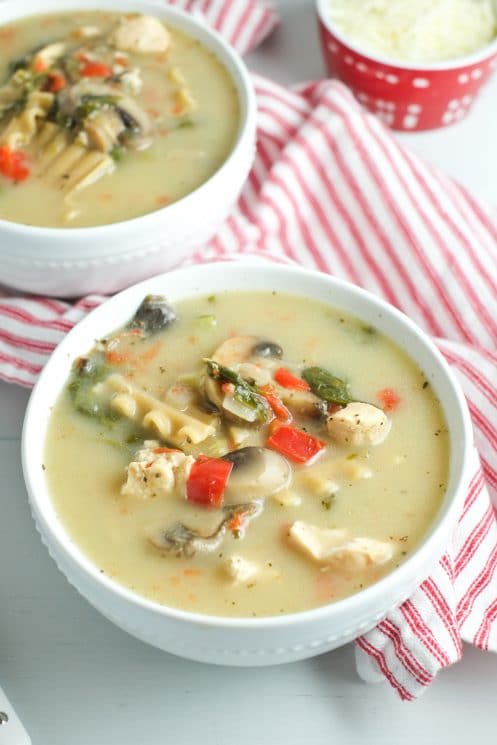 We love that it's packed with veggies: bell pepper, zucchini, spinach, and mushrooms. And I used whole wheat noodles and you can't even tell them from regular since it's soup.
Plus lean protein in chicken and cottage cheese. Instead of ricotta or cream, I just blended up some cottage cheese. All the creaminess without the excess heaviness.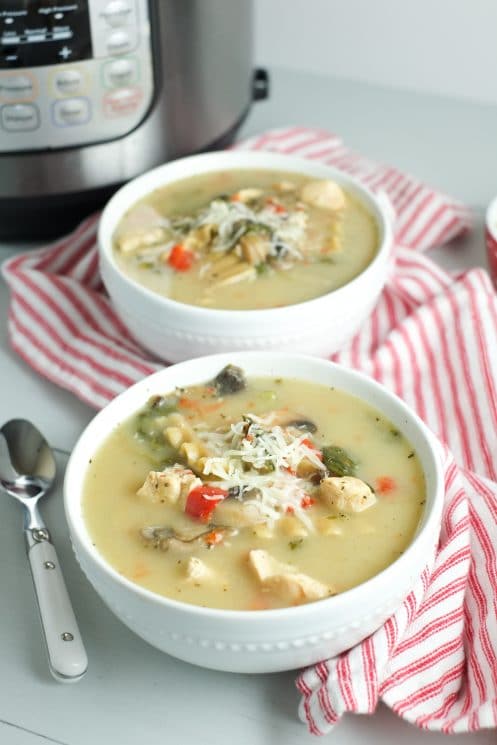 And finally, it's DELICIOUS. I shared some with friends and they asked for the recipe (true story!). It's just plain scrumptious and I'm pretty sure your whole family will love it. Slurp away!
Prep for this Instant Pot freezer meal
Here's what goes in the freezer bag:
1 pound chicken breast cut into 1 inch pieces
1 red bell pepper
8 ounces sliced mushrooms
1 medium zucchini cut into large chunks (it will pretty much disintegrate but adds nice flavor and green)
5 ounces spinach (half a bag)
1/2 an onion, diced
3 cloves garlic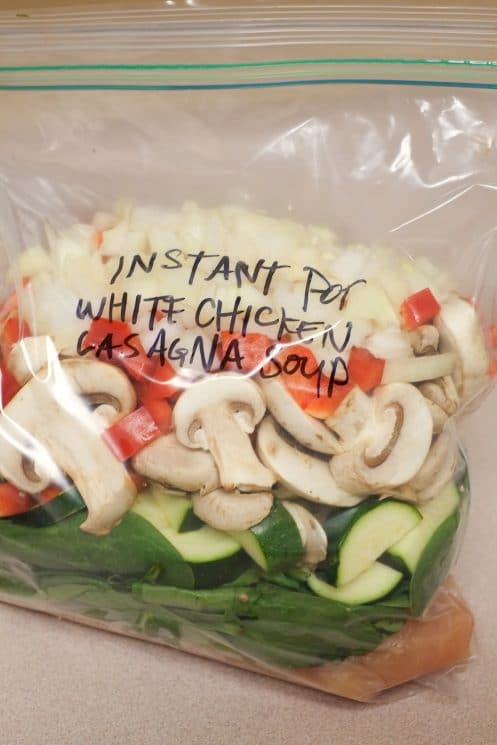 The order doesn't matter too much, so just plop everything into a large freezer bag as you go.
One tip that I think is really useful is to put the freezer bag into a round bowl or tub that's a little smaller than your Instant Pot. This way, it will freeze into a shape that will fit perfectly into the pot when you're ready to cook. Brilliant!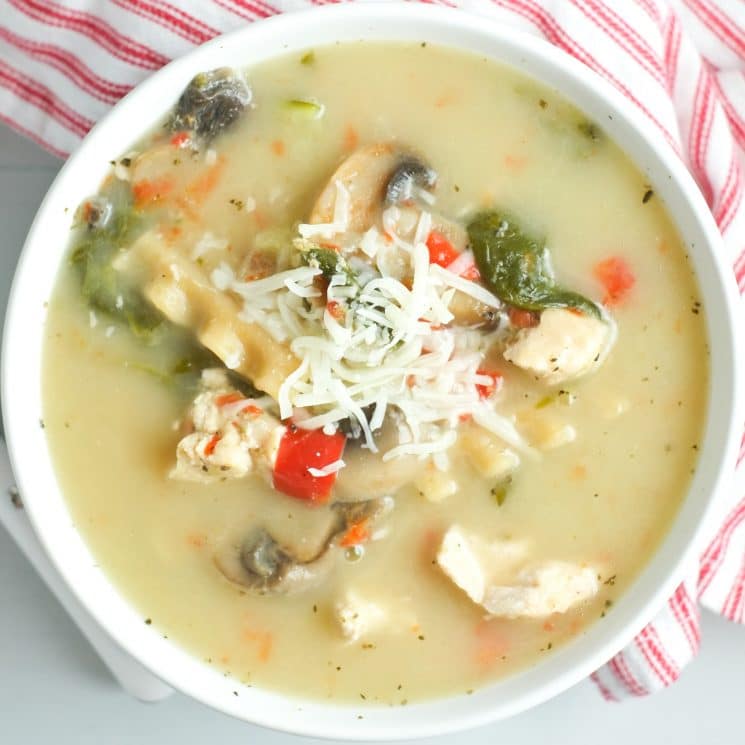 The hardest part is over! Just freeze for your next rainy day.
Cooking day for freezer white chicken lasagna soup
When you're ready to cook the soup, plop the freezer bag contents into the Instant Pot. I ran my bag under some warm tap water for a few seconds to loosen it, so it came out really easily.
Sprinkle 1 tablespoon of Italian seasonings on top. Now pour the chicken broth over everything, breaking up the frozen chunks a bit as you go. Just make sure your chicken is covered, since frozen chicken cooks evenly only through boiling (not steaming).
Now close the lid and make sure the vent is sealed. Push the "Manual" button and make sure the pressure is high, then set the time to 5 minutes and walk away.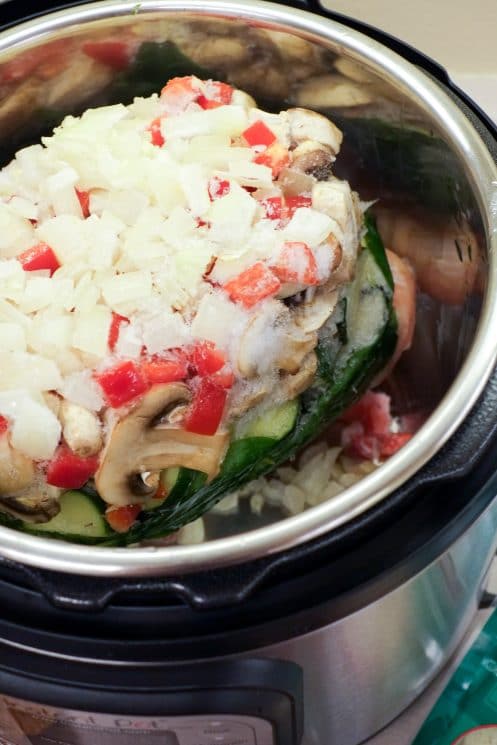 It took a little over a half hour for my pot to reach pressure, so just be patient. It is frozen after all.
Once it's at pressure and cooks for 5 minutes it will beep. Do a manual release of pressure (i.e. carefully twist the valve to "open" and allow the steam to shoot out for a few minutes).
Once the pressure pin drops, open the Instant Pot. Press "Cancel" to get out of the warming setting and then "Saute" and make sure it's on "normal." This will soon bring the soup to a boil.
Break up and drop in 8 lasagna noodles. Allow these to boil for about 10 minutes, or as long as the package says.
Meanwhile, use a blender or food processor to blend up the cottage cheese. This is mostly a texture thing, so if you are happy with chunky cottage cheese then feel free to skip this step.
Once the noodles are boiled, add the cottage cheese and a cup of Italian blend grated cheese. (If you don't have "Italian blend" just use a combination of mozzarella, parmesan, provolone, and/or romano cheeses). Top with the remaining 1/2 cup cheese when serving.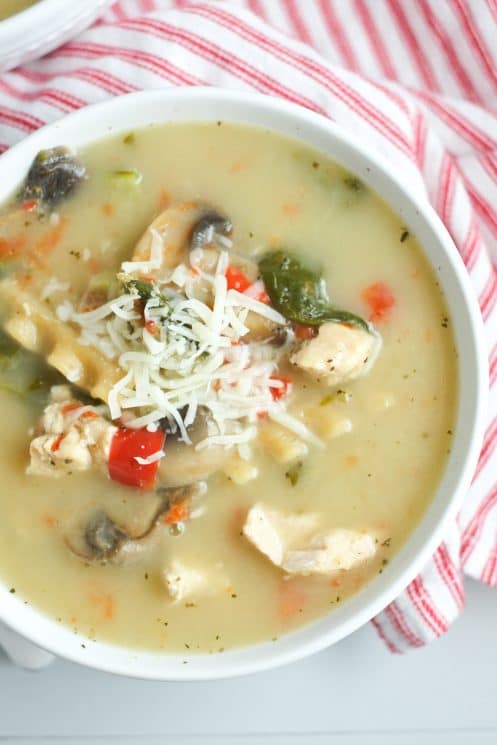 Final words
I haven't tried making this soup without an Instant Pot, but I have a feeling there will be questions. The way I would go about it is to thaw the freezer mix and then proceed to boil it with the lasagna noodles until the chicken and noodles are cooked. Then add the dairy. But if you try it, let us know what worked for you!
Now dish up! This soup goes really well with some easy artisan crusty bread and fruit. You will love this soup!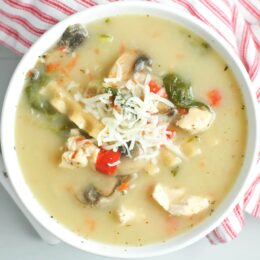 Ingredients
1

pound

chicken breast

1/2

medium

onion

3

clove

garlic

1

medium

bell pepper, red

2 1/2

cup, pieces or slices

mushrooms, white

1

medium

zucchini

5

ounce

spinach

1

tablespoon

Italian Seasoning

8

cup

chicken broth, low-sodium

8

ounce

lasagna noodles, dry

1

cup

cottage cheese

1

cup

mozzarella cheese, shredded

1/4

cup

Parmesan cheese, shredded

1/4

cup

provolone cheese
Instructions
Cut chicken into 1-inch pieces. Dice onion, mince garlic, and slice mushrooms. Dice red bell pepper and chop zucchini into chunks.

Fill a gallon-sized freezer bag with all the chopped ingredients, plus 5 ounces (half a bag) of spinach. Place the bag in a round bowl or container that is smaller than your Instant Pot bowl and freeze (this helps shape the frozen contents so they fit in the Instant Pot). You can remove the bowl once frozen.

Remove the freezer bag from the freezer and run under tap water for a few minutes until the sides have loosened. Plop contents into the Instant Pot.

Sprinkle 1 tablespoon of Italian seasonings on top, then pour in 8 cups of chicken broth. Try to break up the frozen block as you go, and make sure all the chicken is submerged.

Close the lid and make sure the vent is sealed. Push "Manual" and make sure pressure is "high," then set the time to 5 minutes. Reaching pressure will take about a half hour before the 5 minutes of cooking starts.

Once the cooking has finished and the pot beeps, do a quick "manual" release of pressure by setting the vent to open (be careful). Once the pin drops, open the pot.

Push "cancel" and then "saute" and make sure it's set to "normal." Break up the lasagna noodles into bite-sized pieces and drop them in once the soup is boiling. Continue cooking until noodles are done, about 10 minutes.

Meanwhile, blend 1 cup of cottage cheese in a blender or food processor (if desired). Add cottage cheese and 1 cup Italian blend cheese (or a mix of mozzarella, parmesan, provolone, and/or romano).

Garnish individual bowls with remaining 1/2 cup cheese and serve warm.