Bold but simple, Feed-a-Crowd Beef and Bean Burritos can be made ahead to satisfy big families (and create leftovers!)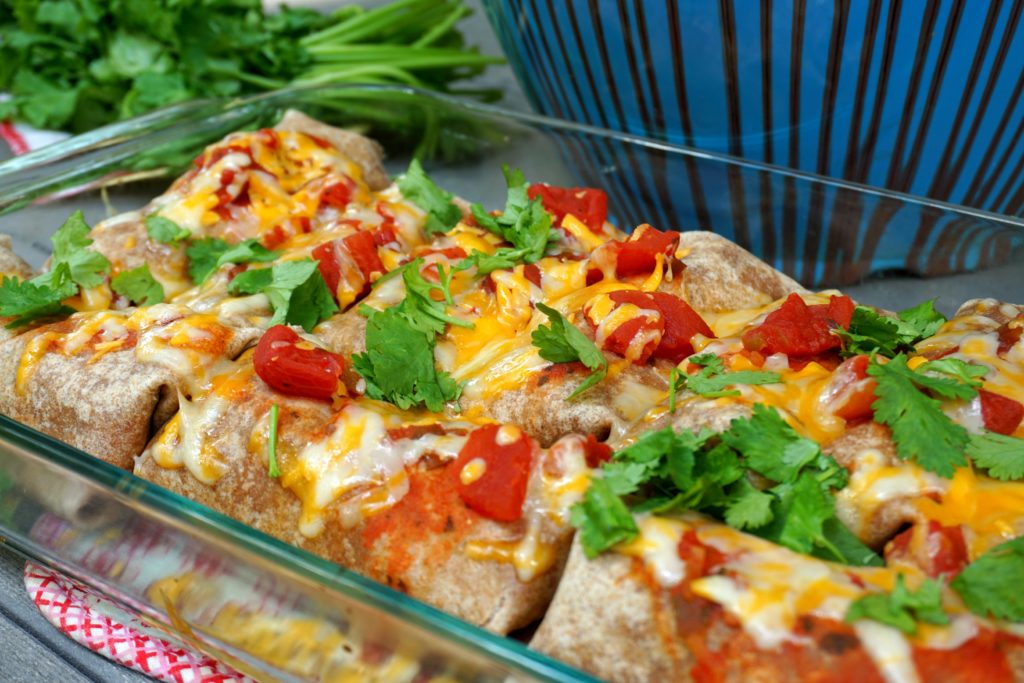 I love burritos, and so do my kids. But I rarely make them at home. Why? Because making burritos is a stand-around, hands-busy kind of activity. Like flipping pancakes.
And since I'm a working mama with two little kids, I don't usually have time for that kind of cooking. (If you're wondering, I throw my pancake batter into mini muffin pans and bake it. That's right.)
OUR LATEST VIDEOS
But when I discovered that I could make ten burritos all at once, and line them up in a baking dish for a heat-on-my-time meal, I had to try it!
Not only was the prep easy, I also found that that I could get a solidly delicious and nutritious burrito using just SIX ingredients.
Feed-a-Crowd Beef and Bean Burritos are a totally do-able dinner you can feel good about serving your kids.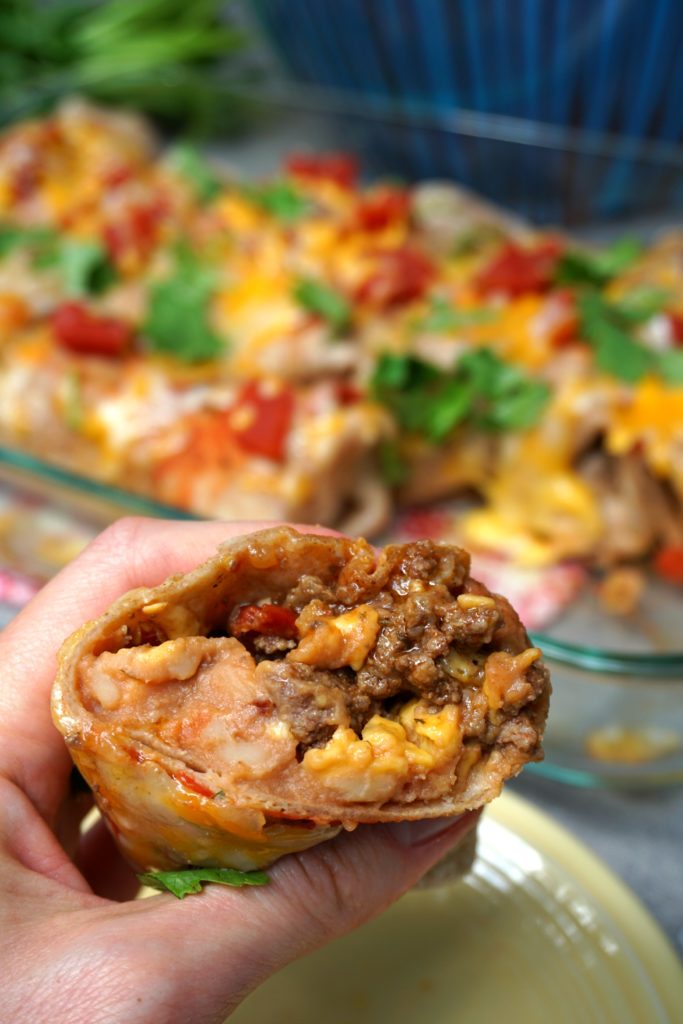 A Healthy "Taco Tuesday"
In America, Mexican cuisine doesn't have a reputation for being super healthy. But when you make it at home, it is!
Let's break down what makes these beef and bean burritos healthy and nourishing for you and your kids:
Fiber-rich whole grain tortillas (look for 100% whole wheat at the store.)

Heart-healthy beans for a good source of plant protein.

Ground beef (we use grass-fed) for protein and easily absorbable iron.

Whole milk cheese for calcium, protein, and brain-building fats.

Zesty tomatoes and onions for a boost of vitamins and phytonutrients.
We like to pair these burritos with a simple veggie side like salad, coleslaw, or crunchy raw carrots. Or even some fresh fruit.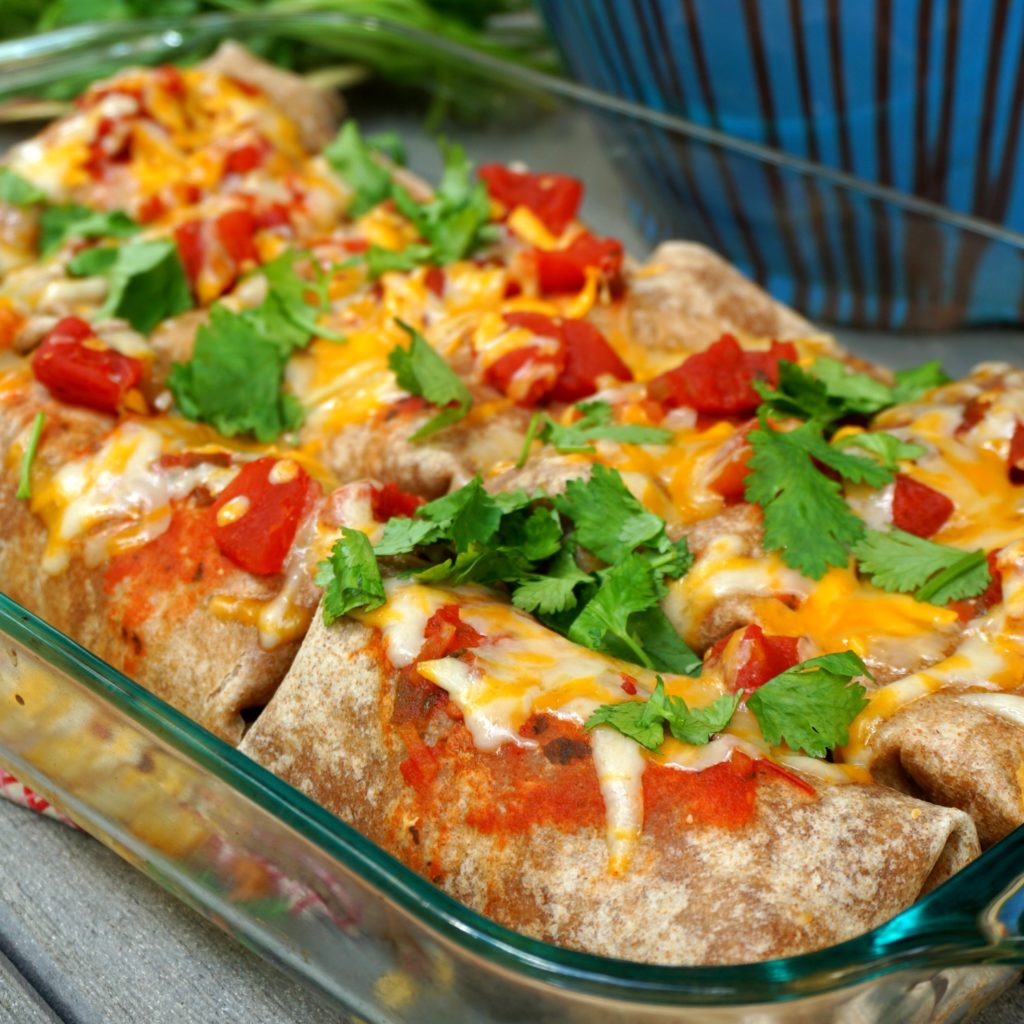 Easy Beef and Bean Burritos
Here's the scoop on these burritos: They've got SIX main ingredients. Just six! Even so, they taste anything but basic.
Of course you can add extras if you like, like salsa, shredded cabbage, or avocado. But even with just the basic six, you'll get lots of flavor. And the cooking and assembly is easy peasy, and can be done ahead. Here's how:
Saute the beef and onions, add a half a can of zesty tomatoes with chiles, then pile it all inside warm whole wheat tortillas along with refried beans and cheddar.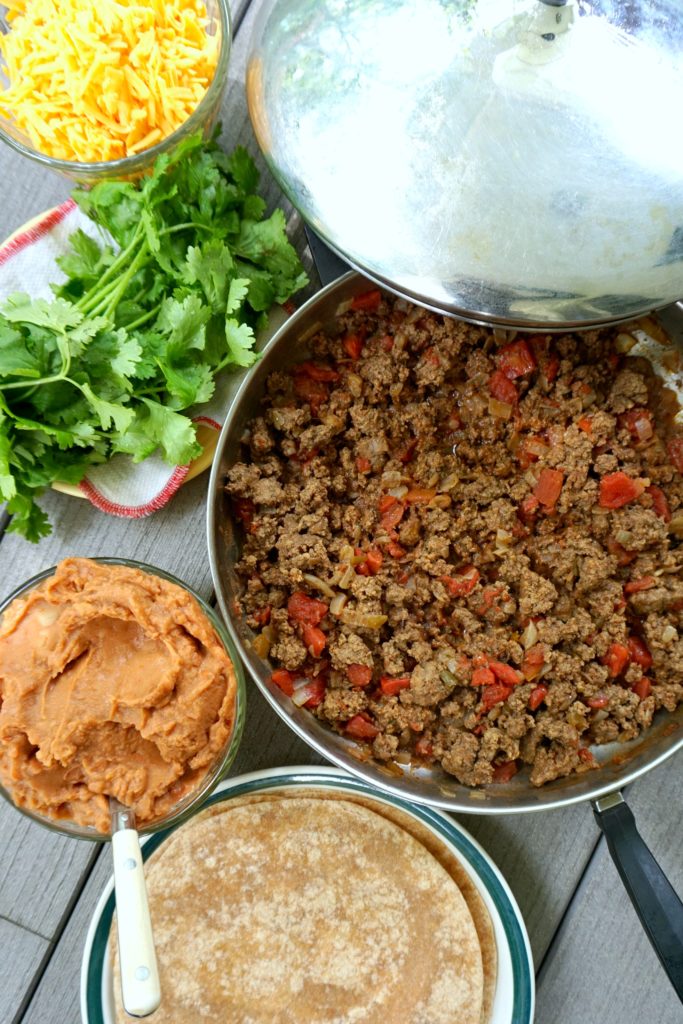 You could even mix and match your burritos to make some vegetarian, some with the beef, and some with leftover cooked chicken, if you've got it.
Then place the rolled-up burritos in a baking dish and top with the rest of the tomatoes, and more cheese. Bake until it's all melty, throw down some chopped cilantro, and you've got healthy, tasty burritos for days!
Literally, days. Send the leftovers in a lunchbox, or wrap them individually in tin foil to freeze. Enjoy!