Your Halloween dinner is here!  Frankenstein Pasta is adorable to serve and even easier to make!  You'll steal the show with Frank! 
How to Make Holidays Fun and Healthy
Holidays can bring out way too much sugar and way too much food dye.  Let's nix the dye and go for basil pesto to make our green Frankenstein Pasta!  He's just so adorable! I was giggling when I was putting him together in the kitchen and sending photos to my friends because he just came to life right in front of me.  Sometimes you just need an idea to make food fun and it is just as appealing as something less healthy to your kids!  We love creative and fun food, but nothing complicated!   Check out some of our other fun food ideas, or also search our Holiday categories.
I served the pasta cold, but you can serve it hot if you prefer!  The cumbers work great in a cold pesto pasta (as would tomatoes) and when I serve it cold I can make it hours before dinner and no one will know the different! Got to love that!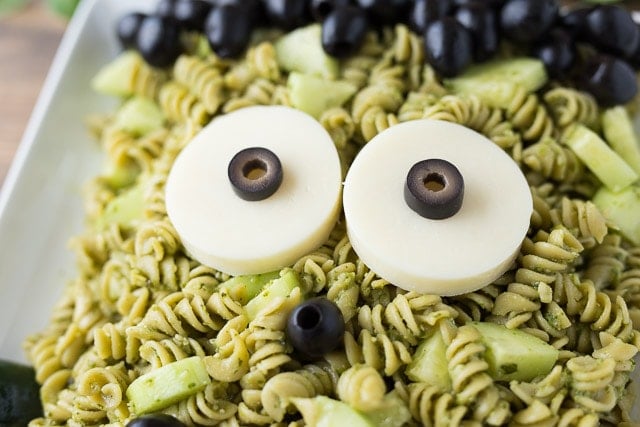 Why will your Kids Want to Eat This?
First of all, he's so cute! If you have a bunch of boys you can make him scary and use cherry tomatoes for the eyes, but I chose to make him as friendly as possible.  Second of all, it's just pasta! Kid's love their noodles and the fact that it's green will be A-O-K in their book because it's Halloween themed!
OUR LATEST VIDEOS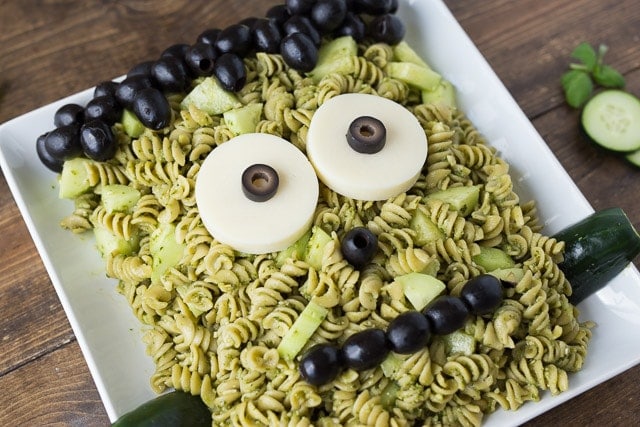 Healthy Frankenstein
I used Barilla Veggie Pasta in my Frankenstein because saw it grocery store and wanted to give it a shot and it was so good!  But you can use whatever whole wheat pasta you have in the pantry already.  I also wanted to break up the pasta with some veggies so I went with cucumbers!  If you want to pack veggies like tomatoes into the pasta that aren't green, you can layer them at the bottom and then put the green pesto pasta on top.
I used the extra cucumbers to make the "bolts" in monster's neck, it worked perfectly!  I love this dinner because it has all the cuteness of Halloween dinners but non of the dyes and very little fuss.  No hours in the kitchen, no weird ingredients I've never heard of and no intricate details to stress over.
I used olives to make the hair, nose and mouth.  You can use other veggies to make the mouth and nose, but I needed something black to make the hair and olives did the trick!  Plus, who doesn't love sticking them on their fingers?  Guilty! And those big eyes? Slices of mozzarella!
You can use whatever pasta you want!  Spaghetti, bowties, shells… whatever your kids love!
Need some more ideas for creepy and cute snacks for Halloween? We have them!