In the mood for Mexican? These Green Chili Chicken Enchiladas with homemade sauce will hit the spot!
One Pan Dinner for the Win
I don't care if you're in college, a mom of 6, living alone or retired–One pan meals are always a life saver! Enchiladas will always have a warm place in my heart (and stomach) because it's what my mother made best.  When I came home from volleyball practice and I smelled enchiladas in the oven I couldn't help but to yell out "Yesssss!" and run over to my mother with the biggest smile on my face.  I hope these Green Chili Chicken Enchiladas make your kids just as happy!
Why will your Kids want to Eat this for Dinner?
These enchiladas consist mostly of cheese and chicken.  There's no olives, nothing spicy, no strong strange flavors and no broccoli in sight! I sprinkled mine with cilantro on top but if you think that will make them think twice when picking up their fork, then leave it off!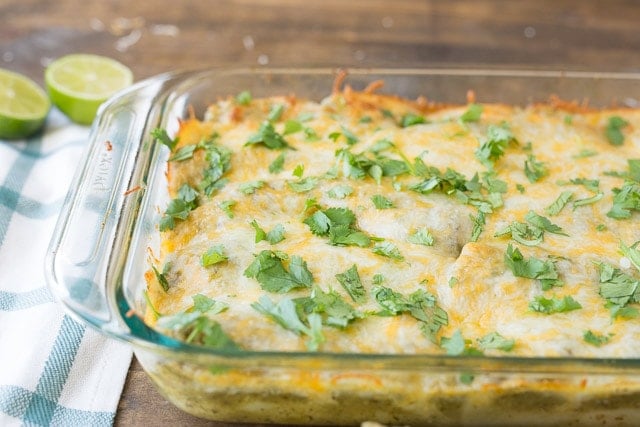 A toma-what?
Tomatillos!  If you don't know what they are, don't fret! These magical little guys are at just about every grocery store (though sometimes they like to hide in the corner) and they are part of what makes a green salsa green! Do you know that magical Cafe Rio salad dressing? Yup, tomatillo dress! There's only two things you need to know about these little guys… you need to take off the outer layer and then rinse them.  They're sticky! I know it's strange but we're all a little weird on the inside, right?  Right.  Shopping Tip: When I'm at the store I'll rip open that outer layer to make sure they're green inside and not a pale-pale green.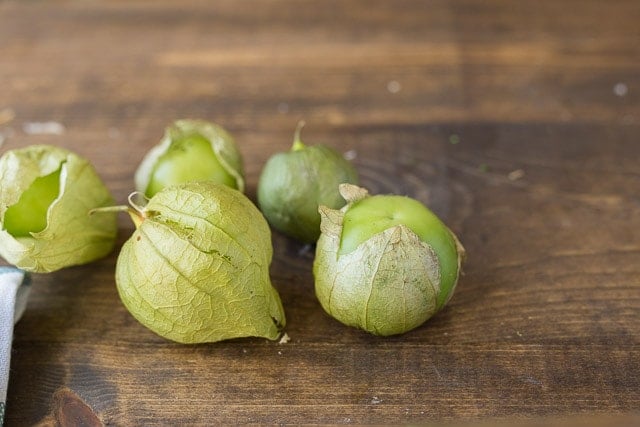 Flour or Corn Tortillas?
You can pick your tortilla based on taste or you can pick based on a few other factors, but at the end of the day it doesn't matter too much.  So if your kids love flour, then go with that and don't lose any sleep! But if you're curious… flour tortillas usually have more calories, fat, carbs and sodium than corn tortillas.  Flour tortillas do have more protein but I still opt for the corn because the chicken in the enchiladas has plenty of protein.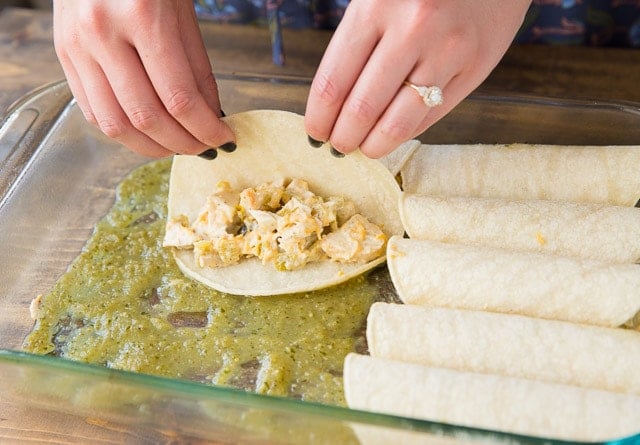 Pardon my finger nails, I promise they aren't black!  They're navy but somehow photographed black so I look a tad gothic.  I just wanted to show you how I roll my enchiladas!  I put some of the sauce on the bottom of the pan to keep them from sticking and I just pack in the rolls the best I can.  I always have a mini row at the end facing the other direction, but I don't mind!  Once it's covered in cheese it always looks delicious!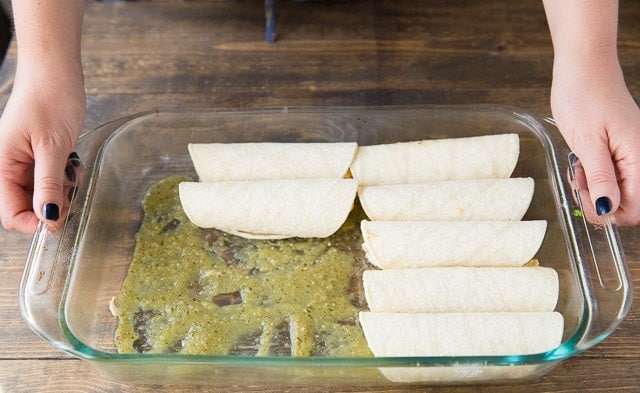 Look at that sauce go!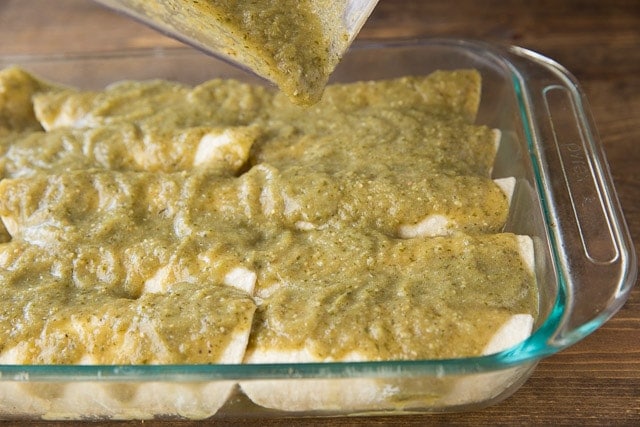 Cheese time.  Okay, some enchilada recipes call for 6 cups of cheese.  I think that's way overboard but you get to do what you want! Use as much or as little as you and your family like–make it your own! Enjoy our Green Chili Chicken Enchiladas!
If your kids just can't get enough Mexican food, try our Mexican Pizza!