Loaded cucumber cups are a refreshing snack with a savory filling that will keep your kids full until their next meal! 
Why Are Cucumbers So Healthy?
Cucumbers are 95.2 percent water and so they are a really hydrating food to eat for kids especially when it is hot!
Cucumbers contain an anti-inflammatory substance called fisetin which has recently been suggested that it plays an important role in brain health.
Bad breath is usually caused by bacteria in the mouth. Fiber and water-rich vegetables like cucumbers can boost your mouth's saliva production, which in turn helps wash away the bacteria that cause the odor in the mouth.
Can help prevent constipation.  Cucumbers are rich in water, and their skin contains insoluble fiber. Both water and fiber help food to move through the digestive tract quicker and more easily, helping prevent constipation.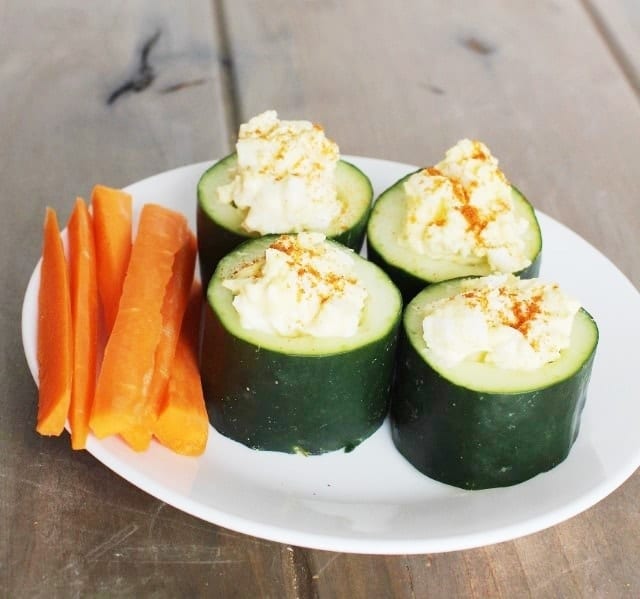 How to Make Cucumber Cups?
You will want to serve them pretty soon after you make them.  The cucumber will lose its moisture and not be as crisp if you wait too long.
Healthy Snack for Kids
This snack combines the nutrition from the cucumbers with the protein and substance of boiled eggs.  Each egg contains 6 grams of protein which is awesome for growing kids.  Protein does so much more than just give you 'strong muscles'.
Protein is an important component of every cell in the body. Hair and nails are mostly made of protein.  You also use protein to make enzymes, hormones, and other body chemicals.  Studies show that protein is by far the most filling macronutrient. It helps you feel fuller longer which is great for kids.
Favorite Cucumber Snacks