An adorable party snack that packs in the veggies! Veggies wrapped in cream cheese-slathered cucumber slices. They're quick and easy to make, and sure look festive! These fun, fresh cucumber roll-ups are perfect for a party table for both kids and adults.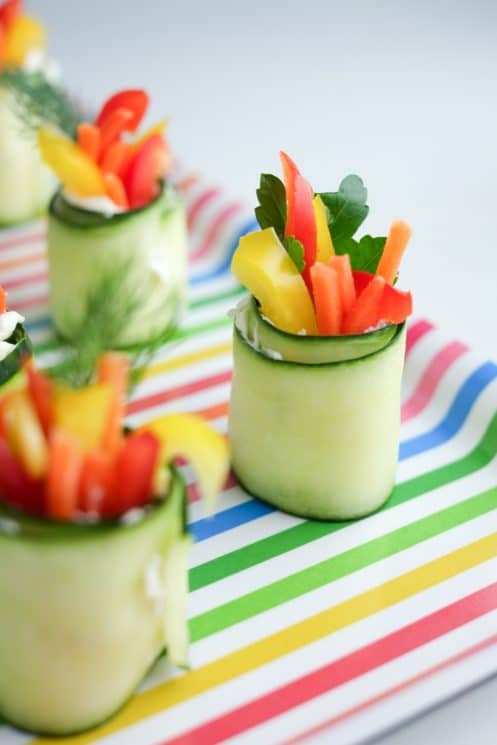 Do you ever get tired of serving the same old tray of veggies the same old way? Same old, same old carrots and dip. But you want to provide healthy options, so what else is there?
Cue cucumber roll-ups!! They give you different textures and flavors all in one bite, plus some cream cheese and herbs for flavor. These may not be every kids' cup of tea, but it's all about giving new options to try from. Everyone will want to at least try one at your next party!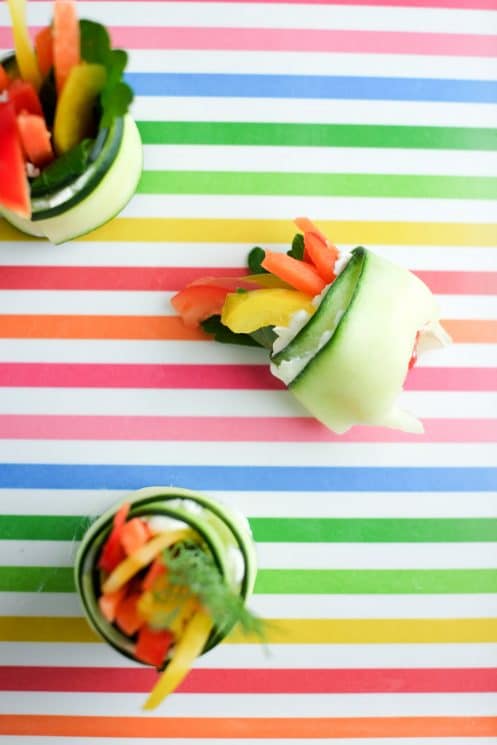 Plus, these cucumber roll-ups are fun to look at and to eat! They're super festive and colorful and will brighten any table. You can get creative with the ingredients and even with the name. Veggie sushi or cucumber party rolls, perhaps?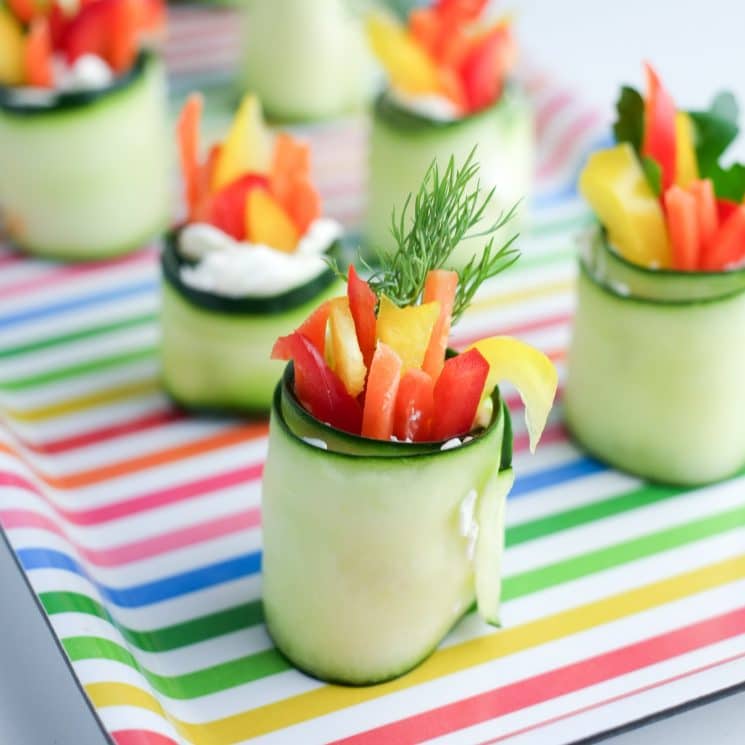 How to make cucumber roll-ups
What you'll need:
1 cucumber
a vegetable peeler
4 ounces cream cheese, softened to room temperature
1/2 cup of matchstick carrots
a bell pepper (or two, if you want varied colors)
some optional herbs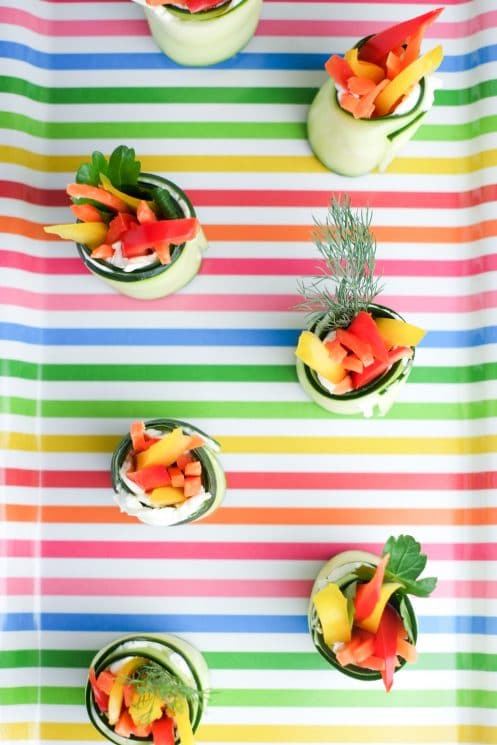 First, make sure to give your produce a good rinse and dry. Cut the cucumber into thin strips using a vegetable peeler. I recommend getting the thinnest cucumber because it will be easier to slice with the peeler in the center. But even if the cucumber you pick is too thick for the peeler to handle, just shimmy off what you can.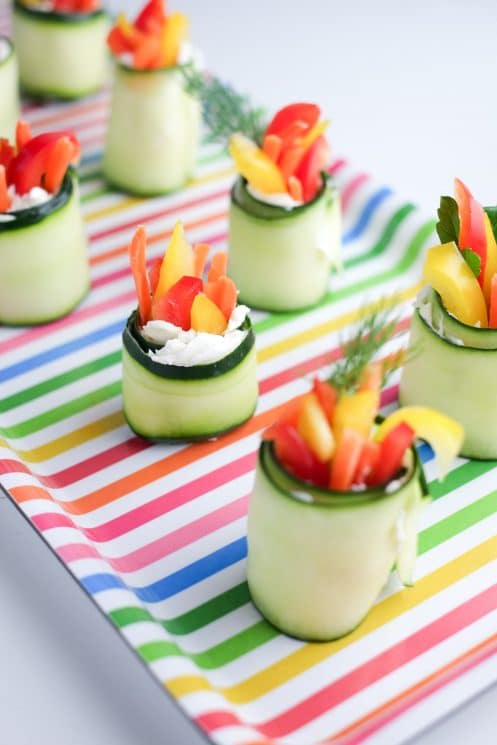 Soften the cream cheese by leaving it out for a few hours until it's about room temperature. Gently spread a thin layer of the cream cheese over each of the cucumber slices. It's a little awkward to spread since the cucumber is wet and the cream cheese is slick, but just try and slather some on.
Slice half a bell pepper into thin matchsticks. I used a quarter each of a red and yellow bell pepper for extra color. You're also welcome to cut your own matchstick carrots, but let's be real – that is a hassle! Buying a bag is much easier, and I like having them on hand for salads and snacking.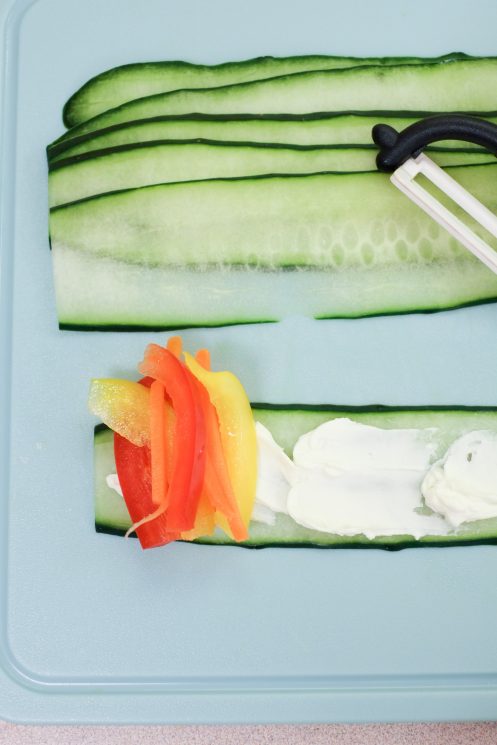 Now place a mix of matchstick carrots and bell pepper sticks at one end of each cucumber slice. If desired, sprinkle some fresh herbs in there as well – dill or parsley work nicely. Once filled to your desired amount, roll. The cream cheese works nicely as a binder to keep everything together.
Serve these veggie bites cold. Enjoy these fresh, crunchy cucumber roll-ups at your next get together.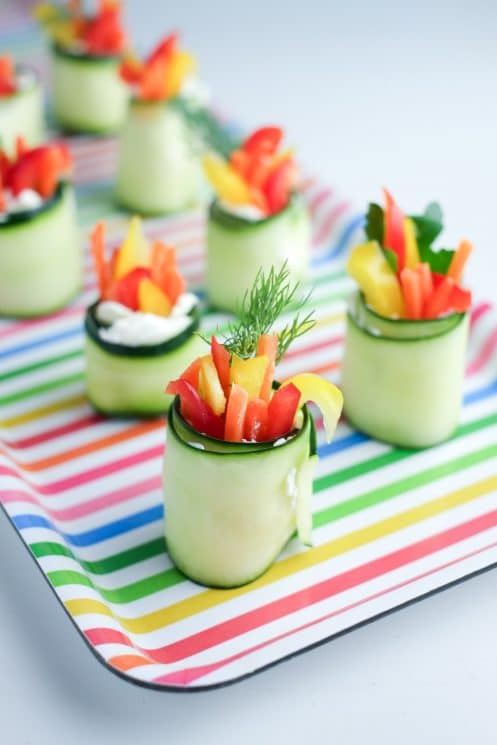 What are your favorite ways to make veggies fresh and fun for parties?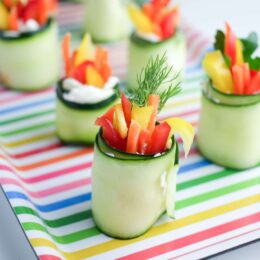 Ingredients
4

ounce

cream cheese

1

medium

cucumber

1/2

medium

bell pepper, yellow

1/2

cup strips or slices

carrot
Instructions
Soften cream cheese to room temperature and mix with a spoon to soften.

Wash and dry your cucumber. Using a vegetable peeler, slice into really thin strips (thinner cucumbers work best).

Cut bell pepper into matchstick pieces. I used a quarter each of red pepper and yellow, but you could just use one or the other if it's easier.

Spread a thin layer of cream cheese down each cucumber slice. On one end, place a handful of carrots and bell pepper, along with fresh herbs if desired (optional).

Roll up and serve!