This Crockpot Vegetable Soup is packed with veggies in a creamy, cheesy base that makes it an instant dinner winner. It checks all the boxes.. easy, healthy, and incredibly delicious!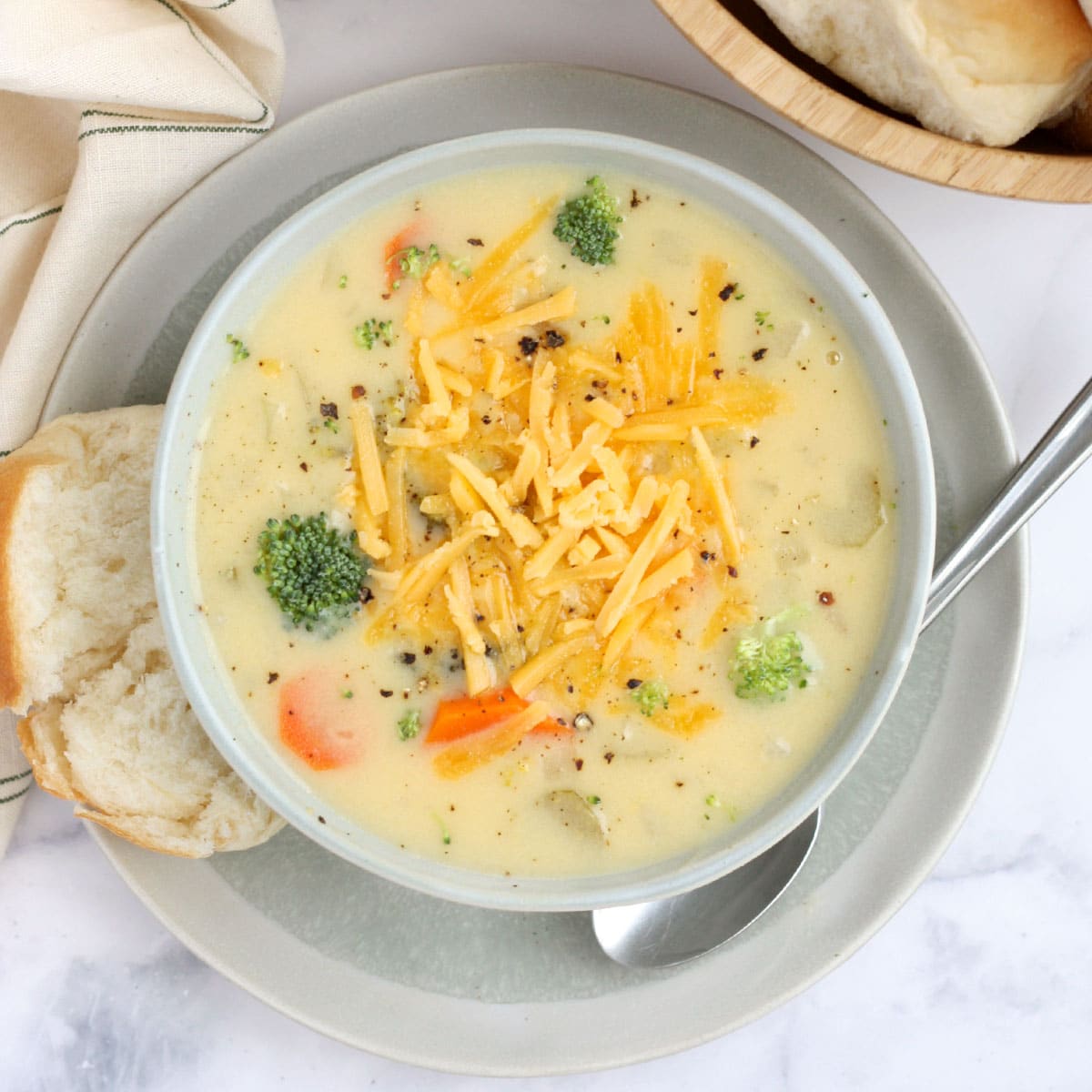 Why We Love This Crockpot Vegetable Soup
The number one question we get from parents is "How can I get my kid to eat vegetables"? We are actually thrilled you are asking this! If you are asking, it means you understand the huge impact vegetables can have on our children's health. Studies have shown us time and time again, that consuming vegetables promotes healthy growth and development, helps prevent diabetes and cardiometabolic diseases, and strengthens their immune system. It also gives them energy (a double-edged sword, we know!)
That's why we love to bring you recipes like this Crockpot Vegetable Soup. It gives you a way to introduce your kids to a variety of vegetables in a recipe that they are going to love. The creamy, cheesy base is a total win for the whole family. It comes together so easily, and is completely adaptable. Use whatever veggies you have on hand! The rest of the soup relies on pantry and fridge staples that we always have on hand.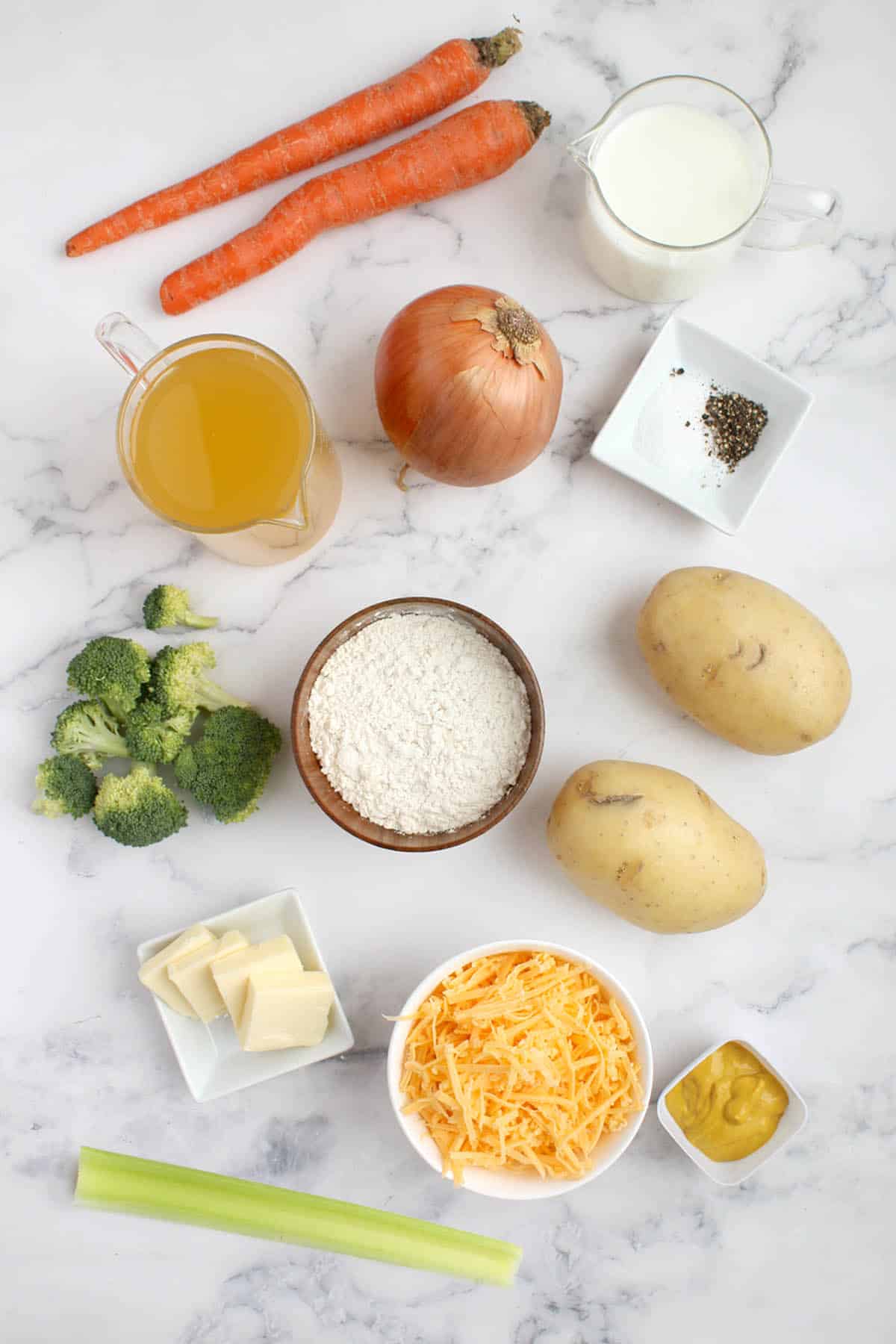 Ingredients for Crockpot Vegetable Soup
Potatoes– we used yukon gold potatoes for this soup. They're our favorite for this soup because they hold their shape well in the slow cooker, and don't have to be peeled! But you could also use russet or red potatoes.
Carrots– carrots are a sturdy vegetable that hold up well in slow-cooked soup. They are also pretty kid friendly!
Onion– we used a yellow onion. If you or your kids are sensitive to onion you could dice it small, or even leave it out (although it gets major points for flavor!). You could also substitute green onion, which is much milder. Or even onion powder.
Garlic– garlic is a superstar ingredient that not only adds delicious flavor, but nutritional punch as well!
Celery– celery is a great flavor base in soup!
Broccoli– the broccoli is delicious in this creamy soup, reminiscent of cheddar broccoli soup. It cooks down so even kids who usually turn up their noses at broccoli might enjoy it here. It's a great way to get them to eat this healthy veggie!
Chicken Broth– broth adds a delicious flavor to soup. You could also use vegetable broth if you want to keep it vegetarian.
Butter– we used salted butter. It adds a rich flavor to the soup, and also aids in thickening it. You can substitute olive or avocado oil if desired.
Flour– flour is used in the roux for thickening the soup. We used all-purpose flour. If you have a gluten allergy you could use a gluten-free flour, or skip the roux and thicken the soup with a cornstarch slurry.
Mustard– we used regular yellow mustard. It adds a yummy flavor that doesn't taste strongly of mustard. You could also use 1 tsp of ground mustard.
Salt– we like coarse kosher salt. It enhances the flavor of the soup without making it taste salty.
Pepper– fresh cracked black pepper adds well-rounded flavor without adding heat. You can leave it out if you have picky eaters.
Milk– we like to use whole milk in our creamy soups, but you can use reduced fat or non-dairy milk also.
Sharp Cheddar Cheese– sharp cheddar really enhances the flavor of this mild soup, but you can use whatever you have on hand. If possible, grate your own! The pre-shredded cheese doesn't melt nearly as well and is usually coated to prevent it from clumping.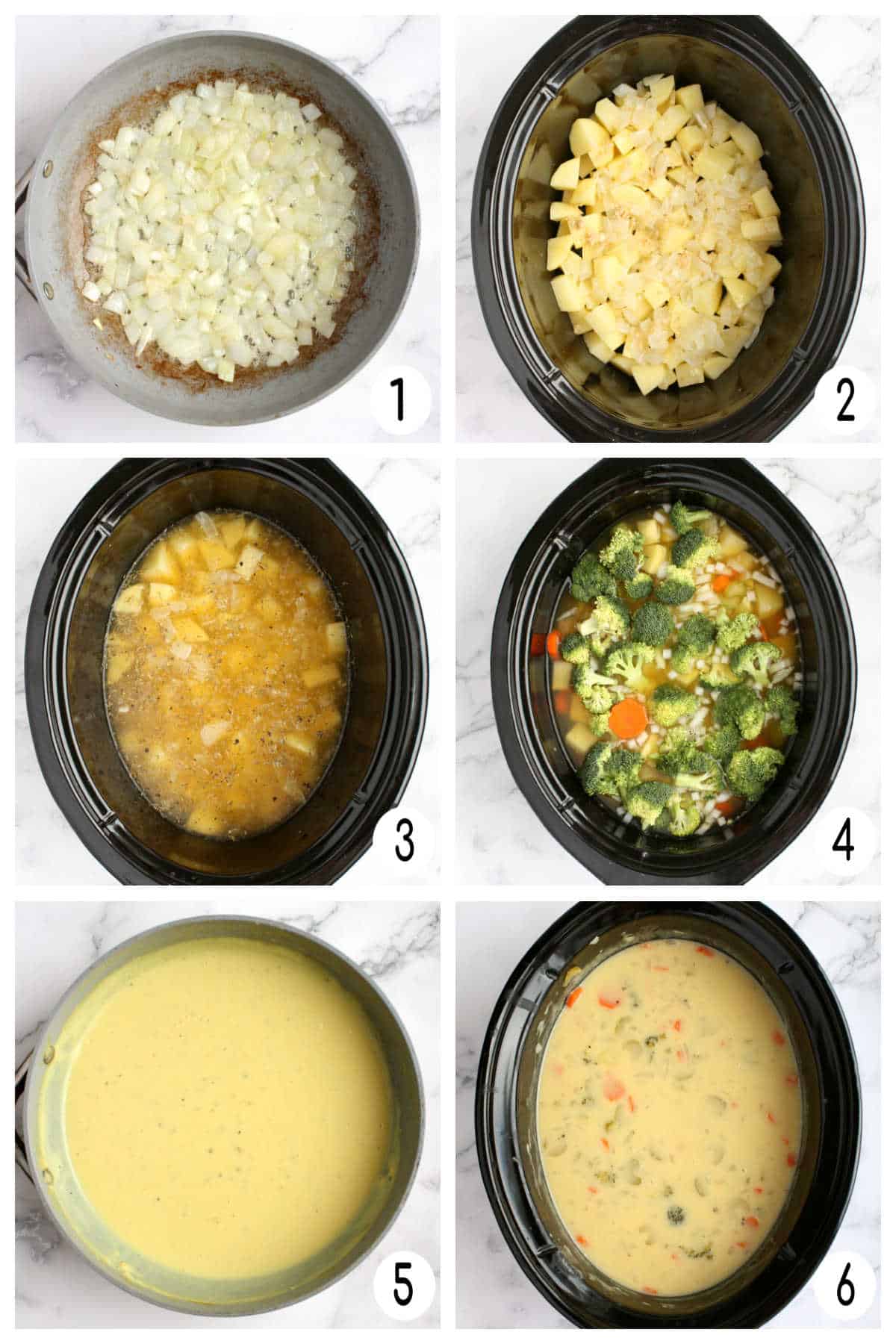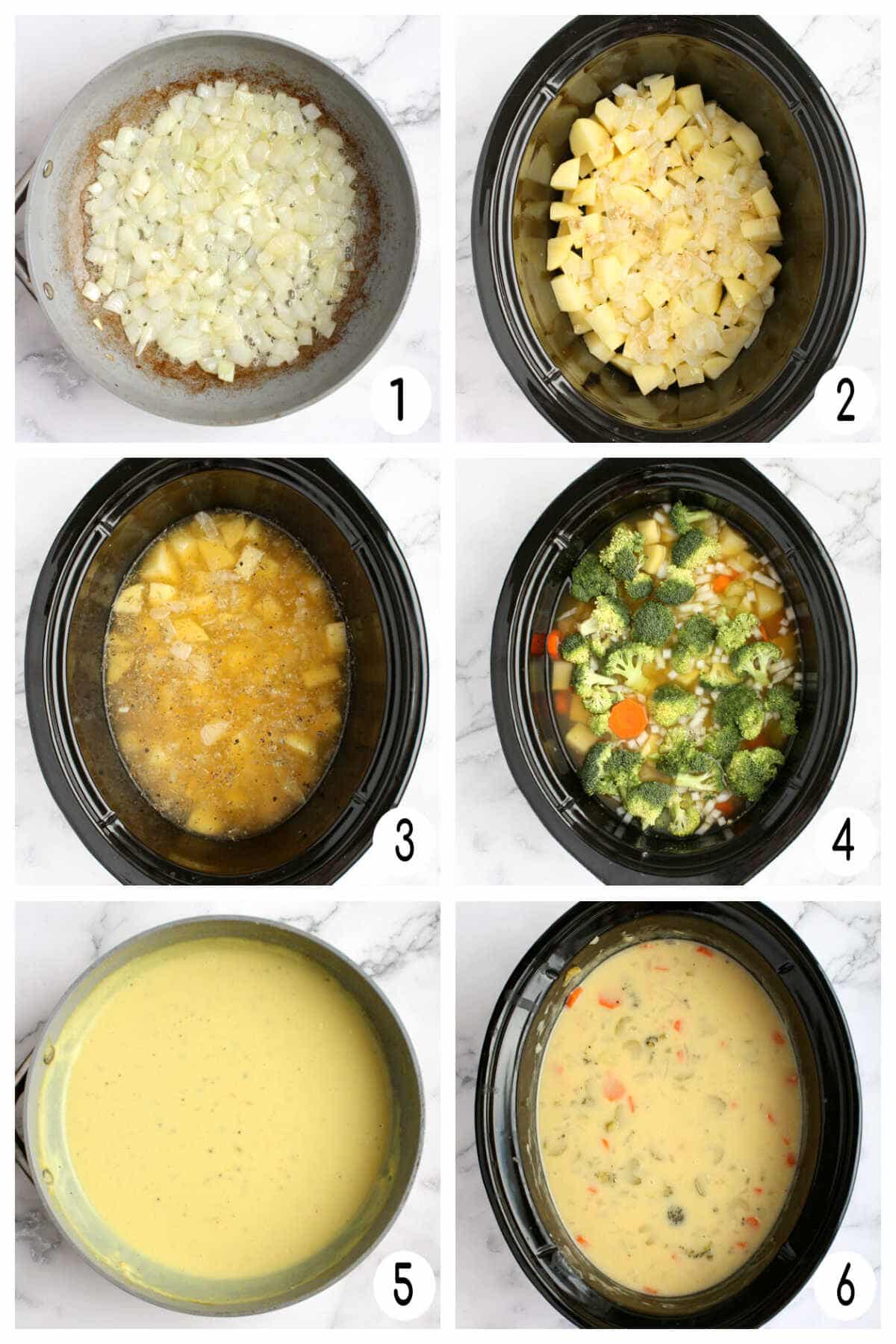 How to Make Crockpot Vegetable Soup
Chop up all your veggies.
Saute the onion and garlic in a pan.
Add to a crockpot along with the rest of the vegetables and the broth.
Cook on low for 6-7 hours or until the veggies are softened.
Make a roux. Melt the butter, then whisk in the flour, mustard, salt and pepper. Slowly add the milk and whisk until combined. It will look thick and chunky at first, but if you keep whisking you will end up with a smooth, thick paste. Resist the urge to add more milk!
Before serving stir the roux and the grated cheese to the crockpot. Stir until the cheese is melted and your soup is thick and creamy.
Enjoy!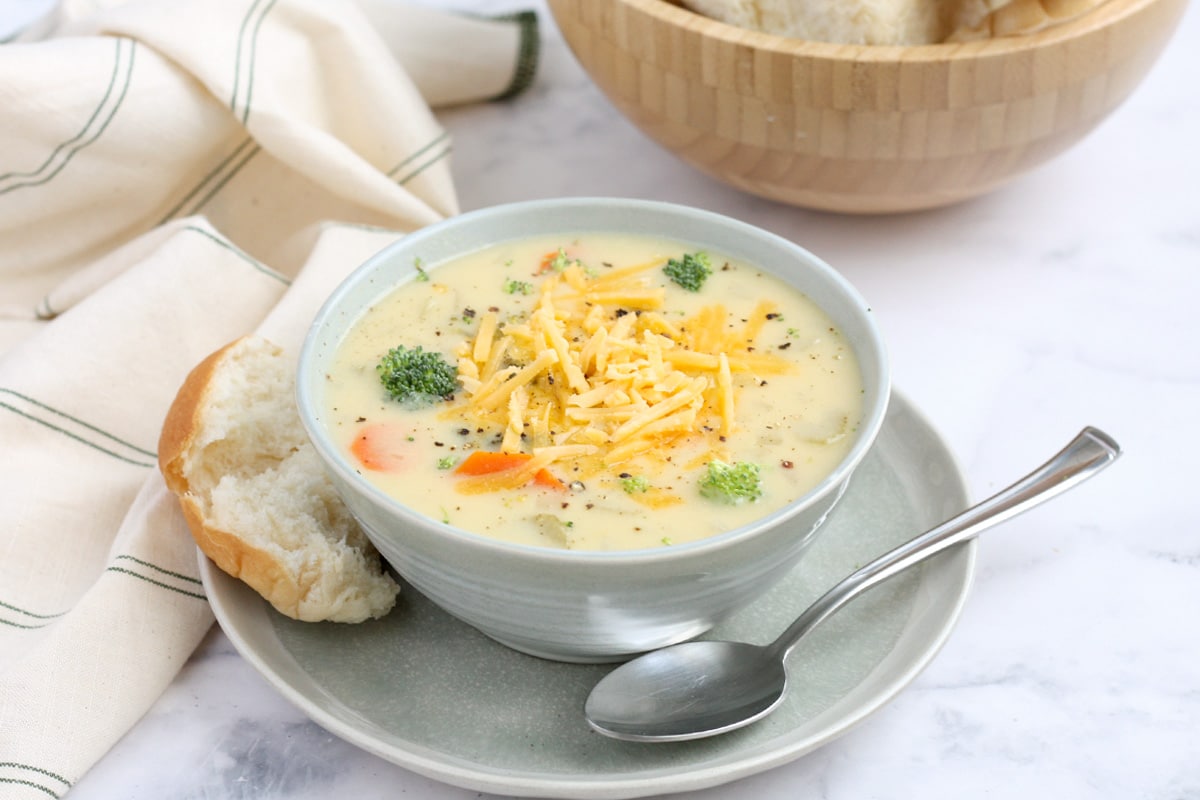 What vegetables should I put in vegetable soup?
It can depend on the type of soup. For a creamy vegetable soup we usually use root veggies (like potatoes, carrots, and parsnips), starchy veggies (like corn), cruciferous veggies (broccoli or cauliflower) and flavorful veggies (like onions, mushrooms, and garlic).

For a broth based soup we usually use veggies that hold their shape in water and have a lot of flavor like green beans, carrots, peas, tomatoes, bell peppers, celery, carrots, zucchini, kale, cabbage and onions. 
What can I add to my vegetable soup for more flavor?
Onions and garlic add a great flavor base to any soup. We also added mustard, which helps round out the flavor. However, you can add dried herbs to really jazz it up. Italian seasoning and herbs de Provence are great all purpose seasoning blends for soup. You can also add garlic and/or onion powder, thyme, basil, oregano, or red pepper flakes if you like a spicy kick.
Can I make this soup on the stovetop?
Absolutely! Saute the onion and garlic in a large saucepan. When softened, add the remaining veggies and broth. Simmer, covered, for 20-25 minutes or until the vegetables are softened. Follow the rest of the recipe as directed.
What do you serve soup with?
This yummy soup has all the components for a complete meal. But sometimes we like to serve it with fresh rolls or bread. This Homemade Artisan Bread is one of our favorites because it is so easy. You can also add a green salad or fresh fruit.
Can I freeze leftover soup?
Cream based soups don't freeze very well and tends to separate. However, it will last for 3-4 days in an airtight container in the fridge.
Want more Slow Cooker Soup Recipes?
Try this creamy soup in the slow cooker. Don't hesitate to try different veggies or include one or two more that you are interested in your kids getting used to. Let us know in the comments what your kids think of it, and what other veggies you decide to try!
Crockpot Vegetable Soup
This Crockpot Vegetable Soup is packed with veggies in a creamy, cheesy base that makes it an instant dinner winner. It checks all the boxes.. easy, healthy, and incredibly delicious!
Instructions
Prepare you veggies: Peel and chop potatoes and carrots, chop celery and broccoli (can do a combination of broccoli and cauliflower), and dice the onion.

Heat the avocado oil in a large saute pan over medium heat. Add the onions and garlic; cook for about 5 minutes or until the onion is translucent and begins to soften.

Put the sautéed onions into crockpot along with all your chopped vegetables. Add chicken broth and cook on low for 6-7 hours or until vegetables are soft.

About 30 minutes before serving, prepare sauce: Melt butter in a saucepan. Add flour, mustard, salt, and pepper; stir until combined. Slowly stir in milk and cook on medium heat until thickened. It will look very thick and chunky! Keep whisking, it will come together.

Add sauce to the crock pot along with the grated cheese. Stir until cheese is melted and the soup is creamy. Serve with artisan or sourdough bread. Enjoy!
Nutrition
Calories:
244
kcal
|
Carbohydrates:
26
g
|
Protein:
9
g
|
Fat:
12
g
|
Saturated Fat:
6
g
|
Polyunsaturated Fat:
1
g
|
Monounsaturated Fat:
3
g
|
Trans Fat:
0.2
g
|
Cholesterol:
31
mg
|
Sodium:
586
mg
|
Potassium:
624
mg
|
Fiber:
4
g
|
Sugar:
5
g
|
Vitamin A:
3946
IU
|
Vitamin C:
33
mg
|
Calcium:
226
mg
|
Iron:
1
mg
www.superhealthykids.com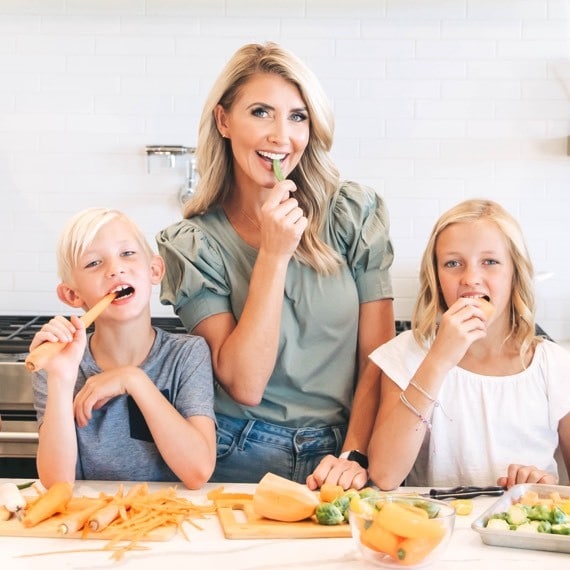 Natalie Monson
I'm a registered dietitian, mom of 4, avid lover of food and strong promoter of healthy habits. Here you will find lots of delicious recipes full of fruits and veggies, tips for getting your kids to eat better and become intuitive eaters and lots of resources for feeding your family.
Learn More about Natalie