Seasonal, comforting, and nourishing–this slow cooker Quinoa & Vegetable Soup will be a quick family favorite.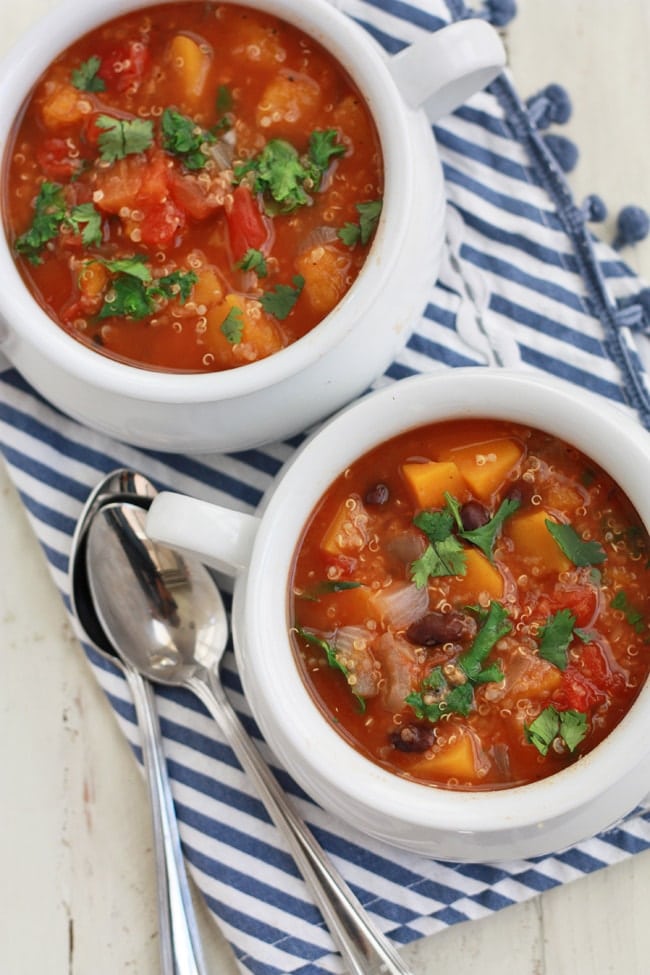 There's something special about the change of the seasons. Besides the fun of all the outdoors has to offer–cool, crisp weather, crunchy leaves, and gorgeous fall colors–I love the change that comes in my kitchen.
As my favorite summer produce slowly disappears from the market, my menu naturally shifts to accommodate the cool weather produce. Suddenly, nothing sounds better than a bowl of warm soup after a long day. My kids love to dip crispy triangles of toast into warm broth and we sip our soup together.
The only thing better than a big pot of soup simmering away is a slow cooker full of soup simmering away. I love my slow cooker for family-friendly options like Butter Chicken or Beef Carnitas, but I love that this Quinoa Vegetable Soup is a great meatless slow cooker meal.
I really appreciate the ability to toss together a few simple ingredients and let the slow cooker do the rest. After a few hours, my house smells incredible and pulling dinner together after school and dance class only requires a quick stir, some toast or fresh bread, and maybe a salad or some fresh fruit (apples or pears are nice). It's seasonal, comforting, and nourishing.
You can certainly change up the vegetables a bit if you like–sweet potatoes are a nice sub for the squash, spinach can be swapped for the kale, and you can use any color beans you prefer.
One last tip: My 2 year old prefers smooth soups, so I puree a bit of the soup for him. For the littlest eaters or texture sensitive little ones, this is a great solution. It's a great soup for dipping, so I've found that a bit of toast, artisan bread, or even some whole grain tortilla chips encourage lots of little tastes.
Emily eats, lives, and loves over at One Lovely Life, where she shares allergy-friendly family recipes, book inspiration, and pictures of THE cutest babies.