Creating a Balanced Meal with Choose MyPlate
The Choose MyPlate image provides the essential template for creating balanced meals for kids!  With 5 food groups that incorporate all the potential nutrients kids need, creating and eating a balanced meal is easy!  This powerful visual can remind you (and your kids) which foods to include in your diet, whether you are eating breakfast, lunch or dinner.
To build a meal using the Choose MyPlate guidelines, let's look at each food group and the possibilities available to mix and match, while maintaining a balanced menu.   Many critics claim the Choose MyPlate model leaves out the essential group: Fats.  However,  as you will see, every food group that is represented in the plate model have foods that are a great source of fat. It's not essential to have a separate group for fats only.
Because we value the fruits and veggies section so much at Super Healthy Kids, let's start there!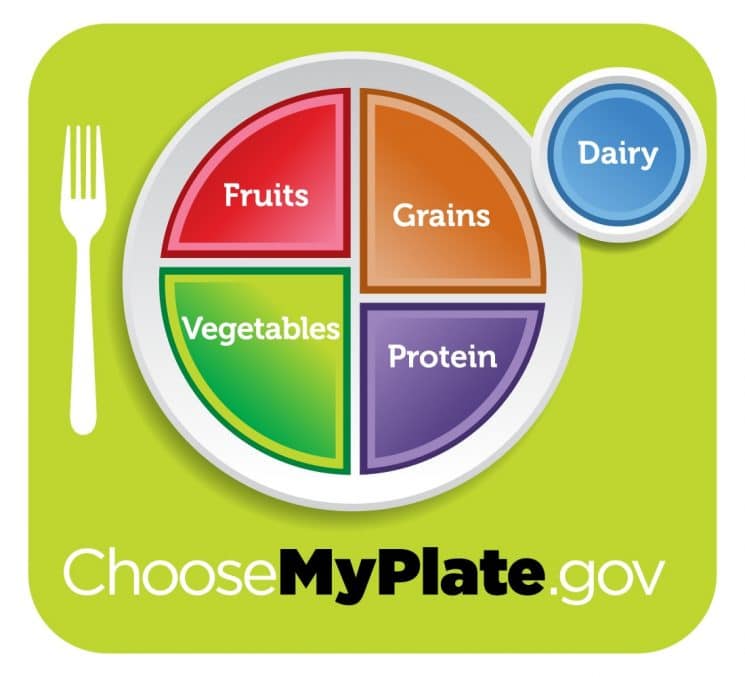 VEGETABLES
As daily nutrient requirements increase as kids grow, a good rule of thumb is to include 1-2 cups of veggies per day! Vegetables are dense with phytochemicals, antioxidants, vitamins and minerals. Some veggies we love include: Artichoke, Asparagus, Beans, Beets, Broccoli, Brussels Sprouts, Cabbage, Carrots, Cauliflower, Celery, Corn, Cucumbers, Kale, Leek, Lettuce, Mushrooms, Okra, Onion, Parsnips, Peas, Peppers, Potatoes, Radishes, Rhubarb, Rutabaga, Shallot, Spinach, Squash, Yams, etc.
Include veggies at breakfast by adding them to eggs, smoothies or even mixed into pancakes! Here are 30 ways we do it. Include veggies with lunch by adding lettuce or spinach to a sandwich, or serving your meal with carrots. Always include veggies for a snack by serving it with hummus or a ranch dip. Include veggies at dinner by incorporating it into the main entree, or serving your meal with a salad. Here's our best list of veggie side dishes for dinner.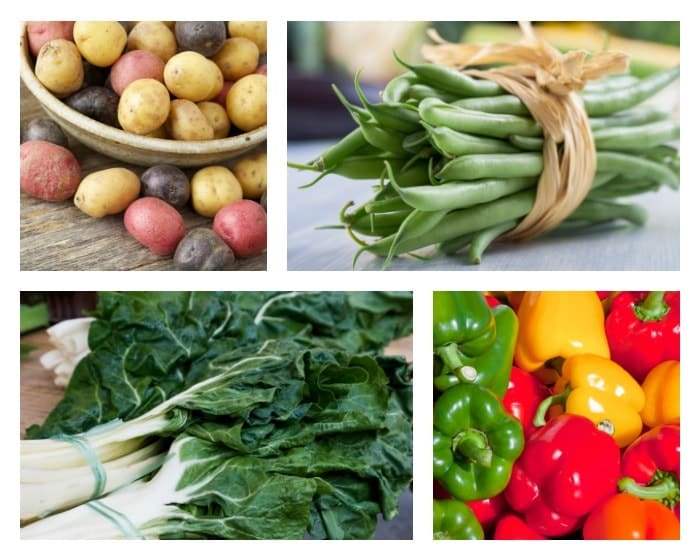 FRUITS
Kids who consume 1-2 cups of fruit per day are likely meeting the minimum requirements for the vitamins and minerals found in fruit!. Fruit is a good source of fiber that help kids stay regular. It also includes naturally occurring sugar to give kids that boost of energy when they are feeling sluggish! Some of our favorite fruits include: Apples, Apricot, Avocado, Bananas, Blackberries, Blueberries, Cantaloupe, Cherries, Cranberries, Dates, Elderberries, Gooseberries, Grapes, Grapefruit, Honeydew, Kiwi, Lemon, Lime, Mango, Olives, Oranges Papaya, Passion Fruit, Peach, Pear, Persimmon, Pineapple, Pomegranate, Plum, Raspberries, Star fruit, Strawberries, Tangerine, Tomato, Watermelon, and many many more.
Include fruit at breakfast by serving it in smoothies, top pancakes with fruit, or have a fruit salad! Serve lunch with fruit by sending an apple to school, or a bowl of pineapple chunks. Have fruit for a snack by blending it up like ice cream, or serving with your favorite fruit dip. Serve fruit for dinner by serving it with some warm applesauce!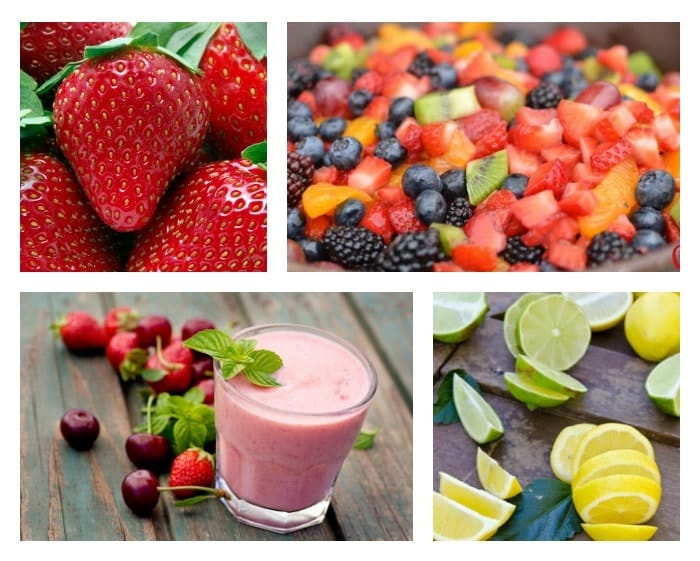 PROTEIN
Kids need adequate protein to grow muscle, and provide the amino acids for every function of the body! Including 2-6 ounces of protein per day can be sufficient to get kids what they need. Some of our favorite sources of protein include: Chicken, eggs, nuts, beans, seeds, fish, beef, and pork.
Serve protein for breakfast by including eggs in any form or blending crushed nuts into your pancakes, waffles, or french toast. Serve protein for lunch by including a bean salad or lunch meat on your sandwich. Include protein as a snack by serving hard boiled eggs! Include protein at dinner by making these fish sticks or adding chicken to your soup.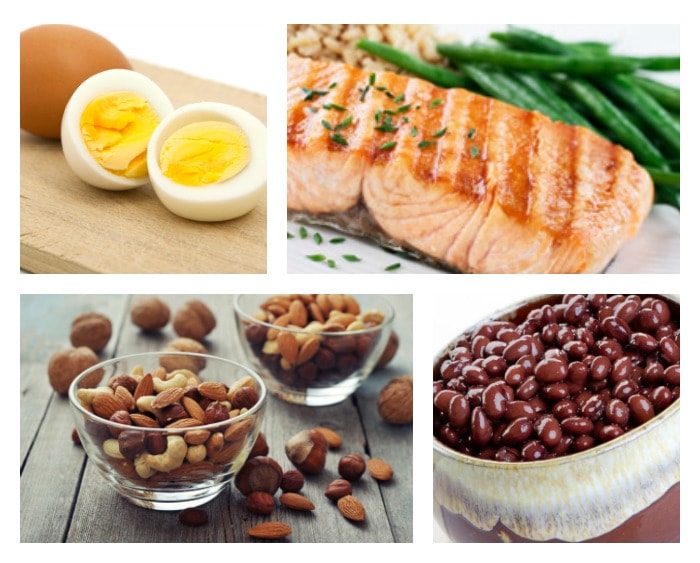 GRAINS
Eating a diet rich in whole grains is important for growing kids. Grains are a good source of fiber, B vitamins, Iron, Magnesium, and folate. A diet rich in whole grains has been shown to reduce the risk of heart disease, help control weight, and reduce constipation. The recommendations for whole grain consumption are for kids, 1.5 -3 ounces of grains per day. Some of our favorite sources of whole grains include: Amaranth, Whole grain Barley, Brown rice, Bulgur (cracked wheat), Whole-wheat pasta or couscous, Flaxseed, Millet, Oats, Quinoa, Rye, Spelt, Wheat berries, Wild rice, Whole grain cornmeal, whole rye, Whole Wheat bread, Whole wheat crackers, Whole wheat sandwich buns or rolls, Whole wheat tortilla's, Popcorn, pretzels, Pita's, or Cereal.
Include whole grains at breakfast by making warm breakfast quinoa, or toast! Include whole grains at lunch by making a pasta salad or serving your sandwiches on whole wheat bread. Include whole grains at snack time by making homemade pretzels and including whole wheat flour in it. Serve whole grains at dinner with brown rice, quinoa, or barley.
DAIRY
While including dairy important in building a balanced meal may be controversial, dairy can in fact be a good source of protein, calcium, vitamin D, and potassium. All of these nutrients are necessary for building strong bones, and controlling blood pressure. While it is possible to get these nutrient benefits from plant based foods, dairy is in fact an easy, kid friendly way to get these nutrients. It is recommended kids get between 2-3 cups of dairy per day. Some of our favorite dairy sources include milk, yogurt and cheese.
Include dairy at breakfast by serving with a glass of milk. Include dairy at lunch by adding cheese to your sandwich. Include dairy as a snack by having serving of yogurt. Include dairy at dinner with a scoop of cottage cheese topped with berries!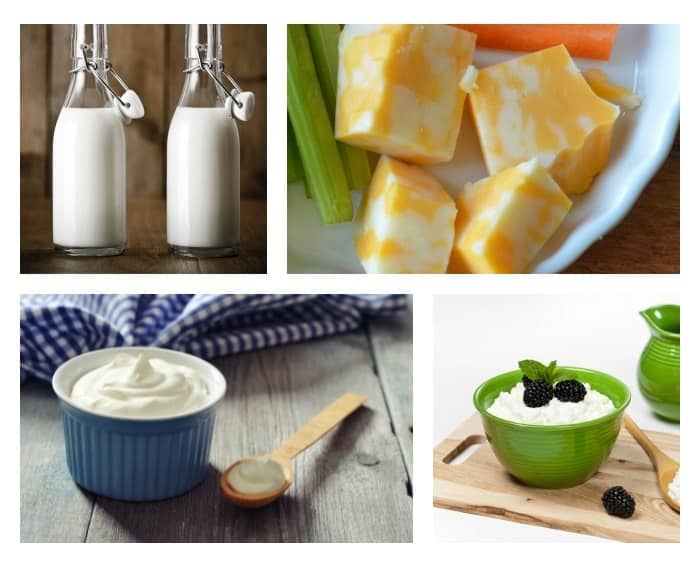 All the food groups offer something valuable for growing kids. There is no reason to eliminate a food group based on trends of the day. Balance and moderation is always key. We love to play games with kids to help them learn and understand all the basic food groups. Check out this simple game in our YouTube video for a fun, easy way to get kids to identify the different food groups.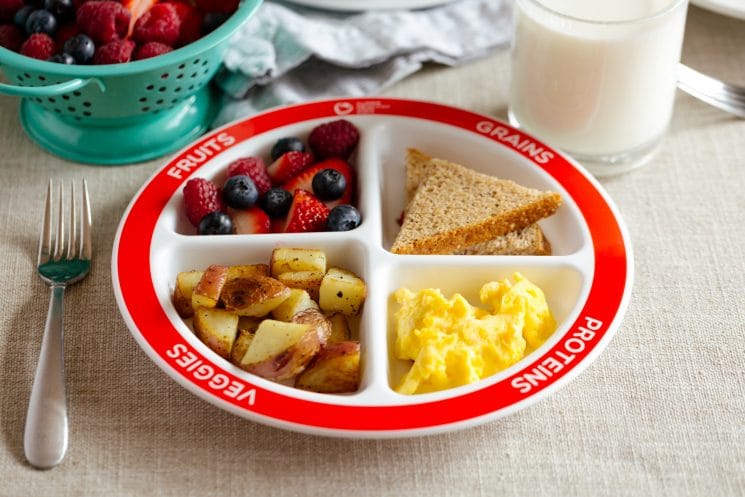 Once the food groups can be identified, than talk to them during each meal and ask if their meal is balanced. Have them identify each food group on their plate. If a food group is missing, discuss with them what they could add to their meal to make it complete!
This menu planner for kids can be used to help them identify each meal and what they could do to build a balanced plate. PRINT IT HERE!!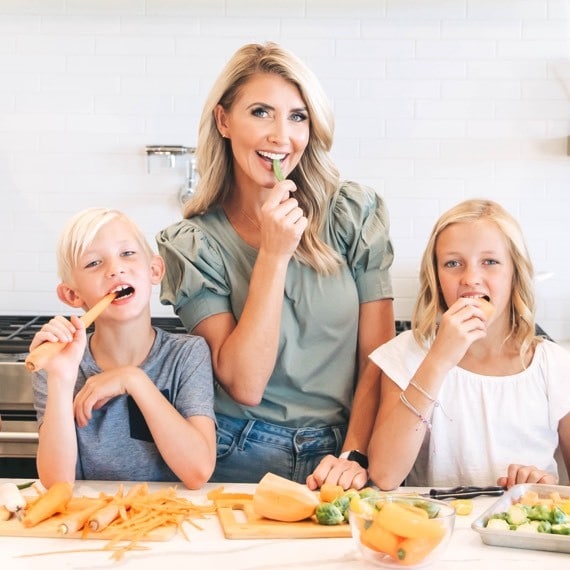 Natalie Monson
I'm a registered dietitian, mom of 4, avid lover of food and strong promoter of healthy habits. Here you will find lots of delicious recipes full of fruits and veggies, tips for getting your kids to eat better and become intuitive eaters and lots of resources for feeding your family.
Learn More about Natalie