If you love grilled chicken in the summer, you must try this Coconut Lime Chicken on your outdoor grill! 
Last year was the first summer we had a real gas grill!  I've been dying to make grilled chicken, without heating up coals in our regular grill just to make dinner.  In fact, it's been so great to have a gas grill that I totally regret not buying one sooner.  For this recipe we marinaded the chicken in coconut milk, lime, and some sweet red chili sauce to infuse the chicken with flavor, and it worked big time!
How to grill chicken
There are two things that are essential for getting perfectly grilled chicken that are full of flavor, still moist, and not over cooked.
Marinade!  If you can prep your meals ahead of time, than you must make time for soaking your chicken in a delicious marinade. Not only will this help the chicken fibers to soften up, making your meat more tender, but it also soaks the flavor of the marinade into the meat, rather than just on the outside of the chicken to be cooked off.  Marinades can include an acid like pineapple juice, lemon juice, or vinegar.  It can include seasonings, like pepper, garlic powder, or onion powder. And it can also includes an oil or fat like coconut milk or olive oil (more on ways to make tender chicken here)
Timing! The second step in perfectly grilled chicken is SO important.  You do not want to overcook your meat. With grilling, your heat source comes from under the meat, so you'll need to turn your meat to cook both sides.  We like to close the lid on the meat to create a little oven and attempt to cook on all sides, and in the middle as well, so the chicken doesn't sit on one side of the grill too long. You can also brush the meat while cooking with your marinade to create a barrier between the direct heat source and the meat, and allow the flavors to cook onto the outside of your meat as well.  This is when your meat thermometer can be used. Your chicken is perfectly cooked, without being over cooked when the meat reaches 160 degrees F.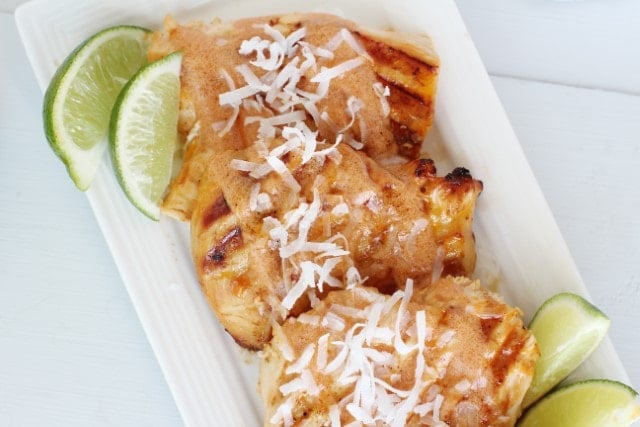 What type of chicken can you grill
We've grilled everything. Drumsticks are a favorite for kids, with the skin on.  They love it because you can eat it with your hands.   But we also love to grill chicken thighs.  Breasts and chicken tenders are great because they quick quickly.
OUR LATEST VIDEOS
How long do you cook grilled chicken
Cooking time on the grill will vary depending on the size and cut of your chicken.  For this recipe, and typically for chicken breasts, you'll want to cook each side for about 4-7 minutes.  Again, keep that thermometer handy to check for an internal temperature of 160 degrees.  You can also check for pinkness inside the chicken.  However, don't keep cutting into the chicken to see the inside during cooking time, as this is a surefire way to dry it out.
How to make grilled chicken without a grill
No grill you say? I have spent the majority of my life making modifications, because we love grilled meat, but have only had the charcoal grill for most of my life.  There are several ways to modify.
Use an indoor grill pan appliance.   There are appliances that act like grills, like the George Foreman grill. It can sit on your counter, and grill both sides of your meat at once. They are pretty amazing, and a quick way to make your grilled chicken.
Use your oven broiler.  In your oven, the broiler setting changes from an allover heat source to just using the heating element on the top of the oven.  I turn that on, but I also use a grill broiler pan that my oven came with, to allow some heat to get under the meat. The grill pan has slats in the bottom, similar to a grilling rack.
A grill pan for your stovetop. Rather than an extra appliance, some people like a grill pan that fits on top of your stove. These are great, they don't take a up a lot of room, and your chicken cooks quickly.
Let us know what you think of this Coconut Lime Grilled chicken!  For more chicken dinner ideas, check out: