This classic recipe for crispy baked chicken doesn't use milk or buttermilk to tenderize the chicken strips. We made them dairy free, and they were still tender!
There are a lot of kids who have a problem digesting dairy. But there are so many allergy substitutes these days, that these kids don't have to avoid their classic favorites, like crispy baked chicken.  We have so many chicken strips recipes, but not a lot of them are dairy free.
Rice milk is a substitute for a lot of dairy based recipes.  But for oven baked crispy chicken it wasn't exactly the milk we were going after.  Buttermilk is traditionally used because soaking the chicken in buttermilk helps to tenderize the meat. But you can get perfectly tender chicken by buying fresh chicken, and not over cooking it in the oven!  We basically used the rice milk for coating the chicken so our crispy panko crust could stick properly, and not for tenderizing it.  While we also like almond milk and soy milk, rice milk is the most tolerable of the three for kids who have food sensitivities.
Tenderize meat without dairy
There are many ways to create tender meat without using dairy. Here are some things we do:
Use a mallet: Pounding your meat helps to break down tough fibers.
Use chicken thighs or tenders: There is more fat in the chicken thighs, allowing the meat to be more tender.
Acidic liquids like lemon juice or pineapple juice break down fibers in the muscle of the meat. This can help the tenderizing process. It can also toughen the meat if used too much or in high concentration.  Diluting our lemon juice in rice milk keeps it to the right amount.
Enzymes from fruit: Figs, Pineapple, Kiwis, Papaya: These contain vegetable enzymes that dissolve protein and connective tissues. Apply a fruit mash or slices over the meat and leave for a few hours. These work best on thin cuts. (source)
Salt or baking soda: These two "cause filaments to swell and separate from one another and depolymerize, or break down. This process makes meat more tender." (source)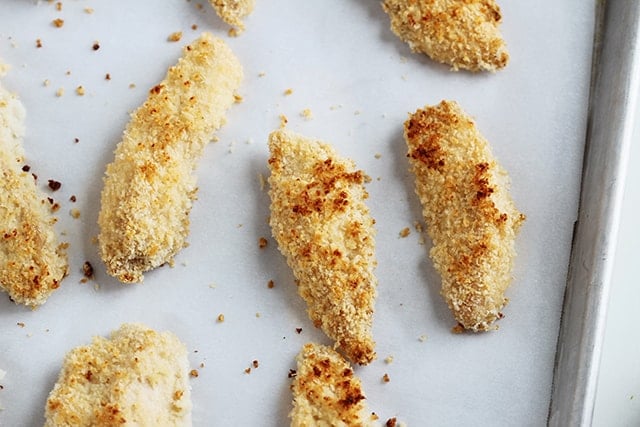 So, to make this chicken we whisked together a little rice milk with lemon juice.  This is both for flavor and helping the crust adhere to the chicken.  Then we cut our chicken into strips. You can also use chicken tenders! (See my post on the difference between chicken tenders, tenderloins, and chicken strips!)
OUR LATEST VIDEOS
After cutting, we soaked the chicken in our rice milk/lemon juice mixture.  You can do this as long as you like, even overnight! Then, to get the chicken crispy, we combined panko (super crispy!!), nutritional yeast (this makes it taste cheesy), and seasonings. We used garlic and onion powder.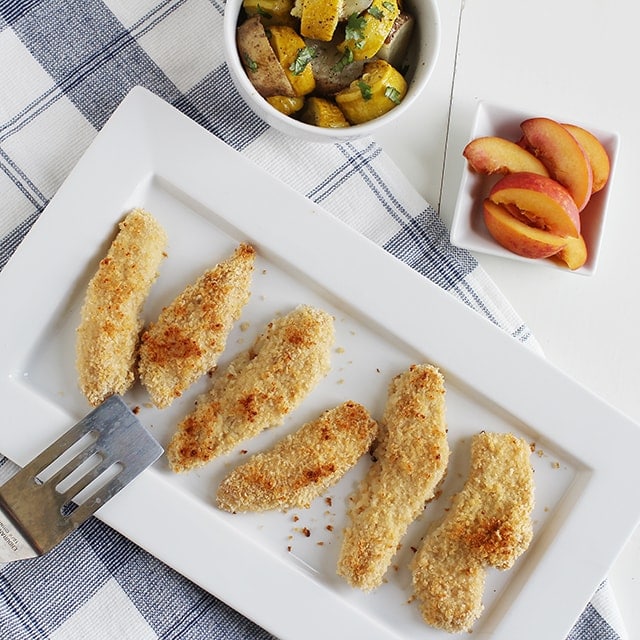 Then we baked until crispy! Again, do not over cook! If the purpose of using milk or buttermilk in crispy chicken is to tenderize the meat, and you aren't getting the tenderizing affects from dairy, use a meat thermometer to be sure you don't over cook your chicken.  It can stay moist and tender cooked at the right temperature!
For more dinner ideas like chicken strips, check out these!