A delicious, heart and soul warming soup
perfect for leftover cooked chicken (or turkey!) 
When it comes to these colder months, I find that I'm even more on the hunt for meals that fill us up deep down in our most cozy sweet spot. Whether that's making something in a slow cooker, roasting beef or chicken, or setting a pot of soup on the stove to simmer away, I love meals that fill my home with a tangible sort of comfort. Those rich, hearty smells drifting through the house that greet you when you walk in, the silky warmth spreading through you at the end of a long day, and recipes with flavors so savory you can't help but come back to them over and over again.
This chicken pot pie soup does that for us. It's everything we love about a pot pie without the effort or calories of a pie crust, and with all of the comfort. Served with some fresh bread or rolls, a nice salad, and some fruit, it's a perfect meal for this time of year.
It's also just the right thing to put together when someone is feeling under the weather. It's a sore throat soother and with all those familiar flavors can cure a bout of homesickness in a flash. For speed, you can certainly use a prepared rotisserie chicken. Several stores, like Sprouts and Whole Foods sell unseasoned (gluten, dairy, soy, etc. free) rotisserie chickens. We love this method for the easiest rotisserie-style chicken (made in a slow cooker!).
You'll want to make this over and over again.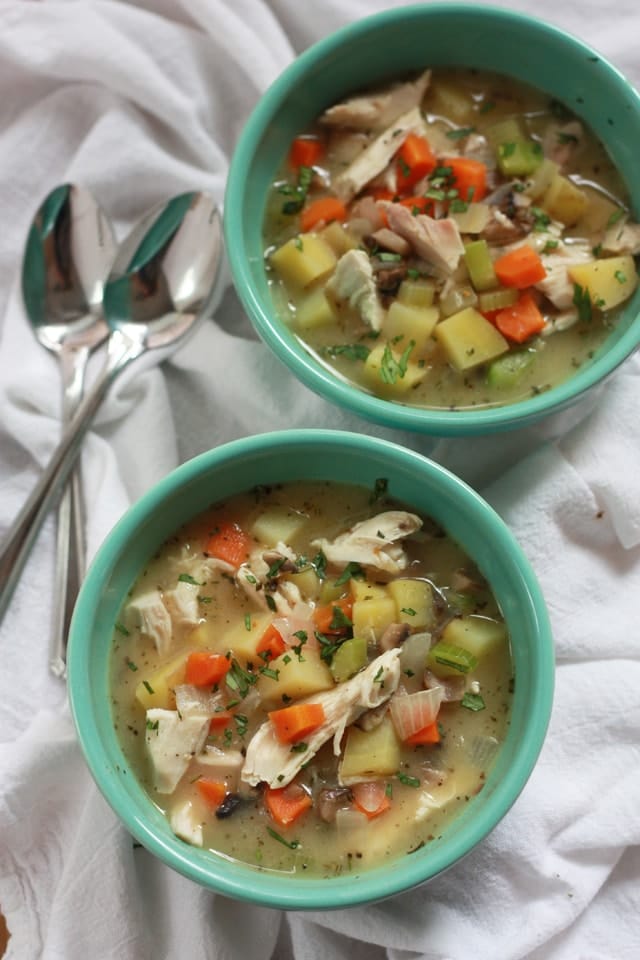 Notes on the Recipe:
Our family is gluten and dairy free, so we've skipped the traditional cream or milk and instead use a gluten free flour roux. We've found that Bob's Red Mill 1 to 1 Gluten Free Baking Flour works just the same as a wheat flour roux. You could certainly try substituting another 1-to-1 gluten free flour blend in its place. If you're a wheat-eater, traditional white flour should do the trick (whole wheat is healthier, but for this application proves too gritty). Or, if you can skip the thickening step for a thinner soup.
As for the fat component of the roux, we've opted for olive oil, but you could certainly substitute butter or ghee in its place.
Emily eats, reads, lives, and loves over at One Lovely Life where she shares healthy food, happy thoughts, and plenty of good reads for you and your littles.