Perfectly Crunchy Parmesan Brussels Sprouts
This is more than a side dish. This is a perfectly crunchy, salty, and completely addictive veggie that doesn't always make it to the table. This is due to the phenomenon called "sampling." Big and little fingers wander into the kitchen and take little pinches to sample. I've made these three times this week expecting protests – but there are just happy children who are rooting for Brussels Sprout Crunchies. (Stranger things have happened in my kitchen…) 🙂
These remind me of the potato shoestring chips my dad would bring home when I was a kid. My fingers would be shiny and covered in salt. Think of these as a healthier and super satisfying alternative to that greasy salt bomb of my childhood.
I'm not going to preach to you about the health benefits of Brussels sprouts. We know they are a nutritional powerhouse because we were threatened to eat them as children. These adorable Barbie-sized cabbages should be part of your mission to serve seasonal produce this fall and winter. If you've ever wanted to make Brussels sprouts chips this method is better and faster. I feed a lot of mouths and preparing individual leaves for chips was way too time consuming. This is how to get the crunch with speed: Use your blessed food processor.
My food processor is straight from heaven. When it finally dies I'll have it enshrined. I used my slicing plate to get some uniformly small ribbons of Brussels sprouts.
I placed the sprouts on a baking sheet lined with parchment paper and tossed 2 tablespoons of olive oil, about 1/4 cup of grated Parmesan cheese, and a few generous cranks of fresh pepper. Depending on your taste buds, the cheese might be enough saltiness for your crew. But you can add more salt to taste when they get out of the oven. If you're going dairy-free with this recipe, make sure to salt your sprouts at this point.
Toss your newly discovered Brussels sprout delight into a 400 degree oven for 20 – 25 minutes watching closely at the end. They are thinly sliced in a high temp oven – so going from crunchy perfection to black death can happen in only a few minutes. (I speak from experience, friends.)
Enjoy your new favorite Brussels sprouts alone, as a side dish, or tossed with roasted squash and pasta for a scrumptious meatless main dish.
Hey there! I'm Alli from Don't Panic Mom. I live in the Middle of Nowhere with four kiddos and one Hunky Husband. I love to make sense of healthy living with the reality of a tight budget and hungry kids. Want more healthy hacks for modern moms? Follow me on Facebook.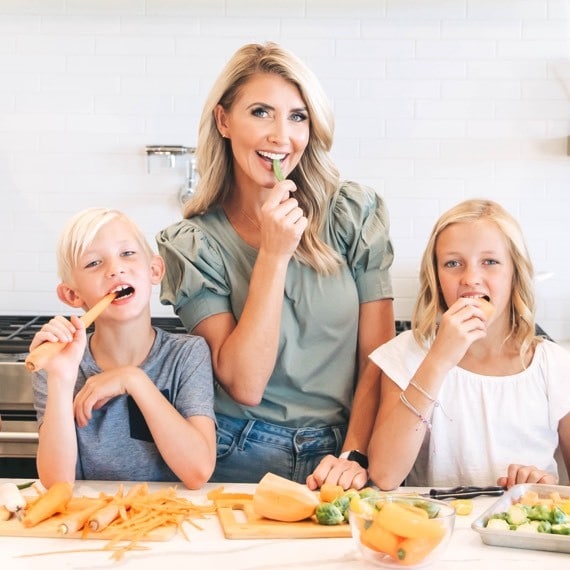 Natalie Monson
I'm a registered dietitian, mom of 4, avid lover of food and strong promoter of healthy habits. Here you will find lots of delicious recipes full of fruits and veggies, tips for getting your kids to eat better and become intuitive eaters and lots of resources for feeding your family.
Learn More about Natalie