Garlic & Herb Mashed Cauliflower
This Garlic & Herb Mashed Cauliflower is a health-conscious side dish that is so delicious you won't even be missing the potatoes! In fact, you may not even realize they aren't potatoes!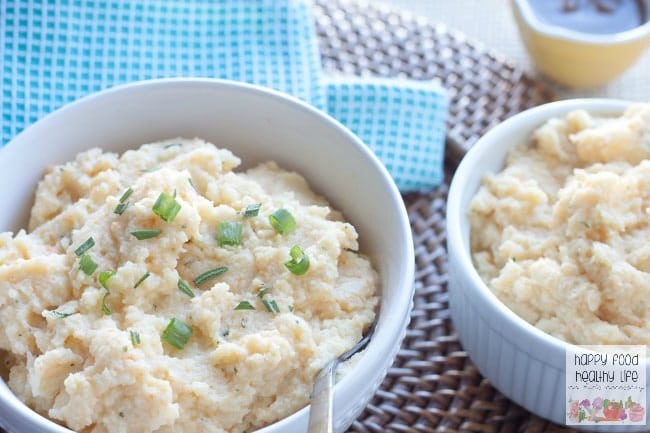 Well hello again! It's Holly from Happy Food Healthy Life, and I am just thrilled to be back here to share one of my favorite recipes with you. It's going to wow everyone at your Thanksgiving feast!
But first, let's talk about tricking kids. You know what I mean, right? Like hiding beets in their chocolate cupcakes. Or black beans in brownies. Or pumpkin in mac & cheese.
On one hand, I think it's totally brilliant because it's just one way to get some healthy foods in their bodies when sometimes it can really be difficult.
On the other hand, I feel like it's deceptive and doesn't quite teach kiddos about the delicious ways to eat some of the foods they might be hesitant to try.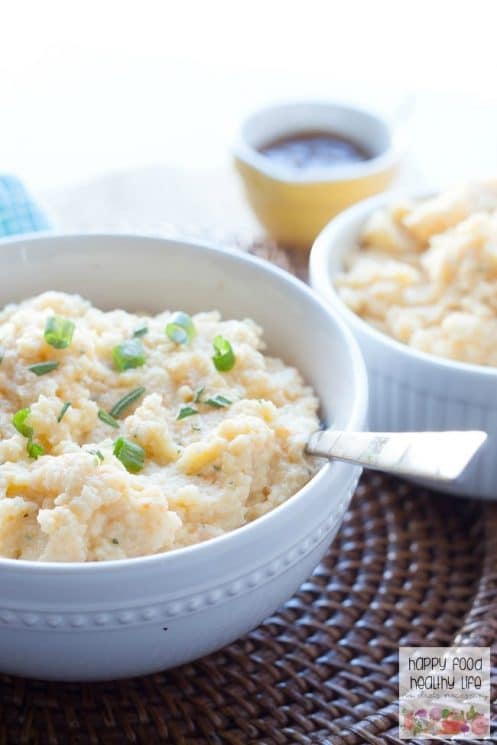 So I go about getting these vegetables into my kiddo's diet a couple of different ways.
First I try making vegetables in the most kid-friendly way possible. With dips. With cheese. With anything that will make it more enticing. But that doesn't always work, especially when it comes to tomatoes or pumpkin for my son.
So when it doesn't work, then I do hide them in something without him knowing. I disguise it in a tasty treat that I know he'll like. Like when I put pumpkin in a muffin and call it a "harvest muffin"… turns out he loves it and is begging for more!
The key though is what happens next. Do I keep the secret of the hidden pumpkin to myself? Nope!
I'm super honest with him. As soon as I get the green light that confirms how much he likes the recipe, I ask him if he can tell what's in it. Of course, he never guesses that one key ingredient but as soon as I tell him, his response is a simple, "Oh!" and moves on.
No disgust. No gagging. No breaking out in hives.
It's really been a great way to open my son's mind up about different types of foods.
So when I told him I was going to make something that was kind of like mashed potatoes but not quite the same, he asked what vegetable was in it. He's on to me!
This was actually my first time making a cauliflower mash, and I was a bit nervous about how it would turn out. But my goodness! I don't think I ever want to make mashed potatoes ever again!
This mash tastes so similar to mashed potatoes that I'm quite certain I could trick my family members at Thanksgiving this year.
Not only are you getting amazing nutrition from the cauliflower, but the flavor just hits you like you wouldn't expect coming from a bowl of vegetables. The herbs make it so savory and a perfect pairing to your big feast.
And I was able to make it all happen in one large pot with the help of my immersion blender. (This is the one I use) You have got to get your hands on one if you don't have one already. It'll save you dishes since you don't have to transfer it to your blender or food processor. Total win, especially on Thanksgiving.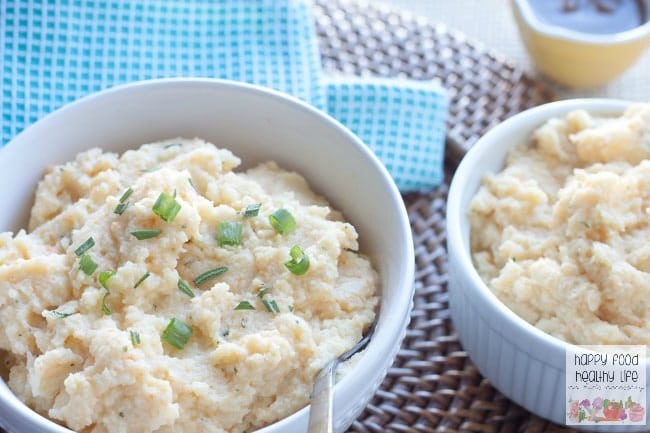 Let me know – what are your thoughts on hiding vegetables?
Garlic & Herb Mashed Cauliflower
This Garlic & Herb Mashed Cauliflower is a health-conscious side dish that is so delicious you won't even be missing the potatoes! In fact, you may not even realize they aren't potatoes!
Instructions
Dice onion and mince garlic. Chop cauliflower and carrot.

Heat oil in large saucepan or pot over medium heat. Add onion and garlic, and saute 4 to 5 minutes, or until browned.

Add cauliflower, carrot, and 1/2 cup water. Bring to a boil. Reduce heat to medium-low, cover, and simmer 10 to 12 minutes, or until vegetables are very tender. Add a couple tablespoons of water if the pot becomes to dry before vegetables are cooked. Drain off any liquid.

Pour cauliflower mixture into food processor or blender. Or if you have an immersion blender, you can just keep it right in the pan. Add butter and all spices and blend until well blended and smooth. Adjust seasonings to taste depending on your preferences.
Nutrition
Calories:
183
kcal
|
Carbohydrates:
13
g
|
Protein:
4
g
|
Fat:
14
g
|
Saturated Fat:
8
g
|
Cholesterol:
31
mg
|
Sodium:
132
mg
|
Fiber:
4
g
|
Sugar:
5
g
www.superhealthykids.com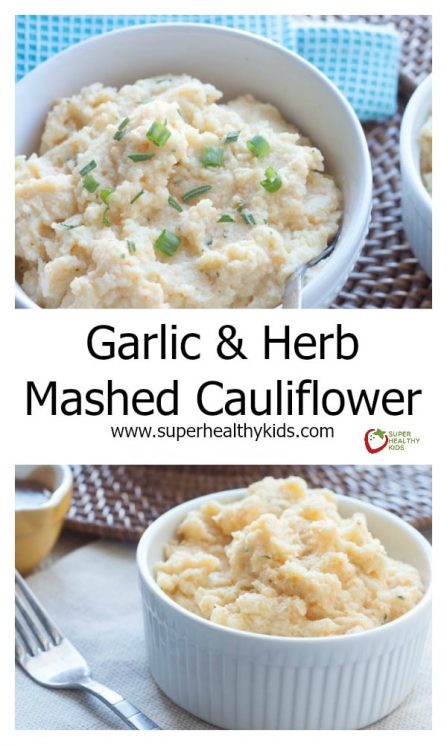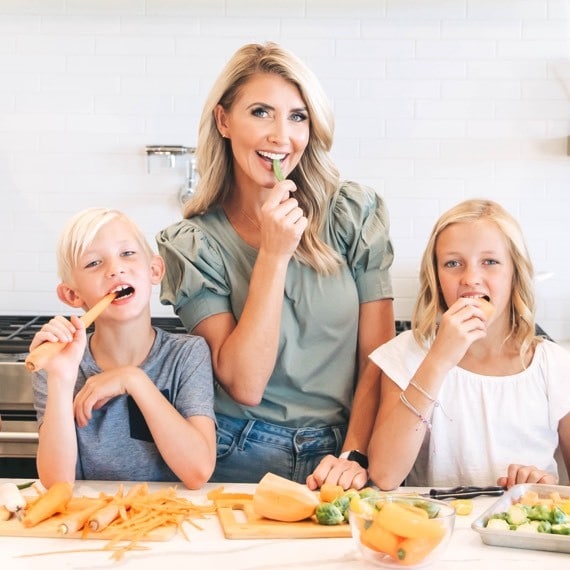 Natalie Monson
I'm a registered dietitian, mom of 4, avid lover of food and strong promoter of healthy habits. Here you will find lots of delicious recipes full of fruits and veggies, tips for getting your kids to eat better and become intuitive eaters and lots of resources for feeding your family.
Learn More about Natalie