We eat a lot of salsa around our house.  In fact, it is a good thing that I can my own or a large portion of our grocery budget would be dedicated to salsa.  I remember when I first got married and salsa went on sale, I spent almost our entire grocery budget on salsa that month!  No one complained.
If you are new to canning, or a professional, salsa is a food that is great for everyone to try.  And It is economical if you grow your own peppers and tomatoes!  You can make a jar of salsa for less than $1.00!!
Step #1: Blanch your tomatoes in boiling water just long enough that their skins start to crack and slightly peel.  Then immediately put them in ice water.  Remove the skins.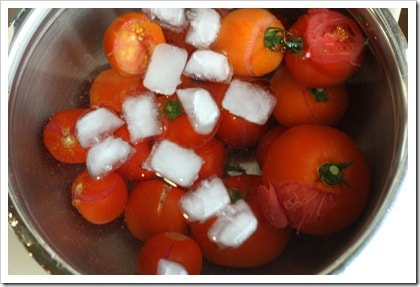 Step #2: Roughly chop the tomatoes.
Step #3:  Finely dice your Jalapenos and Green/Red Bell Peppers, Cilantro and Cucumbers.  I prefer to use a food processor for this step.  And ALWAYS wear gloves.
Step #4:  Put all your ingredients in a large stock pot.  This recipe also calls for cucumbers!  So great to use up a lot of your garden produce.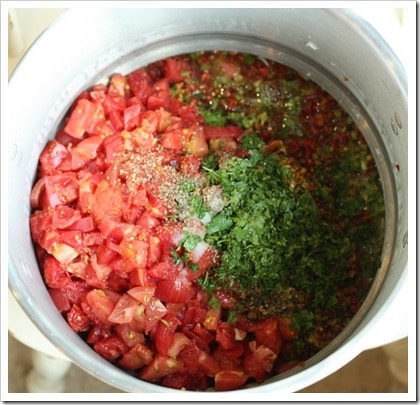 Step #5:  Stir together and bring to a boil.  Then turn the heat down and simmer for 20 minutes.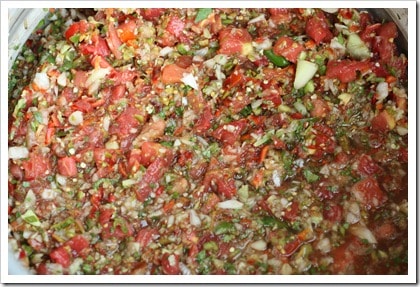 Step #5:  Ladle into clean, hot pint jars, leaving ½-inch headspace. Remove air bubbles and adjust headspace if needed. Wipe rims of jars with a dampened, clean paper towel; apply two-piece metal canning lids. Process in a boiling water canner according to this chart:
| | | | |
| --- | --- | --- | --- |
| | Altitude | Altitude | Altitude |
| | 0-1000 ft | 1001-6000ft | Above 6,000ft |
| Time | 15 | 20 | 25 |
Step #6:  Enjoy your salsa on any food you can think of!  Some of our favorites are: eggs, quesadillas, chips, grilled vegetables, mixed with rice, and on chicken.
Note: This post is not intended to be a guide on canning, but a particular salsa recipe that I use that has been tested. I highly recommend going to other sites for information about canning. I do not develop any canning recipes, and I personally don't recommend doing anything other than following a recipe from an official canning or USDA website for canning.  Please seek answers regarding canning from other resources if you are not experienced in canning.