Bell Pepper Snacks – 10 Different Kinds!
A few short years ago, I never ate bell peppers! Boy was I missing out. I wasn't about to let my kids grow up without enjoying this delicious food. As soon as I realized I liked bell peppers, I have gone to great lengths to always have some around, and find different ways to serve them to my kids.
While we like them sauteed and roasted a lot, these are ten ways to serve them, without much cooking at all!
1) String cheese stuffed peppers.  Have you seen the adorable "mini-Bell Peppers".  I found some in a bag with an assortment of colors, and they are super adorable.  We ate these mini peppers both with a string cheese stuffed into the core, and we sliced them and stacked a piece of string cheese on top like a sandwich.   Both amazingly delicious!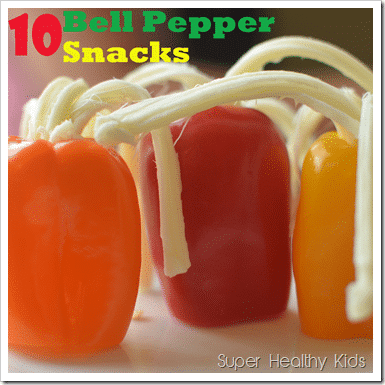 2) Bell Pepper Boats: I saw this idea in a magazine a long time ago.  Goat cheese mixed with chives, and then piped with a  frosting piping bag onto pieces of bell peppers!  This is not only delicious, but makes a beautiful appetizer if you are entertaining!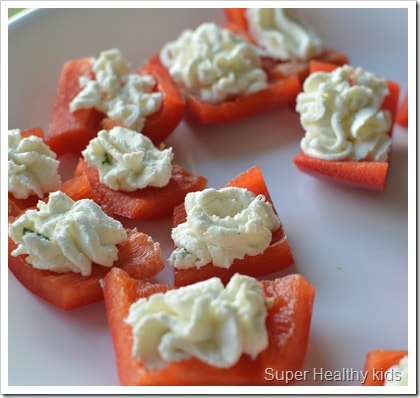 3) The Hummus Octopus. Bell peppers have the best shapes, as you'll see with the next three. This octopus is sitting in a bed of hummus with some zucchini and carrots to complete his adorable look.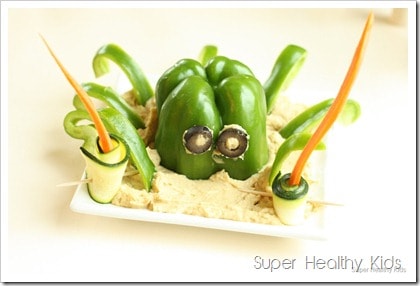 4) Shamrock Toasties! If you have just the right shape, your bell pepper, sliced sideways can look like a shamrock! This one is toasted under a broiler on top of an English Muffin with cheese.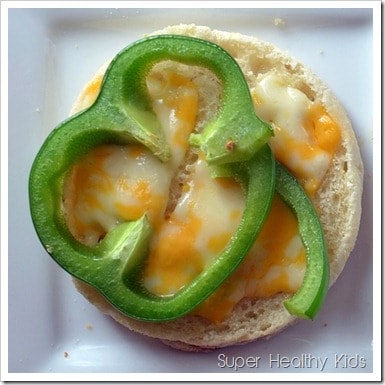 5) Find a bell pepper with four sections, and you get flowers!! These flowers are easy by slicing the top half of your bell pepper off and punching out the stem. Fill the stem section with a slice of a carrot for the center.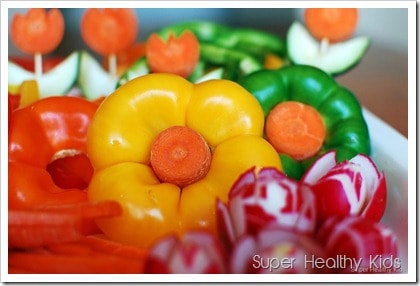 6) Savory Stop Lights! You may see a pattern, that we love adding cheese to our bell peppers. ha ha.. But this one is a must try! Celery stick, cream cheese, and bell peppers punched out using the back side of a frosting tip (the circle is the perfect size!)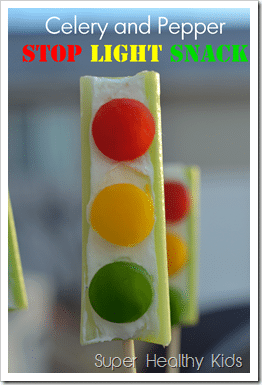 7) Kids too old for Octopuses, you can still serve pepper strips with some homemade hummus for anytime eating! The combination of protein, fat, and carbs will satisfy any active kid!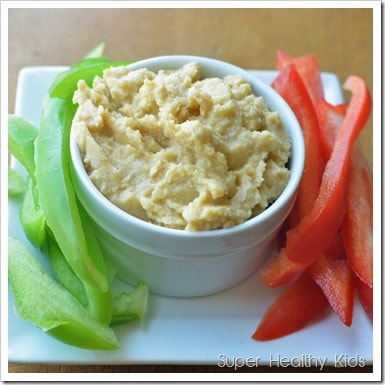 8) Pepper Poppers! This one does take a little extra prep, but totally worth it! Filled with yogurt and cream cheese, you can basically top them with anything you have.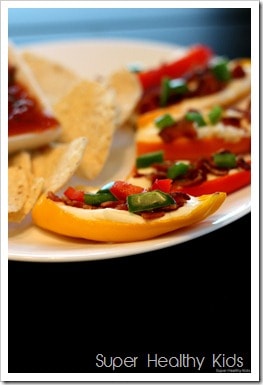 9)  Bell Pepper Nachos! We made these for the meal planning site for this coming week, and it turned out good- plus took less than 5 minutes.  Cut strips of bell peppers and arrange them on a cookie sheet.  Top with chopped olives and shredded cheddar cheese, and bake in the oven until cheese is melted.
10) Jack-O-Lanterns! This last one is not mine, but I had to share! These stuffed bell pepper Jack-O-Lanterns will be perfect for October!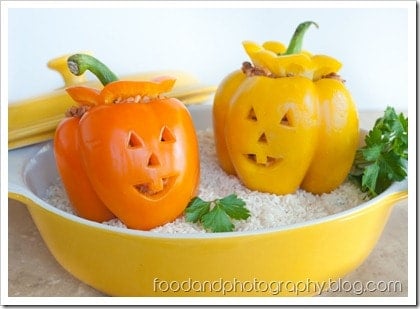 Why should you care about bell peppers?
1 cup of bell peppers have 300% of the RDA for vitamin C
1 cup of bell peppers have 100% of the RDA for Vitamin A
They are high in fiber, and kids today need more fiber.
So, while they are in peak season right now, choose one idea above and present to your kids today!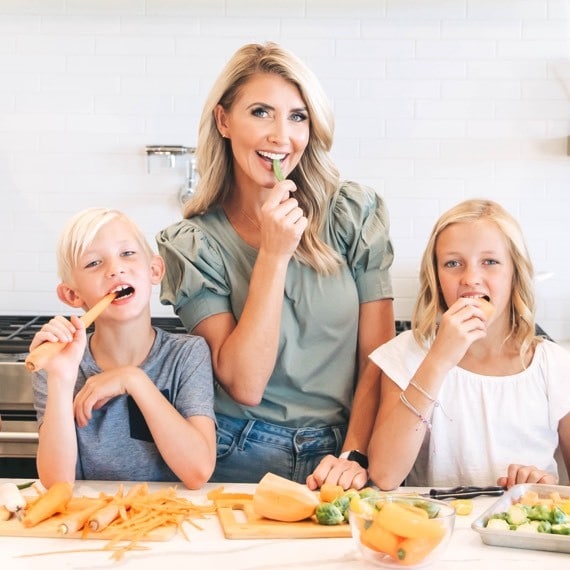 Natalie Monson
I'm a registered dietitian, mom of 4, avid lover of food and strong promoter of healthy habits. Here you will find lots of delicious recipes full of fruits and veggies, tips for getting your kids to eat better and become intuitive eaters and lots of resources for feeding your family.
Learn More about Natalie