Banana bread inspired overnight oats are quick to whip up for a great breakfast or snack on-the-go!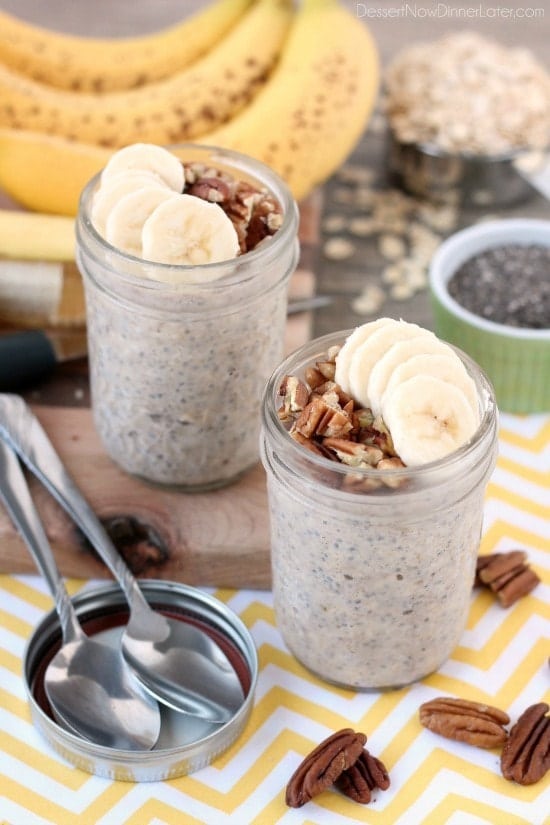 Hello there! It's Amber, visiting from Dessert Now, Dinner Later! I'm here to share another tasty recipe with you all. If there's one thing I've learned in the last couple months of getting back on track with my eating from all of the holiday indulgences, it's that I need to be prepared or my healthy eating will fail.
I've been chopping vegetables on Sundays to use in veggie scrambled eggs for breakfasts. I make sure I'm stocked up on carrots and hummus for snacks, and lots of meat and veggies for lunches and dinners. It makes food choices SO much easier.
Every now and then though, I like to indulge in a fruity (slightly sugary) breakfast and this Banana Bread Overnight Oats recipe is great for that. I've got protein with the chia seeds and Greek yogurt. Plus the oats are hearty and filling. I love that I can prep as many of these as I want for the week, and just pull them out of my refrigerator to take on-the-go.   Our favorite way to make and store these is in mason jars!  They are the perfect size for portions, and store really well in your fridge.
OUR LATEST VIDEOS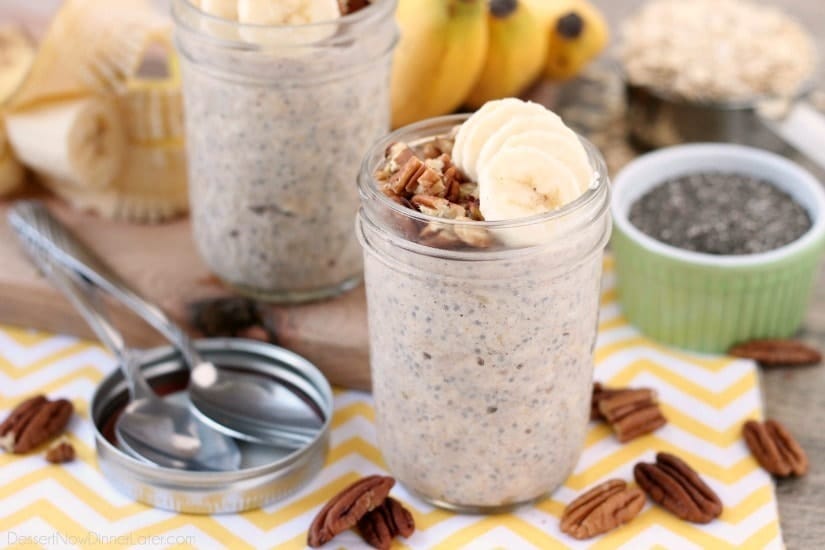 My kids really enjoyed these, but they preferred granola instead of nuts mixed in. Picky stinkers! Haha. The awesome thing about most recipes, is that you can adapt them to you or your kids' personal preferences. I like to make my overnight oats really thick, so I use less milk, but you can always add in more milk if you want a thinner mixture than my pictures suggest.
The bananas totally sweeten these overnight oats, so there are no extra sweeteners needed. The cinnamon gives it a nice hint of spice, and the pecans and extra bananas on top are great to mix in to add texture in each bite. I typically eat my overnight oats cold, but if you warm it through, it smells absolutely heavenly. Mmm!
If you think this recipe is great, be sure to check out my other oat recipes!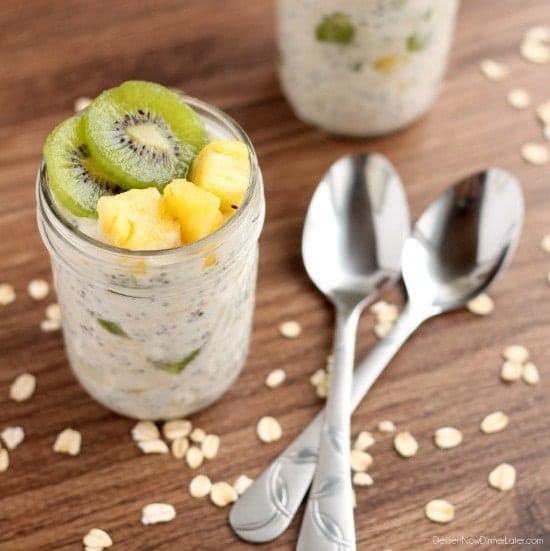 Cranberry Apple Slow Cooker Oatmeal