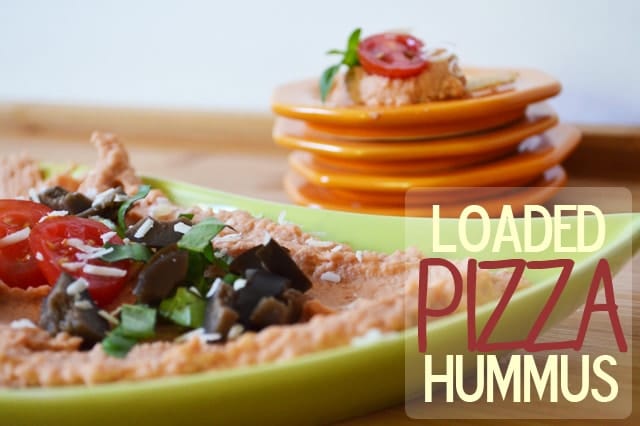 You can serve this Loaded Pizza Hummus for the after school stampede or during the next football tailgate. Loaded hummus is exactly what it sounds like – it's a creamy dip bedazzled (yes – bedazzled) with gorgeous chopped veggies. Serve it with some crunchy whole grain crackers or sturdy slices of cucumber. The best part is that everything comes together in about 15 minutes. But in all truth – I stopped midway to read Daisy's Rainbow Picnic to my daughter. So you should be able to crank it out in about 10 minutes.
I made this with my preschooler while the Big Boys were still at school. She asked to lick the spoon while tightly clutching Daisy's Rainbow Picnic hoping to hear it a billion more times. We munched and crunched together as I tried to distract her from a certain book. Loaded Pizza Hummus is one of those dips that the adults and kids in your home can happily devour together. (Even if you don't agree on the same children's literature.)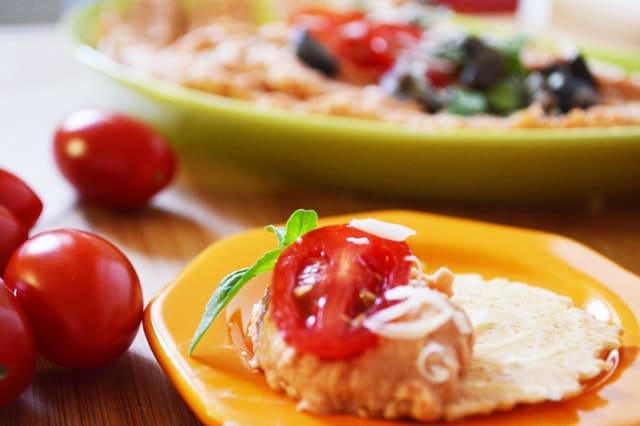 You can use great northern beans or chick peas when making a batch of this scrumptious hummus. Simply place the ingredients in the bowl of a food processor and blend for several minutes. For the toppings you can use any fresh veggies you'd regularly put on a pizza. We stuck to really classic ingredients like bright tomatoes, fresh basil, and olives. (Note: My children are obsessed with olives.) If you have any leftover grilled veggies those would also make a perfect topping for your version of Loaded Pizza Hummus.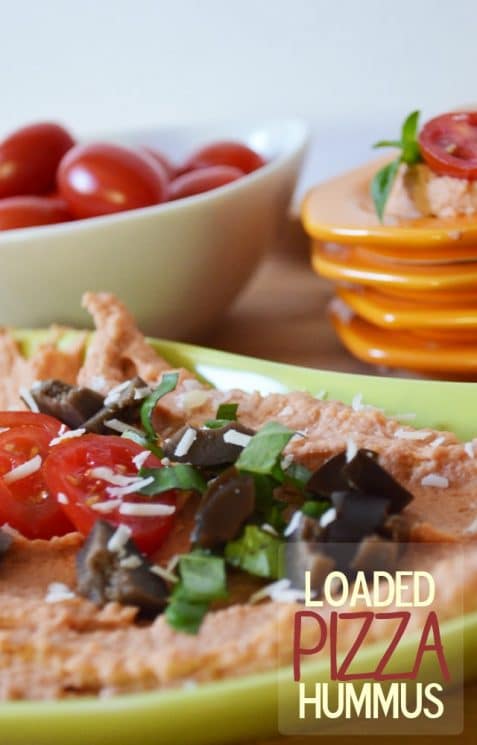 Loaded Pizza Hummus is now on my permanent rotation of snacks. I think it will also come along to our next big party and maybe even share some with the Hunky Husband to recover after reading Daisy's Rainbow Picnic.
If your family is a fan of hummus try another family favorite – our Easy Red Pepper Hummus!
Alli blogs at Don't Panic Mom where she trades panic for a fun, positive approach to family health. She's living the dream with her four kids, hunky husband, and eight chickens in eastern Colorado.
Ingredients
1

can

white beans

2

tablespoon

tomato paste, canned

1

tablespoon

vinegar, red wine

2

tablespoon

Tahini

2

tablespoon

olive oil

1

clove

garlic

1/2

teaspoon

salt

1/8

teaspoon

red pepper/chili flakes
Toppings
2

tablespoon

Parmesan cheese, grated

1/4

cup

black olives, canned

1/3

cup

cherry tomatoes

1

tablespoon

basil, fresh
Serve With
4

serving

crackers, whole-wheat

1

medium

cucumber
Instructions
Peel and roughly chop garlic clove. (You can use 1/2 teaspoon granulated garlic in place of a garlic clove.)

Place ingredients in the bowl of a food processor. Blend for several minutes or until it's smooth and creamy. If the hummus seems too stiff, drizzle in another tablespoon of olive oil. Taste and season according to your fabulous taste buds.

Garnish with grated parmesan cheese, diced olives, halved cherry tomatoes, and basil chiffonade.

Serve with crunchy whole grain crackers and sturdy cucumber slices.   Yields: About 1 1/2 Cups