5 Ways to Add Nutrient Packed Foods to Your Kids Diets
Kids like to move! Jumping, running, tumbling, climbing, dancing, biking, – how do they do it? I watch my kids play every day and sometimes can't imagine the energy they are expending. As a mom, I know it is important that they get good nutrition to give them the energy they need to play, learn and grow.
As parents we all know that it is no secret — getting good nutrition into your kids can be tough! It is also really important. Kids who get the nutrients they need are more attentive in school, more physically fit, and have more energy than those who don't. Making smart nutritional choices during childhood can reinforce good lifelong eating habits and help kids grow up to reach their full potential. Kids who eat a variety of flavors, textures, and colors not only get more nutrition, but develop acceptance for more foods and can enjoy a variety of different foods into adulthood.
Sometimes it is hard for kids to even sit down to eat because they just want to play, play, play! The meals and snacks we give our kids should be nutrient dense to give them the most power packed foods. Young kids tend to eat smaller amounts of food at a sitting, making it even more important to offer them a lot of nutrition in each bite.
5 Ways to Add Nutrient Packed Foods to Your Kids' Diets
Giving your kids whole foods in different forms provides lots of nutrition, different textures and flavors and is fun for kids! The ideas we have for you contain foods that are nutrient dense, but also taste delicious and are kid approved!
1)
Healthy Dips and Spreads.
2)
Trail Mix Snacks.
3) Smoothies. Smoothies are a great snack, but also a perfect addition to a meal. In the morning if my kids are only interested in a piece of toast, they will almost always drink a smoothie with it. Sometimes days get really busy, and pulling out all of your different fruits and veggies isn't realistic. Ella's Kitchen® has a new organic Nutritional Shake made with real ingredients, grade A milk, coconut water, fruits and veggies without all of the other added junk – artificial flavors and colors. Made for ages 1 year +,these are great to keep in your fridge and then pull out for a quick addition to a meal. They are also great to add in a lunchbox to send to school! The flavor combinations introduce kids to new flavors and add nutrient dense fruits and veggies to any meal in a shake! They come in these two unique flavor cominations: Broccoli, Plums + Pears and Banana, Apricot + Raisins. You can find these at Target in the formula aisle!
4) Veggie Mix-ins.
We believe that it is important that kids know what they are eating so they can experience the flavors and textures of different foods. We also think it is ok to pump up the nutrition in foods they are already eating by adding extra veggies.
Some of our favorite recipes are:
5) Parfaits. There are really 3 basic elements to a parfait. Yogurt, granola and fruit. You can add a variety of nuts, seeds, and dried fruit and fresh fruit to really pack in the nutrients. There are so many different varieties that your kids will never get bored with a nutrient packed parfait!
To learn more about Ella's Kitchen new drinks, connect with them on:
Don't forget to check out all the new flavors and products in Ella's Kitchen Farmacy where you can download coupons for the drinks and mix-up your own shake flavor for a chance to win a price pack and $25 Target gift card!
This post is sponsored by Ella's Kitchen®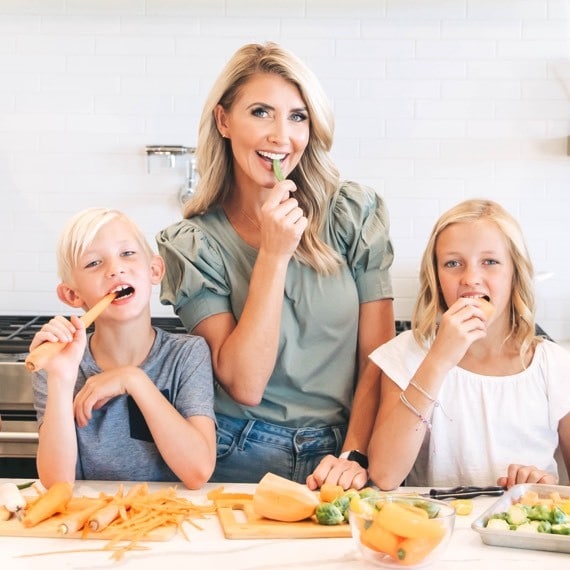 Natalie Monson
I'm a registered dietitian, mom of 4, avid lover of food and strong promoter of healthy habits. Here you will find lots of delicious recipes full of fruits and veggies, tips for getting your kids to eat better and become intuitive eaters and lots of resources for feeding your family.
Learn More about Natalie