5 Natural Cough Remedies You Can Make at Home
If you don't love the idea of giving your kids cough syrup, try these 5 simple and soothing concoctions that ease a cough and that you can make right in your own kitchen.
It's no fun tending to a sick child. But it's even less fun when they won't take their medicine. One of my daughters (who shall go unnamed,) had to be physically restrained, and it took both my husband and myself, just to administer the pink antibiotic (you know the stuff) that her doctor prescribed. We dreaded every time she got sick because we knew we were in for a fight. But with these natural remedies you may find the opposite problem, your kids might just clamor for them! Don't worry if they ask for more, you can administer any of the following recipes as often as needed.
HONEY AND LEMON
Coughing is a natural process in the course of a cold or flu, and most often it will go away on its own without any special medical intervention, all it needs is some good old fashioned soothing. But over-the-counter cough syrups can come with all sorts of unwanted ingredients and side effects, not to mention the fact that they usually taste atrocious! It just makes sense to look to more natural ways to calm that cough, and probably the most basic and beloved of all cough soothers is a simple combination of pure honey and fresh lemon juice.
Honey has proven anti-bacterial properties, and its thick, silky consistency coats and calms irritated throats. Lemon is also anti-bacterial, and is full of vitamin C to help boost the immune system. My grandmother used to give me this, all you do is combine a spoonful of honey with a good squeeze of lemon juice as needed. Look for raw honey, which has all of its nutritional properties intact, and darker honeys, like Buckwheat, which have extra antioxidants. Do keep in mind that any of these remedies that contain honey should not be given to any child under 1 year old because their immature immune systems might not be able to handle certain types of bacteria that can be present.
one tablespoon honey
squeeze of fresh lemon juice
Give as needed. You can also substitute cinnamon for the lemon. Use 1/8 teaspoon per dose.
PINEAPPLE COUGH SYRUP
It turns out that pineapple has the surprising ability to suppress coughs, and it's been clinically proven to be as or more effective than over the counter medicines. I found this wonderful recipe for Pineapple Cough Syrup, it's delicious and effective. I blend the following ingredients in my blender or food processor:
2 thick slices of fresh pineapple, peel removed, but core intact (about two good cups)
1 Tablespoon honey
1/2 teaspoon cayenne pepper (omit or reduce for young children)
a thumb sized piece of fresh ginger, peeled and sliced or rough chopped
juice of 1 lemon
You can leave the mixture as is or strain through a mesh sieve for a smoother texture. Keep refrigerated and use as needed.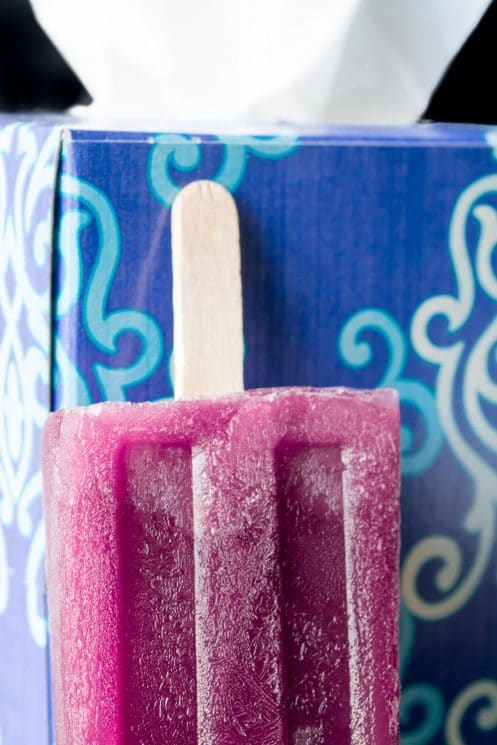 Grapes are often recommended for coughs in home remedies because they are a natural expectorant, and they help the body loosen and expel excess phlegm. I wonder if that's why so many cough medicines are 'grape' flavored? My kids wouldn't go near the bottled stuff, but actual grapes are universally appealing. I like to make soothing popsicles from the fresh fruit. I just puree seedless grapes in my food processor and then strain it. No need for any sugar, the grapes are sweet enough on their own. Just fill popsicle molds and freeze. There's not a kid alive who will turn down one of these. The popsicles will ease a cough and sore throat, and as a bonus they will keep a sick kid happily hydrated.
one pound of red, purple, or black seedless grapes (use seeded grapes if that's all you can find)
popsicle mold or paper cups
popsicle sticks
Rinse the grapes and remove stems. Puree in a food processor until smooth. Strain the mixture through a mesh sieve, pushing as much juice as possible through with the back of a spoon. Pour the juice into popsicle molds, add the sticks, and freeze until solid. One pound of grapes will make about 4-6 full sized popsicles. Note: If you have a juicer, juice the grapes and fill the popsicle mold with that, no straining necessary. In a pinch you can use bottled grape juice.
CIDER VINEGAR COUGH SYRUP
This recipe is perhaps the most 'intense' of the lot, but even so, it's pleasant tasting. Cider vinegar is an age old cough remedy — it helps to balance the body's pH, and thin out mucus. A touch of cayenne gives it a kick, and the slight 'sting' of the cayenne actually helps to desensitize pain and tickling in your passageways. It also works to thin mucous. Ginger and turmeric are both roots that you can find in the produce section of your grocery store, or purchase in powder form in the spice aisle. Ginger is a natural decongestant and antihistamine. Turmeric is anti-bacterial and anti-viral properties as well, and they both have a history of use to treat colds for hundreds of years.
4 Tablespoons cider vinegar
4 Tablespoons water
2 teaspoons raw honey
1/4 teaspoon cayenne powder
1/4 teaspoon turmeric
1/2 teaspoon ground ginger
Put all the ingredients in a jar and give a good shake to combine. Take by the spoonful, as needed. If you'd like to use the actual roots, grate about 1 teaspoon of each and add to the syrup. Let it sit for an hour or two, then strain and use.
HIBISCUS TEA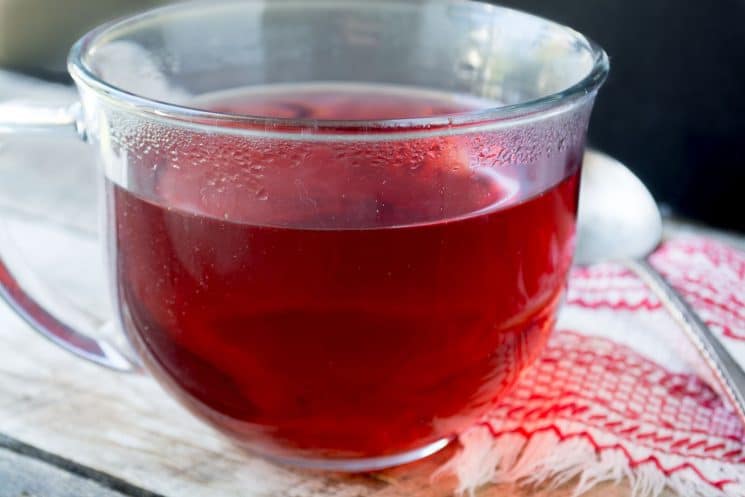 Hibiscus flowers are high in vitamin C, and have lots of medicinal uses. When the blossoms are dried and made into a tea they'll boost your immune system and help quiet a cough. The hot steam from the tea will also help open airways and loosen congestion. You can find hibiscus tea in natural food stores, and also in some grocery stores — look for a product that is mostly of hibiscus blossoms, with few other ingredients.
1 Tablespoon dried hibiscus blossoms or hibiscus tea
8 ounces water
Bring the water to a boil, then add the blossoms and let steep for 5 minutes. Strain into a mug. Let the tea cool slightly before giving to children, and serve with honey if desired.
Of course none of these home remedies take the place of your doctor's advice.  If a cough persists, or gets worse, seek medical attention.  And remember, no honey for children under 1 year.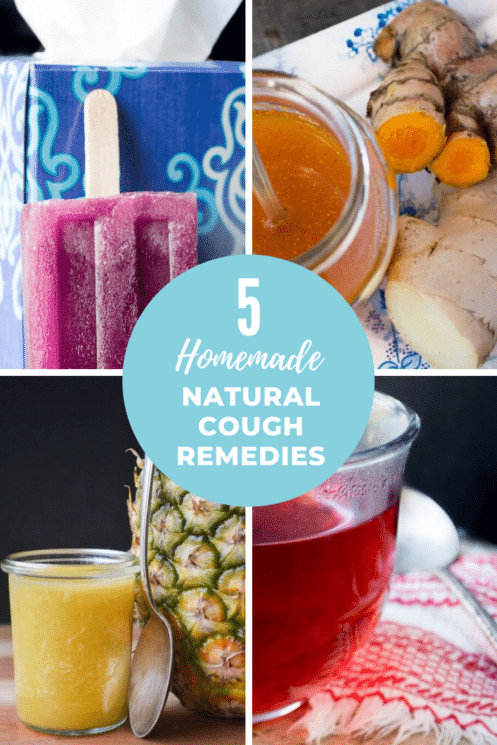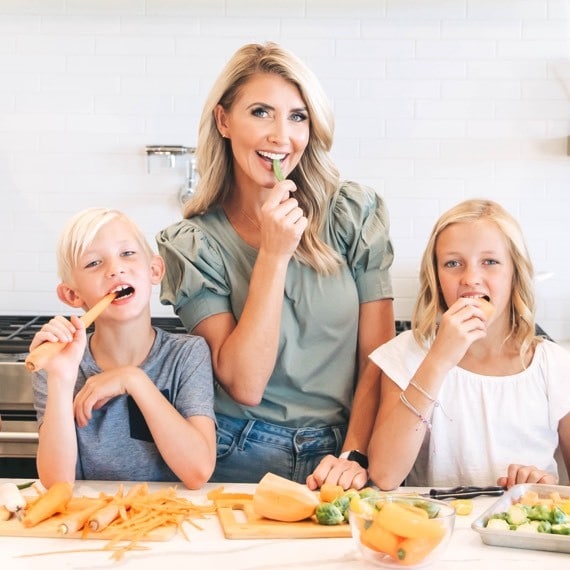 Natalie Monson
I'm a registered dietitian, mom of 4, avid lover of food and strong promoter of healthy habits. Here you will find lots of delicious recipes full of fruits and veggies, tips for getting your kids to eat better and become intuitive eaters and lots of resources for feeding your family.
Learn More about Natalie