10 Super Healthy Homemade Dips
Get your kids excited about fruits and veggies with these tasty, healthy, and colorful homemade dips!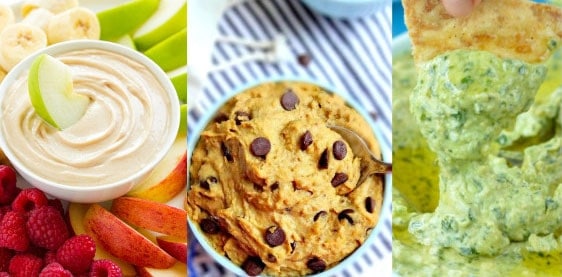 Don't know what to serve for snack time? Headed to a birthday party and need to bring an appetizer? We've got you covered!
Today we're sharing 10 of our favorite healthy homemade dip recipes, all of which are simple to make and they're packed with flavor and nutrition. But don't worry, we're not just giving you guac and hummus, there are tons of options here that both kids and adults will love.
And since we know there are a million different flavor options out there to choose from, we wanted to give you both sweet and savory. We've got 5 savory and 5 sweet and they're all going to be crowd-pleasers!
Have fun!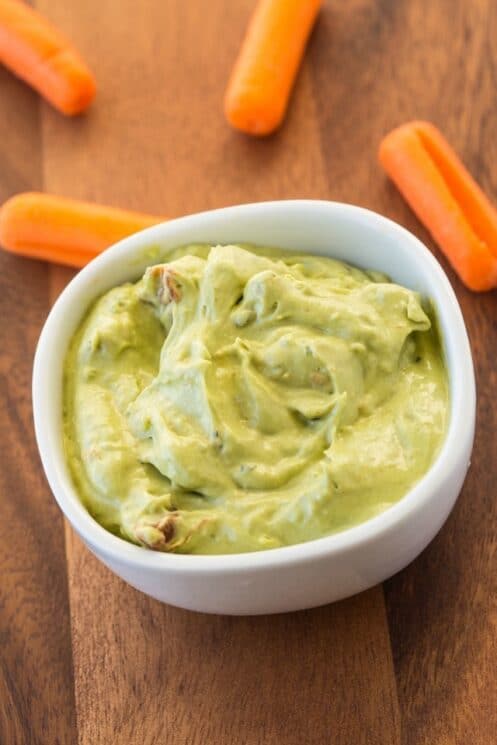 If you're a fan of guacamole, this creamy avocado dip is right up your alley! It's a fun twist on the crowd favorite, which comes together in just 5 minutes and has a nice boost of protein from the addition of greek yogurt. And since some kids are a little funny about texture (chunky guac might not be their thing!), this is a great way to get some healthy fats and fiber into their snack time.
Recipe from: Super Healthy Kids + The Big Man's World
7-layer dip has always been a favorite in our house, but traditionally it's loaded with cheese, sour cream and meat. This recipe is lightened up with a base of creamy "refried" black beans, a vegan queso sauce, some quinoa (for added protein!) and of course…guac and pico. It's a fabulous dip to bring to your next party, it's gorgeous AND it's fun for kids to dip into!
Recipe from: Simply Quinoa
Pumpkin + hummus combine to make this sensation autumn-inspired dip that is sure to be gobbled up. It's smooth and creamy, and is bursting with flavor from roasted garlic, rosemary, pumpkin and maple syrup. It's the perfect balance between sweet and savory, and the best part is it only uses 8 ingredients!
Recipe from: Pinch of Yum
Oh spinach dip, how I love you! One of my all-time favorite dips but one that I almost always steer clear of because it's so unhealthy. This one? Totally re-engineered to be filled with nutrients and flavor. I love that it uses a base of avocado and yogurt (vegan or not!) to make it ultra creamy without the addition of all that cheese. And it's versatile too – it would be delicious with veggies, pita chips, crackers and more!
Recipe from: Sweet as Honey
Do your kiddos despise broccoli? You've got to try this broccoli pesto dip! The pesto totally masks the broccoli's flavor, so it's a great way to sneak in some extra veggies; your kiddos will never know the difference. Plus, the vibrant green color makes it appealing and fun!
Recipe from: A Healthy Life For Me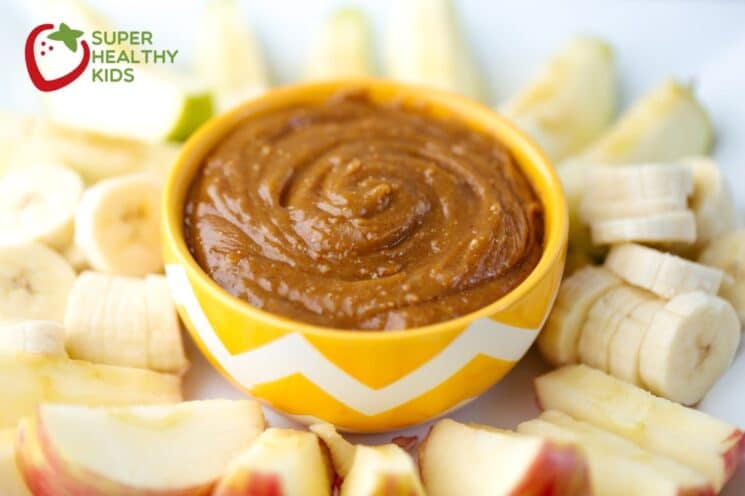 Sometimes you want to snack on something a little sweet, right? Unfortunately most sweet dips are packed with sugar, oils and other nasty ingredients. This caramel nut butter dip though? Totally healthy, totally delicious and absolutely decadent! Bonus is that it only uses 3 ingredients, no refined sugar and contains a ton of protein and healthy fats!
Recipe from: Super Healthy Kids
What kid doesn't love Nutella? It's sweet, chocolatey and perfect with pretty much everything. While it's marketed as a hazelnut spread (meaning nut butter, right?), the trouble with jarred Nutella is the ingredient label. Number 1 ingredient is sugar, followed by palm oil, then hazelnuts and cocoa powder. There's also some dairy and soy hidden in there. But for all those Nutella lovers out there (yes, I'm looking at you!), it's super easy to make this dip at home. You only need 4 ingredients and none of the junk. This is going to be a major hit in your house!
Recipe from: Minimalist Baker
Another fruit dip that we really love is this peanut butter dip. It only uses 3 ingredients, is sweetened with honey (or maple syrup if you prefer) and is made ultra creamy using protein-packed greek yogurt. It's the perfect vessel for apple and banana slices, but would also be delicious served on a piece of whole grain toast.
Recipe from: Cooking Classy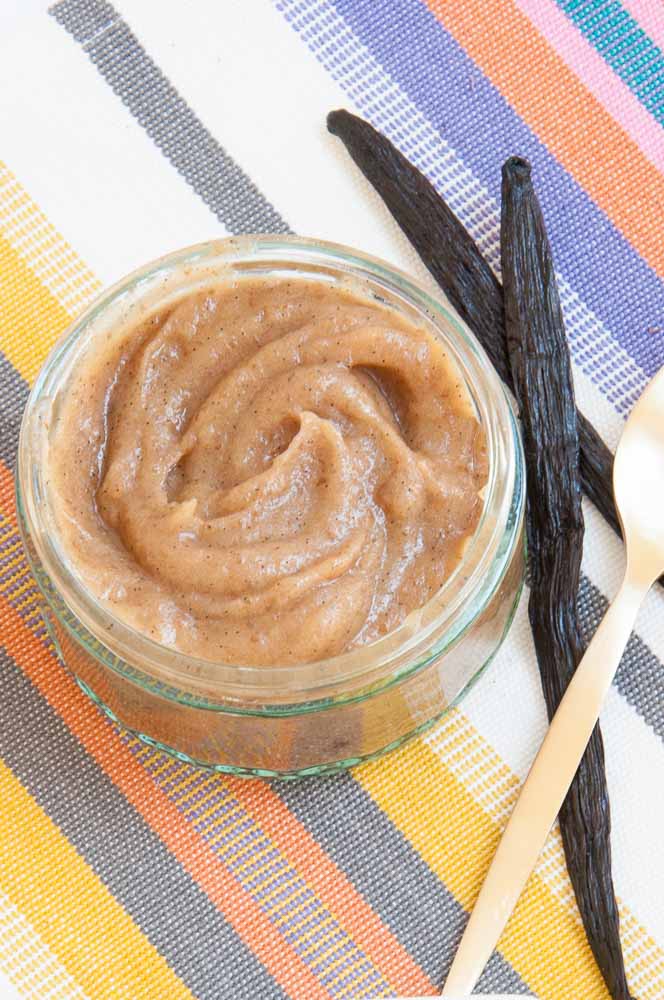 The secret to making homemade caramel dip without refined sugar? Dates! This dip is an absolute cinch to whip up and has the most fabulous fluffy texture. It's definitely on the sweet side, but it's something you can feel good about serving to your kids because it's packed with natural sugars, B vitamins and a few trace minerals like copper, magnesium and potassium.
Recipe from: Vegan Family Recipes
Our last healthy dip recipe is this amazing (and super healthy!) cookie dough dip. Wait…edible cookie dough? Yep, this dip is totally safe to eat and it's also allergy friendly. There's no gluten, dairy, eggs, or nuts inside! The base is chickpeas (just like hummus), with the addition of sunflower seed butter, non-dairy milk, flax and vanilla. The sweetener is maple syrup which gives it a nice caramel flavor. Our favorite dipping vessels? Either homemade peanut butter crackers or grain-free animal crackers!
Recipe from: The Glowing Fridge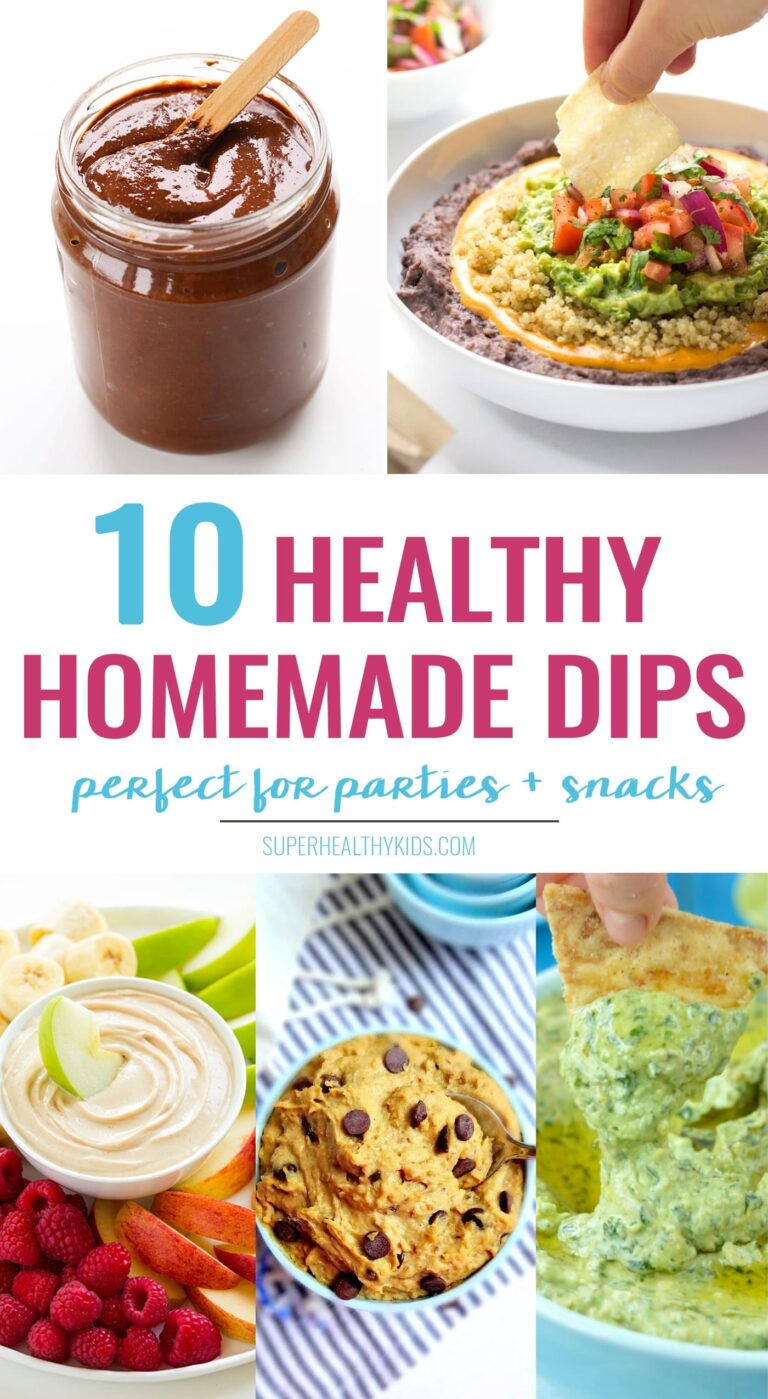 Alyssa is the blogger and cook behind Simply Quinoa, a gluten-free website dedicated to healthy food, always with a little quinoa twist.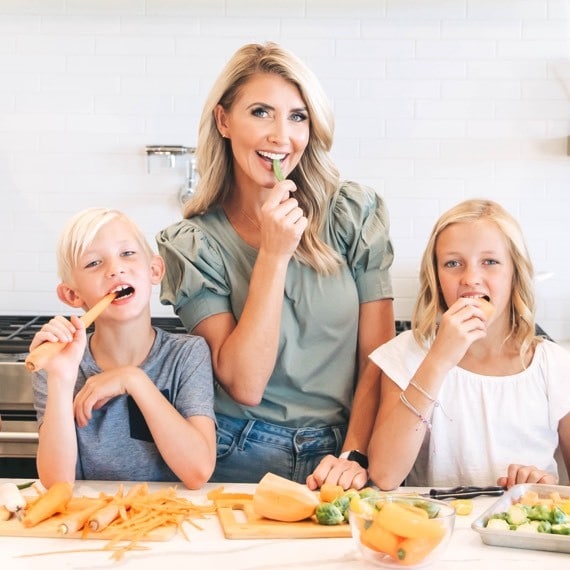 Natalie Monson
I'm a registered dietitian, mom of 4, avid lover of food and strong promoter of healthy habits. Here you will find lots of delicious recipes full of fruits and veggies, tips for getting your kids to eat better and become intuitive eaters and lots of resources for feeding your family.
Learn More about Natalie