10 Simple Kitchen Rules to keep you Organized!
These 10 simple kitchen rules can keep your kitchen organized with minimal effort and maximum satisfaction!
Staying organized isn't just a good idea if your space is limited. Being organized is much more than fitting things in. An organized kitchen can save you money, save you time, and save your sanity! Here are the 10 things I do in my kitchen to stay organized!
1)LABEL EVERYTHING
Labeling everything from from food to kitchen tools ensures that everything is put back in it's spot, AND that you have the ingredients when you need them. For a list of free printable labels, go here. For these labels, check out The Creativity Exchange.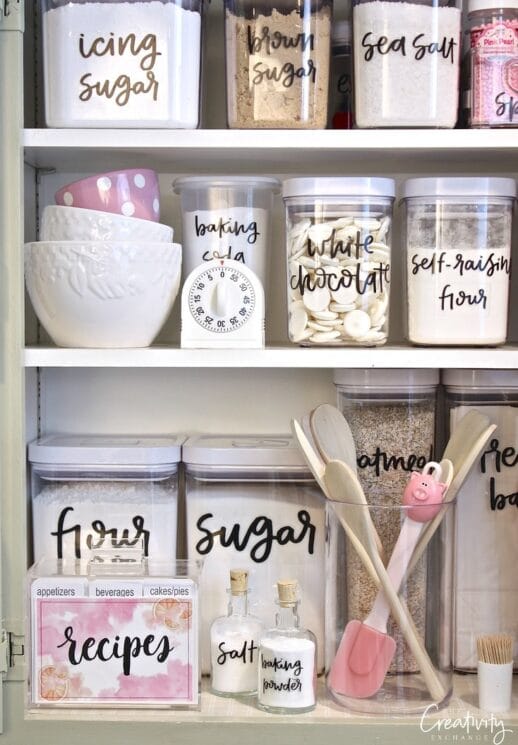 2) KEEP THINGS OFF THE COUNTER
Once one thing is on the counter, it's easy to keep piling things on top of it. The counter should be reserved for food prep. Using it as a storage spot creates chaos and makes it so you shove things around to make space. (tips for keeping the counters decluttered here!)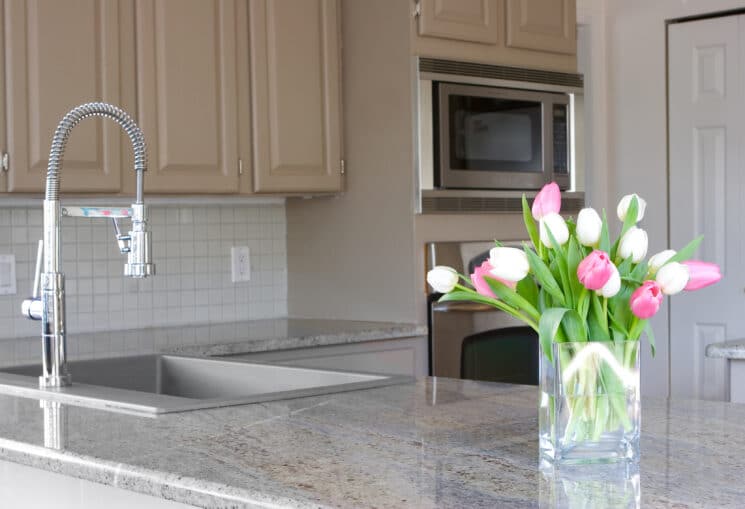 3) SECTION DRAWERS TO MEET YOUR NEEDS
It doesn't have to be a "junk drawer". Every drawer can and should be organized! You can actually create drawer dividers yourself to meet the needs of each drawer. It can also be very inexpensive. Get the full tutorial to customize your drawers here.
4) DITCH THE COOKBOOKS
Everyone should have a few cookbooks but it's time to embrace the digital storage of recipes! It's so much more convenient, you can check your recipe while in the grocery store from your phone, and it frees up MASSIVE room in your cupboards!
5) EMBRACE ZONES
When everything in your kitchen has a home, you always know where to find them. Mason jar lids, kitchen sheers and even the cleaning supplies need their own zone. For a thourough look at all the zones you might want in your kitchen, check out this post from Kitchen Stewardship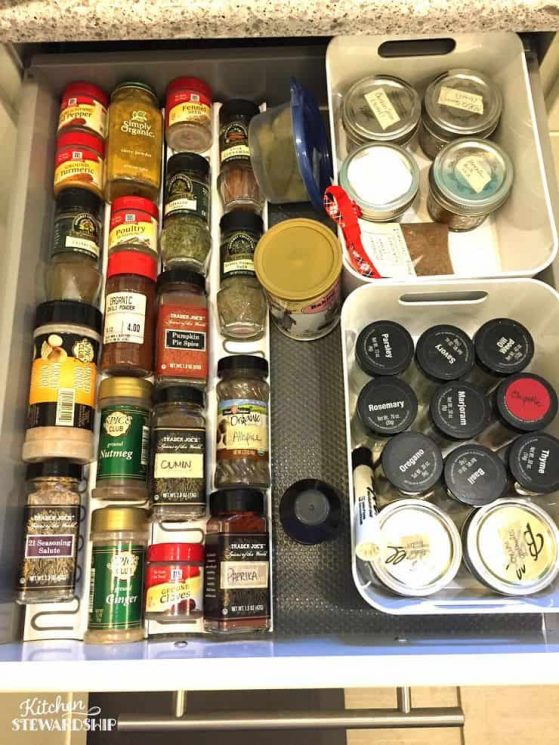 6) USE THE DOOR OR BACK OF CUPBOARDS
There is no reason to have empty space, especially if you have things that can be organized so easily! I love the idea of putting your measuring cups and spoons on the back of a cupboard, but you can also hang a rack for cleaning supplies or spices!
7) MINIMIZE PACKAGING
If I can take food out of the package, I prefer it! It makes it easier, cleaner, and more organized to store bulk items with packaged items. For the items I purchase in bulk this way and organizing my kitchen cupboard, check out this article here.
8) IMPLEMENT A NIGHTTIME CLEANING ROUTINE
We absolutely want the kids to be involved with this, but heading to bed with a clean kitchen, allows you to get a head start each morning! This checklist can be memorized and turned into a habit so the entire family is on board with your evening routine.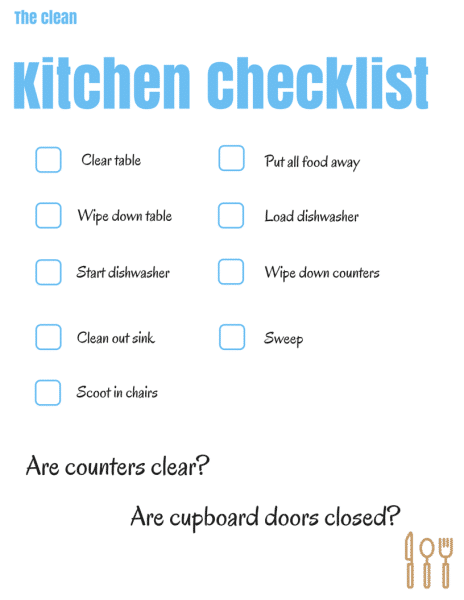 9) KEEP EATING DISHES AT KIDS LEVEL
Not only does keeping the kids dishes where they can reach them help with them being more independent, but they also won't need your help putting dishes away! This drawer from I Wash You Dry is exactly what kids need while they are young.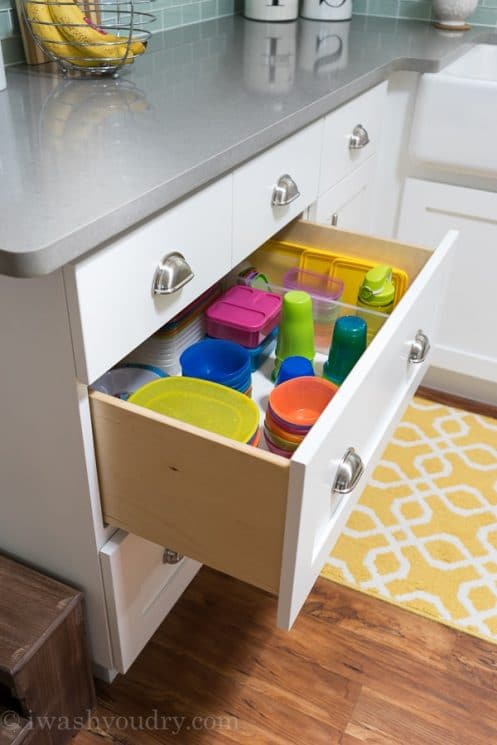 10) USE CLEAR CONTAINERS
And finally, using clear containers or open baskets can help keep you organized as you can see what's inside.
We hope these kitchen rules inspire you to get organized in the kitchen!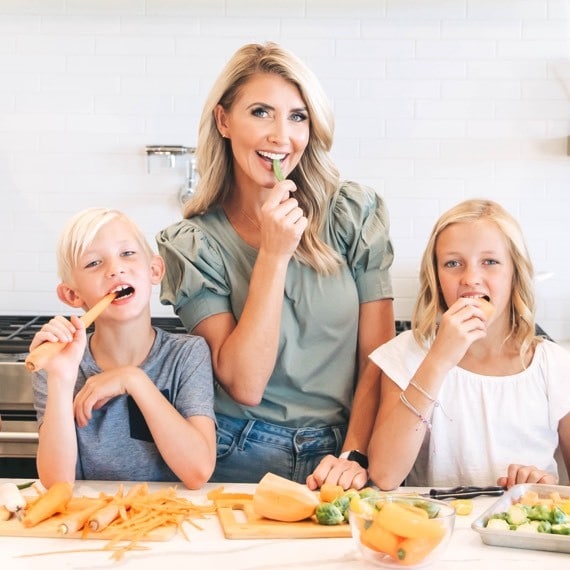 Natalie Monson
I'm a registered dietitian, mom of 4, avid lover of food and strong promoter of healthy habits. Here you will find lots of delicious recipes full of fruits and veggies, tips for getting your kids to eat better and become intuitive eaters and lots of resources for feeding your family.
Learn More about Natalie