10 Items You Don't Need to Buy at a Health Food Store
There are definitely times for purchases that do require a specialty shop of some sort, but there are more scenarios where a reasonable priced grocery store has most of the items you need. This is our list of 10 items that people sometimes think can only be purchased at a health food store.
10 "Specialty" Items To Buy at a Regular Grocery Store:
Seasonal organic produce – Whether you are buying organic now or plan to, it is best to purchase your dirty dozen, organically and in season. One way to save money throughout the year on these foods is to stock up during peak season and freeze half of your purchase. This works really well with items such as strawberriesin the summer and peaches in the fall.
Flax – I hadn't thought about his until just recently. We are new members at Costco and one of my first purchases was flax meal. It is not a brand I had bought before, and since I use it a lot, I thought I would give it a try. To my surprise it is an exact brand sold at our local Whole Foods Market for which they sell a much smaller bag at a much higher price. So it could be worth a look around for comparisons if you are a flax consumer.
Organic dairy – Although we are not big dairy consumers, I do purchase organic when we include it in our meals and it is always less expensive for the brands I love when I purchase in the grocery store. (On a side note, I am an almond milk drinker as are my children and yes, I do buy the Whole Foods brand of almond milk, although I am due to check out the possible more recent research regarding my reasoning behind this purchase. My husband on the other hand drinks cows milk and occasionally my daughter as well which is why I stick with organic).
Quinoa (unless you are buying in the bulk section) – For myself, since this is a staple in my home, I love to purchase this in a higher volume. It is indeed a great find outside of the health food store for even my non GMO, organic quinoa.
Natural peanut butter – I am sure there is no argument here but if you have found a great brand at a less expensive cost in a health food store, please comment below!
Organic spinach – This is something that could easily be noted within the category above but I have yet to find a better price than my organic spinach found in Costco.
Hemp seeds – If you still have yet to try this amazing super-food, then yes, head to your health food store for a sample packet. I first tried my hemp by purchasing small sample-like packet at Whole Foods but now, I purchase the same non GMO, organic brand outside of this store.
Herbs – The most fun and economical way around herbs is to grow your own! If you are not so inclined, and depending on which ones you are in need of, this could go both ways. I typically will buy at them at my grocery store, the farmers market or grow them but when I am looking for something else, I will head to the health food store.
Organic eggs – This is yet another item that I feel should be universal. My organic eggs are surely the least expensive at the grocery store and sometimes even cheaper at Costco (depending on the grocery store sales).
Organic chicken breast – I buy this at Costco as well, although I do have to say it is hard for me to do at times. I am very particular about my meats and sometimes I just feel better buying it at a health food store. Yes, I know it is typically more costly, but hey, I am allowed to be picky in some cases.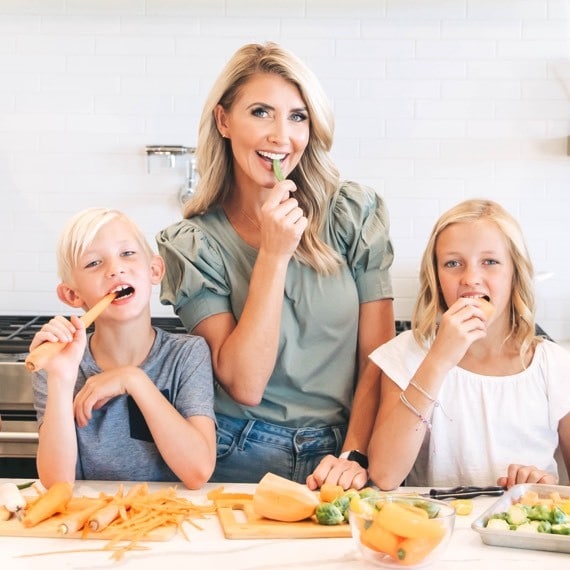 Natalie Monson
I'm a registered dietitian, mom of 4, avid lover of food and strong promoter of healthy habits. Here you will find lots of delicious recipes full of fruits and veggies, tips for getting your kids to eat better and become intuitive eaters and lots of resources for feeding your family.
Learn More about Natalie