Power Packed Fruit and Veggie Muffin Recipe for Picky Eaters
Almost every day we get a parent that writes to us about their picky eater.  As a parent, sometimes getting your child to eat anything let alone eat healthy can be very stressful! While I am a big proponent of teaching your children to love healthy food, especially fruits and vegetables, sometimes you have to have a back up plan.  Today our back up plan are these fruit and veggie muffins.  They are packed to the max with fruits and vegetables, protein and whole grains.  A lot of times, the way a food is presented or 'packaged' can influence if your child wants to eat it or not.  When I made these muffins today, I told my girls they were princess cupcakes.  The rest is history.  They each downed one hot out of the oven because they couldn't wait to try a princess cupcake.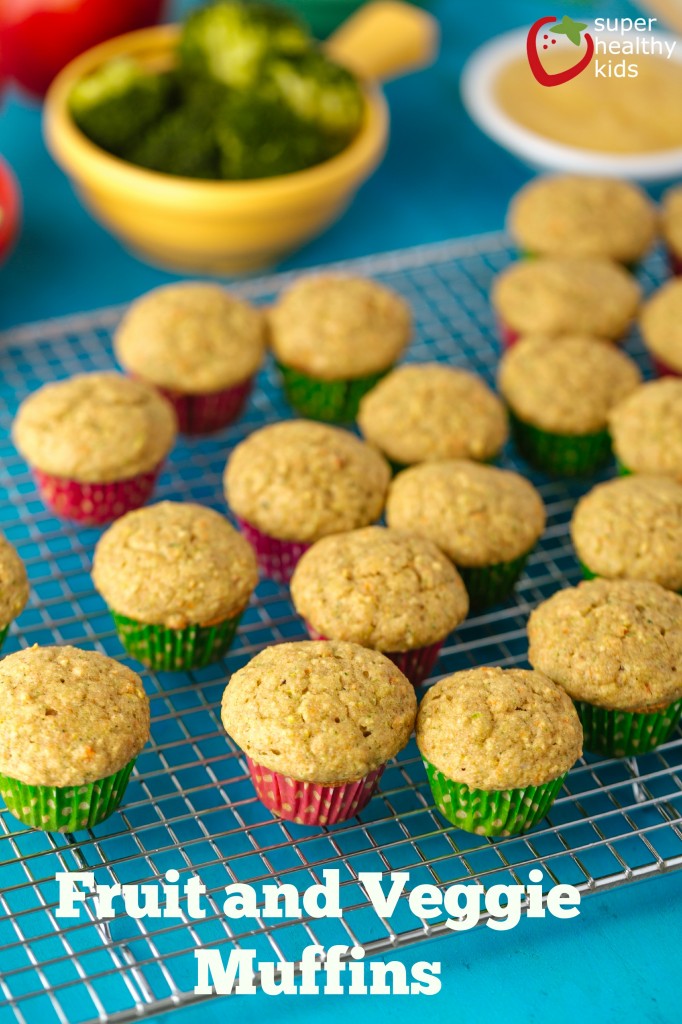 The other great thing about this Fruit and Veggie Muffin Recipe is that you can use just about any fruit and vegetable that you want.  My almost-2-year-old had been nibbling on an apple earlier today and decided she was done about 1/4 of the way through it.  So I sliced it up and used it in these muffins.  We had some leftover steamed broccoli from the other night, so it went in the muffins as well.  I had a large zucchini in my garden that needed picking, so it joined the rest of the clan.
I have had tons of comments saying that regular size muffins do not cook through in the middle.  Here are my recommendations to resolve this problem:
1) Follow this recipe.  I know there are lots of other fruits and vegetables out there that would be delicious in this recipe, but I have not tried them.  The moisture content of the fruits and vegetables will make a difference as to how well the muffin will cook.
2) Make mini-muffins.  If you are having problems with the regular size muffins not cooking through, the mini muffins will for sure cook through!
3) If your muffins are sticking to your liners, try parchment liners (pictured at the bottom of this post) or try spraying your liners.
First prepare your fruits and veggies.  I used steamed broccoli (about 1/2 cup), 1 medium zucchini, 1 1/2 carrots, 3/4 of an apple, 1 medium banana, and homemade applesauce.  I also used a bit of apple juice as my liquid to combine everything. (You could also use prune juice if your goal is to get things moving) Add all of it to a food processor.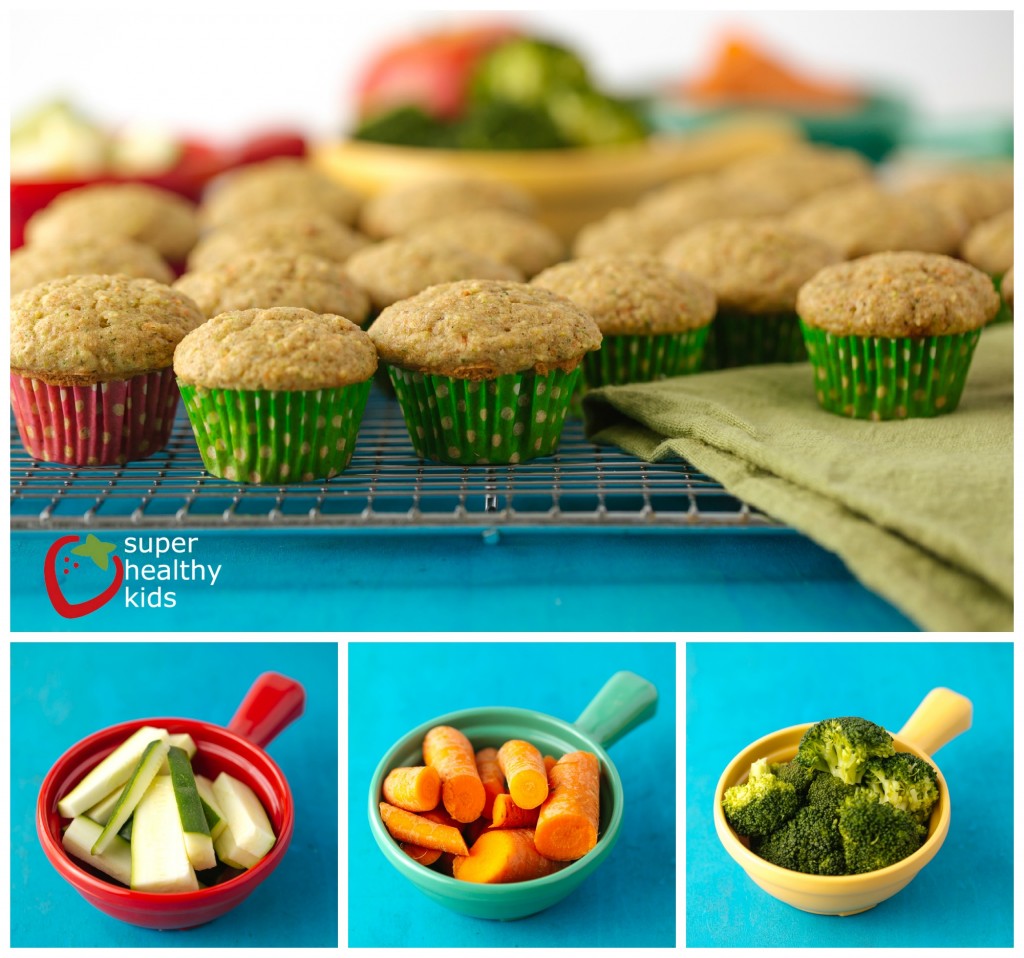 It will look slightly like baby food, or pesto……don't be scared.  It is about to get worse before it gets better.   Keep reading.
My girls love carrots and so I didn't feel the need to puree them.  Plus I think shredded carrots look so pretty in a muffin.  I grated them with a fine grate and put them in after everything had blended.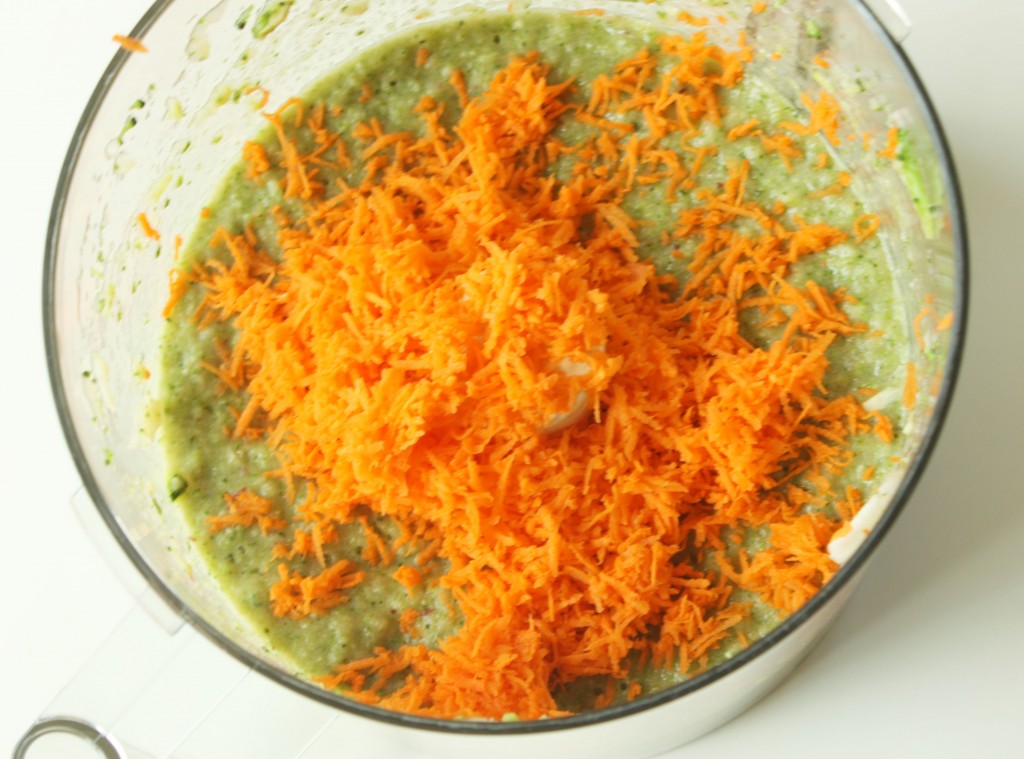 In your mixer, combine the sugar, butter and eggs.  Beat well. Add your yogurt to the mixture.  I used plain Greek yogurt, but you can also use flavored. And the muffins were even better. I mean really delicious.  No lie. Scoop into muffin tins.  I love using a cookie scoop for my muffin batter.  Makes it way less messy.  If you want to make some and freeze them later, then I recommend using baking cups.  If you use baking cups that are made from parchment, then your muffin is much less likely to stick to the paper if you have ever had that problem.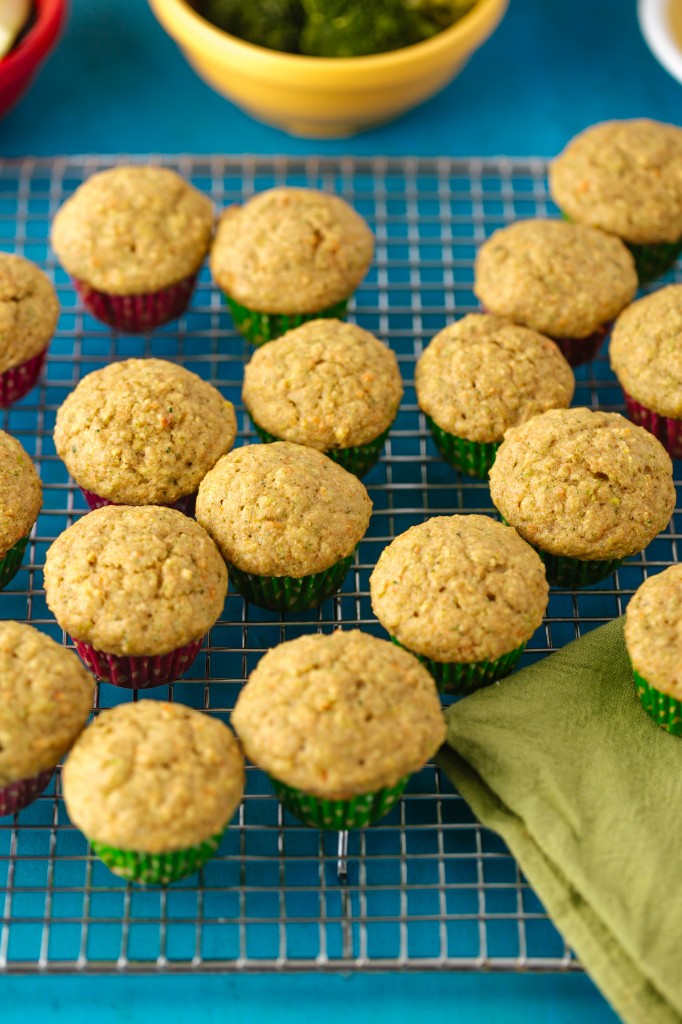 And then while your kids are happily consuming their super healthy muffins, sit back and enjoy a couple yourself.  You are however a Super Mom/Dad now. These are so good.  I think they are going to be our new go-to breakfast, mid-morning snack, afternoon snack, bedtime snack……..
| | |
| --- | --- |
| | Power Packed Fruit and Veggie Muffin Recipe for Picky Eaters |
Ingredients
1 cup – flour, whole wheat
1 cup – flour, all-purpose
3/4 teaspoon – baking soda
1/2 teaspoon – salt
1/4 teaspoon – nutmeg
1/4 teaspoon – cinnamon
1/2 cup – sugar
4 tablespoon – butter, unsalted
2 large – egg
1 teaspoon – vanilla extract
1/2 cup – broccoli, florets
1 medium – zucchini
1 1/2 medium – carrot
1/2 medium – apple
1 medium – banana
1/8 cup – apple juice
1/4 cup – applesauce, unsweetened
1/4 cup – yogurt, plain
Directions
Preheat oven to 350 degrees F.
In a medium size bowl, mix together flours, baking soda, salt, nutmeg, and cinnamon. Set aside.
Soften butter.
In a mixer or another bowl, mix the sugar, butter, eggs and vanilla. Beat well.
In a food processor, combine steamed broccoli, zucchini, apple, banana, apple juice, and applesauce.  Pulse until thoroughly mixed.
Shred carrots.  If you don't want the shreds in your muffin, combine your carrots with the rest of the fruits and veggies in the food processor.
Combine the fruit and veggie puree, carrots (unless you already added them with the puree), and yogurt, into the wet ingredient mixture (sugar/butter/eggs) and beat until mixed.
Finally, add the dry ingredients and mix just until combined and wet.
In a muffin tin, place muffin papers or spray with cooking spray.
Scoop the mixture into a prepared muffin pan.  Fill each spot about 3/4 of the way full.
For mini muffins: Bake in a 350 oven for 15-20 minutes for mini-muffins
For regular size muffins: Bake in a 375 degree oven for about 20-25 minutes.
Bake until the tops are slightly brown and a toothpick comes out clean or they bounce back when you touch them with your finger.
These freeze great! Put them in a freezer-safe bag and freeze for up to 3 months.
---