There are some foods that have been labeled as 'kid-food' that I will never understand why kids (or adults) like them.  Goldfish, Boxed Mac N' Cheese, Chicken Nuggets, and Hot Dogs to name a few.  A lot of these foods are made with bleached white flour, additives, preservatives, food dyes, aside from the fact that they taste like the cardboard box they come in.
Making food from scratch does require more time and effort, and will likely make your kitchen a bit messier, but the payoffs are definitely worth it!  It will help your children learn to cook, teach them that cooking at home is valued and important, help to create healthy life long habits, provide more nutritious meals and snacks, and create bonding opportunities.  We love making meals and snacks that are kids can help us with in the kitchen.  Making these crackers with your kids meet all of these goals!  And these are 100% whole wheat, which provides much more fiber, more antioxidants, vitamins and minerals and many studied long-term health benefits.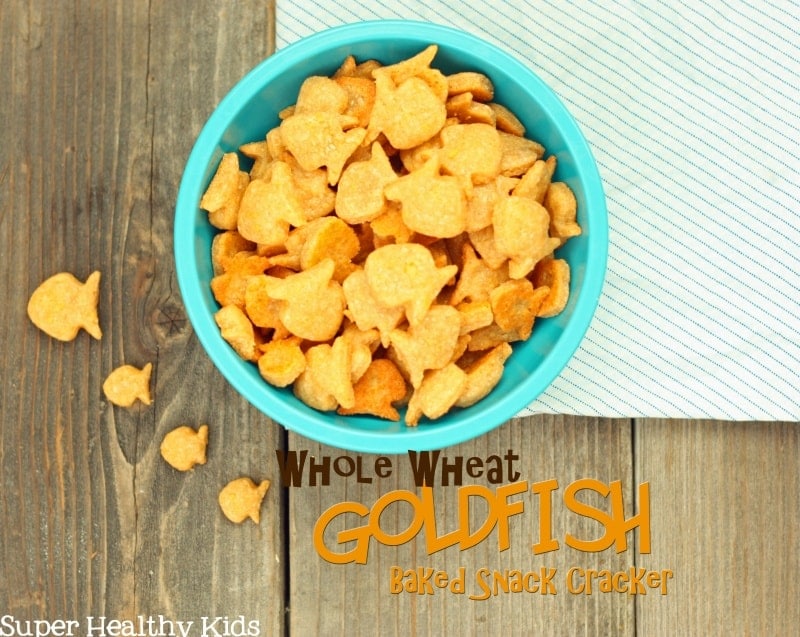 One of the best things about this homemade whole wheat goldfish crackers recipe is that not only are you making a wholesome snack, but you are providing an activity for your kids at the same time!!  Think of it as edible playdough! Seriously – my daughter Sophie sat and cutout little fishies and rolled the dough and cut out more for at least 30 minutes.  She loved it.  And then she stood and watched the crackers bake because she was so excited to try the ones she had just cutout.  So in total, making these crackers occupied her for about 45 minutes.  We had fun making them and eating them together!
These crackers are buttery, cheesy, and have about a million times the flavor of store bought goldfish crackers.  Trust me, they aren't just for kids 🙂
I had a mom write in and ask me if I really made my own crackers even with having small kids running around.  Absolutely!  They only have 5 ingredients and take minutes to whip up.  The most time consuming part is cutting them out, and that is where the kids come in to help! Also, you can make a big batch of dough and keep it in your fridge.  When you want more crackers, just pull it out and let it warm to room temperature, roll it and follow the remainder of the recipe.  Minutes I tell you!
The easiest way to make these (and any homemade cracker) is in a food processor.  Combine the ingredients until it forms a course sand-like dough.  Once you add the water, it should begin to form a dough ball.  Roll it between two pieces of wax or freezer paper and chill for about 10 minutes.  Then you will want to roll your dough on a surface.  The thinner you roll it, the thinner and crispier the crackers.  If you roll it out thicker, you will have a softer more bread like cracker, which is still delicious.  Use a fish cutter to cut out the shapes. Layout on a pan and bake at 350 degrees for 12-20 minutes depending on how thick your crackers are.  The longer you bake, the more crispy they will be.  To store these, place in an airtight container.  Mine did soften after about 1 day, but I still thought they were delicious.  I have heard that if you place them in a tin, or metal container, they won't soften.  You can store these for up to 1 week.
We love making our own crackers!  Try some of our other favorites: