Spaghetti and Meatballs is a favorite dinner for kids. Pack in the veggies in this meatball recipe and it will be a favorite dinner for moms too!
How Do You Make Homemade Meatballs?
The Meat. You can really use any meat to make meatballs.  This meatball recipe calls for ground turkey which is delicious and makes a really tender meatball.   If you prefer the flavor of beef or pork, then by all means use those!  Or you can use a combination of beef, pork or turkey.  The sky is the limit.
The Binder.  One of the reasons meatballs are so tender is because there is a binder in them.  This meatball recipe calls for breadcrumbs and an egg as the binder.
The Veggies.  Most meatball recipes don't call for veggies.  Our recipe has 4 different veggies packed into these little meatballs.  And the honest to goodness truth is that your kids won't be able to tell the difference between these and any other meatball.  But the difference in nutrition is incredible!
Mixing. The best way to mix meatballs is with your hands.  If it totally grosses you out, then you can totally wear gloves.  If that is too much for you, then use a spatula.  Using your hands just really gets everything well blended together.
Cooking.  There are a few ways to cook the meatballs.  The first is roasting them in the oven on a sheet pan.  This is a good option if you plan on serving the meatballs without being covered in sauce, or if you are going to freeze them.  The second option is to simmer in the sauce that you will serve them with.  This method really gives them an incredible texture as well as a rich flavor.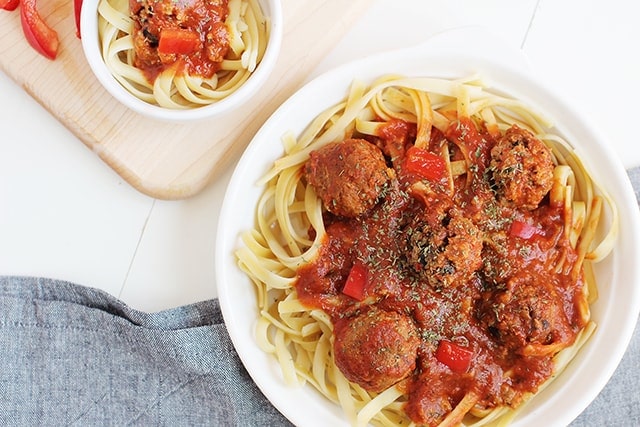 Crockpot Cooking
We love to use our crockpot for making dinners because it makes your cooking life so much easier on those nights when you really just don't have time to put dinner together at 5:00 pm.  This meatball recipe is great, because you can make them ahead and then just throw them in your crockpot with the sauce.  Dinner prep requires only cooking up a pot of noodles and bam – you're ready!  The veggies are included in the meatballs so you don't have to think up a veggie side dish for this dinner.
We have found some helpful tips when using your crockpot:
Preheat your crockpot.  It is kind of like a small oven, and so turning it on 20 minutes ahead can make a big difference.
When you are putting ingredients in your crockpot, follow this order:  meat, spices, vegetables, other non-liquid ingredients, and lastly, liquids.
Chicken is best cooked on high, and beef is best cooked on low.
Unless you are cooking a lot of food, a small to medium crockpot is a good size.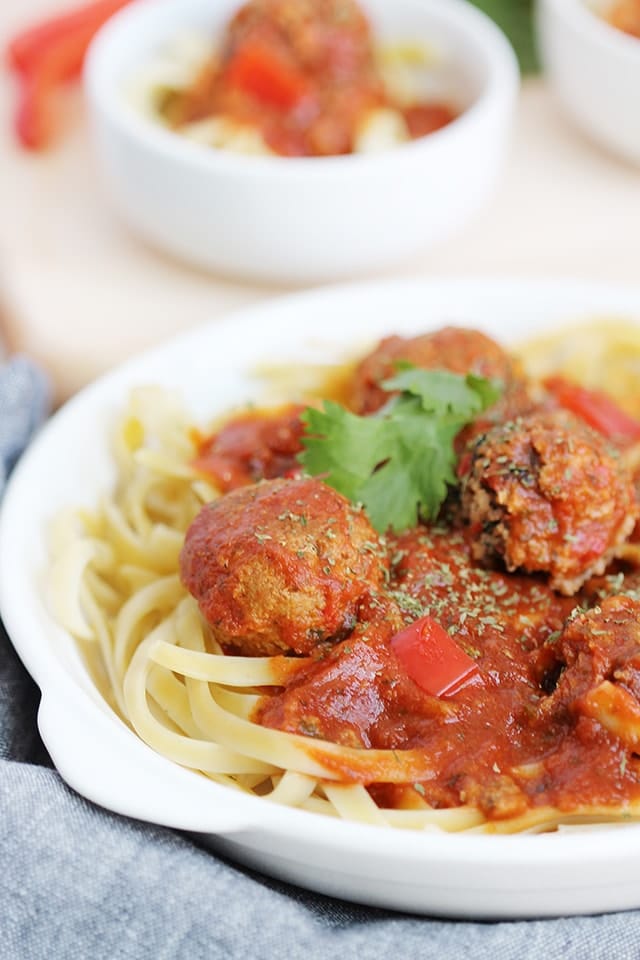 Portion Sizes for Kids
A lot of the time parents don't think their kids are eating the right amount.  They are either eating too much or not enough.  The great thing about kids, is when they are little they actually have really good appetite regulation.  They know when they are hungry and they also know when they are full and should stop eating.  As adults, our appetite regulation has been influenced by so many different factors, that we often use outside cues to tell us when and how much we should eat.  Unfortunately, instead of letting our kids regulate themselves, we try and do it for them.
Kids might eat a lot at one meal and not very much the next.  Or a lot one day and not a lot the next day.  This pattern is completely normal.   Kids in general don't eat a lot at one time.  We like to serve our kids smaller portions because it is less overwhelming for them.  For spaghetti and meatballs, serving in a small kid-size bowl is a great way to help your kids eat and learn good portion size.  Pasta is a food that is really easy to overeat, so the dish you serve it in can make a big difference.
More of Our Favorite Heathy Pasta Dinners: