While I'm definitely snagging some alone time with my husband, I'm also deeply in love with my kids! Valentine's Day is to "express your love to those you love", so of course we include the children.  Having family traditions for the holidays is a great way to have your kids feel connected and loved.  One tradition we want to start is having fondue for dinner! I didn't realize how successful it could be for those kids that only eat the "required number of bites" of their vegetables, until I saw my kids inhaling the asparagus (a veggie they don't normally love).
So, if you want to see your kids eat double the vegetables than you expect, serve your veggies with fondue! One mom said about this fondue, "This was a big hit even with the adult picky eaters!" LOL.
Since our dinner was fairly simple- very little preparation time, we were able to focus on making our dining area look festive!  We used some little grassy pots from Ikea, with hearts on sticks purchased from the dollar store.  We had a tablecloth that we keep in the cupboard, literally for holidays only.  We had a few old rose petals to sprinkle on the table from my daughters ballet show two weeks ago.  Then, I found at the party store the hanging heart mobile that we hung from the light fixture (for $3)
Valentine's veggies
The vegetables in this dinner included:
Broccoli -Great for a strong immune system with over 100% of the Daily Value for Vitamin C
Asparagus– Great source of vitamin K- essential for building strong bones when your kids bone growth is the most vital!
and

Zucchini

– Great source of vitamin B complex which is essential for blood sugar regulation
To serve the vegetables, I blanched them. You can serve them raw or steamed, or even roasted, but we chose blanched.  I dunked the veggies in boiling water for 2 minutes, than I removed them from the boiling water and shocked them with a cold water bath. This stops the vegetables from continuing to cook.  It's a great method for kids, because you get a softer veggie than raw, but it's not so cooked that they turn mushy.  Great for fondue!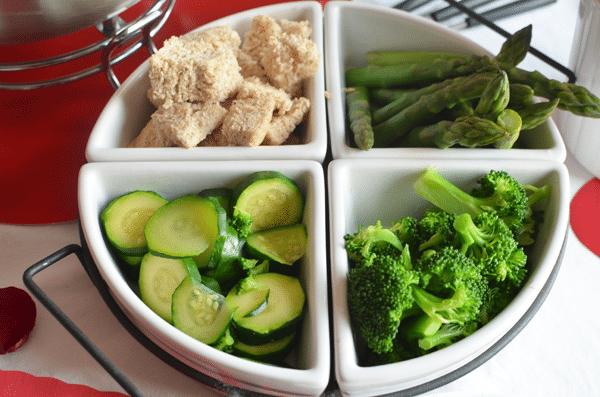 To make a cheese fondue, we simply melted together some Monterrey cheese, milk, and flour. (full recipe below).  It only took a few minutes to start, and then we were able to eat as soon as it was melted.
We also served some Berry Juice (100%) mixed with club soda to drink.
We cooked BBQ chicken to go with our vegetables tonight.  Also, a super fast and easy dish to prepare. We poured BBQ sauce over the chicken and cooked in the oven for about 1 hour.
And of course, to make our meal balanced, we added some bread, chopped into cubes, also for dipping into our fondue.
And of course no Valentine dinner is complete without some chocolate dipped strawberries!
Overall, the kids are thrilled with our new tradition!  I don't have many years with them left, and I'm really starting to feel the need to hold them as close as I can, for as long as I can.  Happy Valentines Day to you all!