All you need is 2 ingredients and 5 minutes to have this healthy tropical ice cream ready! Kids can make it themselves!
When  my daughter Erica was 10 years old, she insisted that she invented this healthy ice cream recipe, and insisted I post it.  That was nearly 8 years ago!   She and her friends made this healthy ice cream so many times one summer, I thought they would start a business!  That summer, I remember her being so anxious to share it with other kids in the neighborhood, so they also could know and taste how good it was.  She even brought my bag of frozen fruit to the neighbors to prepare it, because we were out of milk and she needed her daily fix.
What I love about this healthy ice cream, is that it is just fruit and milk. It could be a healthy snack, or even made for breakfast.  We can make it so quickly because we START with frozen fruit.  Blend with the milk while still frozen, and you have instant ice cream!
So, here is what they do:
Healthy Tropical Ice Cream Recipe
4 cups frozen fruit blend (Mango, Pineapple, Kiwi, Papaya and Strawberries)
1 1/2- 2 cups low fat milk
Put the fruit and milk into a blender, and blend until fruit is smooth.  Start with 1 cup of milk, and slowly add one more until the blender starts to work.  You know how sometimes if there isn't enough liquid, the blender just won't go.  Depending on how good your blender is, you may have to add more milk until it begins to move.  Don't add too much though, because then you've turned your ice cream into a smoothie!  Not that there is anything wrong with that.
5 reasons I love this Healthy Ice Cream:
No sugar added! We are huge fans of natural sugar through fruit, and we don't hesitate one bit to encourage fruit here.  Because fruit is combined with all the nutrients, minerals, and fiber of the whole food, it's an excellent source of sugar necessary for kids to have energy and grow.
The MyPlate Icon includes a side of dairy.  This would be a perfect compliment to follow any healthy, balanced meal!
It's easy to make!  I mean, my 10 year old was making it!
It's super delicious! 10 out of 10 kids agreed.
3/4 cup of this frozen fruit blend has 130% of your daily requirement for Vitamin C!
So, for one last summer hoorah, make some ice cream!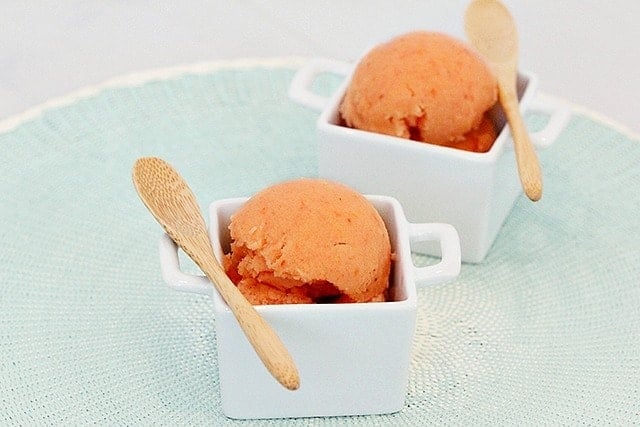 For more SIMPLE Healthy Ice cream Ideas: