One search that brings people to our website almost more than any others is parents wondering how much is adequate protein for kids and what the best sources are.  So, we've gathered our top 10 favorite protein for kids food ideas here!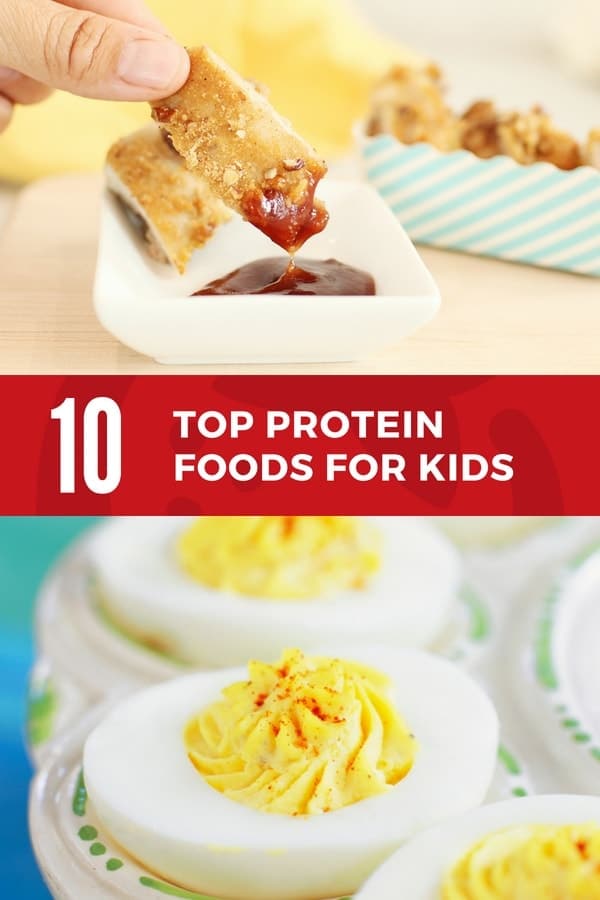 I want to first to put your parent minds at ease to say, it's unlikely any child is deficient in protein in the developed world.  With adequate calories usually comes adequate protein for kids. Yet, because we want to give our kids the best advantages in life, we're still concerned about how much protein our kids should be eating, and where to get it.   For those who's kids aren't excited about meat as a protein sources, check out our post, "Non-Meat Protein Ideas for Kids"
How much protein should kids eat?
Protein is essential for growing children!  In order to get my kids excited about protein, I let them know protein is the building block for every muscle in our body.  Protein is vital to growing and repairing strong muscles. We use four different ways to measure how much protein kids should be eating, according to the USDA dietary guidelines.  These are:
2-4 ounces of meat or beans per day.
0.45 grams of protein per lb of body weight
1/4 of your meal (similar to Choose MyPlate)
and finally by age:


| Age | Protein Recommendations |
| --- | --- |
| 1–3 years | 13 grams |
| 4–8 years | 19 grams |
| 9–13 years | 34 grams |
| Girls 14–18 years | 46 grams |
| Boys 14–18 years | 52 grams |
Our top 10 favorite protein for kids foods include:
Eggs

: My kids love eating Easter Eggs all year. Coloring eggs doesn't have to be limited to springtime!  Why not add a few drops of color to your boiling water any time you boil eggs and have colored eggs anytime of year?

Yogurt

is a yummy source of protein! We love yogurt in cereal, mixed with berries, or even as a topping for our French Toast (which has more protein!)

Nuts

: We'll eat nuts any way we can get them, but we particularly enjoy trail mix or roasting nuts with some cinnamon or sugar. Using peanut butter in our smoothies is one way we make a "protein shake" without protein powder.
Seeds:  An easy way to get some seeds, is to make them into a spread like we did Friday with the Sunbutter!  Add this to sandwiches or fruit and voila, delicious protein!

Cottage Cheese:

 Cottage cheese and fruit can be a kids favorite if you start them young.  We love cottage cheese mixed with in-season fruit.  We also like blending cottage cheese to make pancakes, like this recipe for a high protein pancake.

Lunch Meats:

  We roll a small slice of turkey around a carrot stick or pretzel rod.  This easy to pick up lunch or snack is simple and requires no knives!  Also we stack meats, cheese, or veggies between two whole-grain crackers. You can stack these separately and let the children assemble their own sandwiches.  By deli meats, we mean thinly sliced cuts of meat! Traditional deli meat is packaged with nitrites, which you can avoid by finding a farmer that will process the meat without them.

Beans

over rice with some melted cheese on top is perfect for a complete protein. Plus, the melted cheese always makes things tastier.

Meat Alternatives:

  Although we actually don't use these much, meat alternatives can be an occasional treat to make a traditional favorite a bit healthier.  "Pigs in a blanket" can be healthy if you wrap a veggie breakfast link in a crescent roll. Bake until the roll is browned and cooked.

Ground Beef or Turkey

: We like to replace ground beef with ground turkey because it takes on a new flavor, but both are great sources of protein!  We enjoy ground turkey burgers, ground turkey spaghetti, or even ground turkey tacos.
Chicken!!  This is where our recipe of the day comes in, Crusty Pecan Chicken! I like this one because both the pecans and the chicken are good sources of protein for kids.
This pecan chicken dish came as a surprising favorite for my family! In fact, I had no intention of blogging about it, or else I would have taken 'step by step' pictures along the way.  This Crunchy Pecan Chicken combines pecans and crackers for the crust to make it extra crunchy on the outside, with a hint of nutmeg for some flavor.  Plus, it was super easy!
OUR LATEST VIDEOS
We also made some frogs that enjoyed "eating" our green salad:
The best part about this chicken? The leftovers!! The next day, add it to green salad for lunch!
Let us know your favorite sources of protein for kids in the comments, and try this pecan chicken! You won't regret it!