I've tried so hard to get good pictures of chicken, but somehow, it never looks appetizing to me.
Anyway,  I got this great recipe from my very oldest (not by age) friend, Sarah Kent.  She even has a facebook fan page, cause she's a SUPERSTAR!!!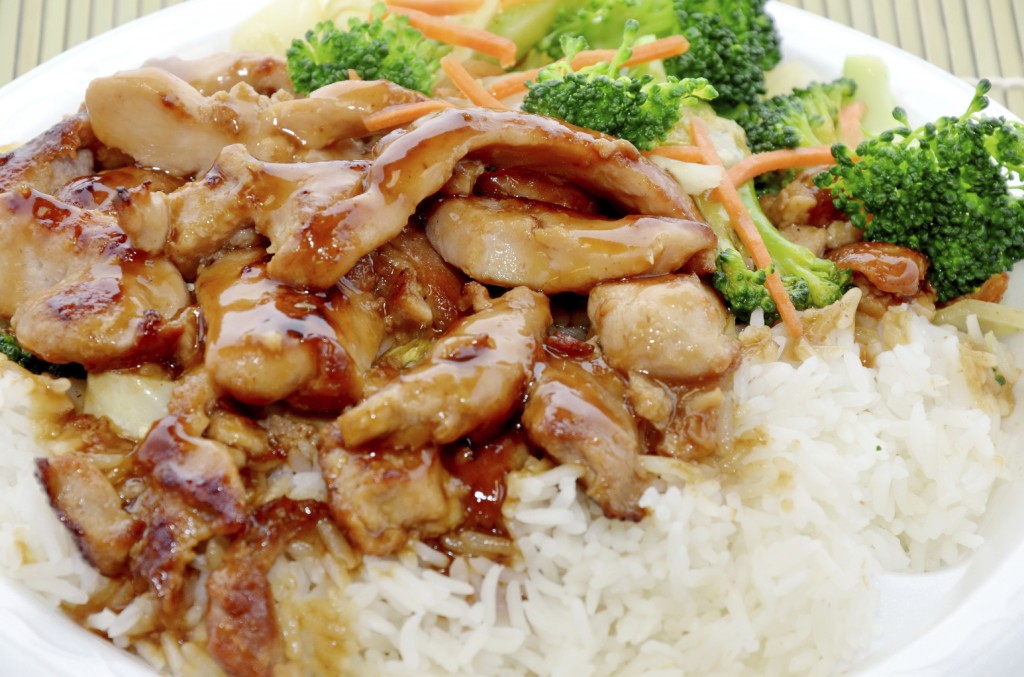 Anyway, Sarah (although you can't tell by her picture) is part Japanese.
Her family used to make the most amazing Teriyaki Chicken.  And since I was out of my favorite Yoshida sauce, and I for spice week, I knew it required ginger, I emailed her for the recipe!.
For the record, the original version (which I will share) is not Super Healthy.  High in sodium and sugar.  But I made some minor adjustments, and it was still good.  We always serve Teriyaki chicken with Broccoli, which Erica LOVES!!
Here is the original…in Sarah's words:
For one bag of frozen chicken wings or breast (whatever turns you on)
Approximately the following:
4 -5 cups of Kikoman Soy Sauce (no low sodium here)

(I ONLY USED 1 1/4 cup and low sodium :0 sorry sarah!)

2 cups + of brown sugar

(I used 1/4 cup)

1 can of chopped or crushed pineapple (just add the juice and the pineapple and all)
1/4 cup + of grated fresh ginger root (keep ginger root frozen in freezer until you're ready to shred it, it's easier to grate when it's frozen)
1 + chopped garlic clove or 1 tsp garlic salt
2 tsp of Kosher Salt (optional)
1/4 cup chopped green onions (semi-optional)
1 cup chopped mushrooms (optional)
1/2 cup sliced white or yellow onions (optional)
Basically you'll mix all of that together and the taste should be kind of strong of ginger, or the smell should really be strong of the ingredients especially if you're adding frozen chicken because it will dilute the taste some and after letting it slow cook for a few hours it will be just right.
You can just marinate the chicken in this over night and then cook it as well. Seems that the longer you let it slow simmer, the better. Probably could be made in a crock pot. I'm not sure if it's better to bring it to a boil first for a few minutes and then let it simmer for a few hours or not.
Best served with Japanese Rice.
Nice side with this is California roll sushi  and/or raw tofu with shopped up green onions, fresh tomatoes and white onions shopped on top with a little bit of fresh ginger root grated on top. Some soy sauce and/or a Japanese citrus dressing called Mirin. If you can't get mirin, mix soy sauce and lemon juice together (roughly 3 parts soy sauce to 1 part lemon juice) it will have a nice tangy kind of salad dressing taste to add to any fresh veggies.