The Instant Pot is the new kitchen super hero, and teamed up with super at-home chefs, its powers are practically boundless.  I am relatively new to the Instant Pot scene, and I am in awe of the possibilities.  The speed with which you can produce a meal makes so many recipes an option for even busy nights.  It's got the ease of crock pot cooking but with super hero-like swiftness. And since you can saute and brown your protein, if desired, in the Instant Pot, you have less clean up.  Our Instant Pot recipe round-up is filled with healthy and tantalizing dishes for novices as well as veterans to Instant Pot cooking.  Make your cooking even faster on weeknights by pre-chopping your veggies and proteins earlier in the week for time-saving on busy nights.
Breakfast
Instant Pot Hard Cooked Eggs by The Prairie Homestead.
Eggs are ready in about 15 minutes with this method.  The highlight is that you put the eggs into the Instant Pot and let it do all of the work rather than you having to watch for them to come to a boil, remove from the burner, and cover as you would for stove-top cooking. PLUS – they peel incredibly easy!  You have got to try it.
Instant Pot Oatmeal by My Plant Based Family.
Dump your steel cut oats and water into your instant pot, set it, and walk away.  You don't have to stir or watch as it cooks.  Just return after the Instant Pot has done its magic to have a warm and filling oatmeal breakfast.
Instant Pot Yogurt by Tidbits.
You can make your own amazing yogurt using your Instant Pot to serve for breakfast, snack, or to use in recipes.
Soups
While soup is delicious on a cold day, many of us don't make a pot of soup on a busy weeknight.    With your Instant Pot, you can add soup to the weeknight menu with ease.
Instant Pot Chicken Soup by Mommypotamus.
Chicken soup has many amazing qualities-it's soothing, healing, and delicious.  And making it in the Instant Pot adds almost effortless to its list of qualities.
Instant Pot Vegetable Soup by Fat Free Vegan.
Because pre-cut frozen vegetables are used in this recipe, no chopping is necessary leading to very little prep time needed.
Minestrone Soup by Don't Mess with Mama.
This minestrone soup is a hearty vegetarian soup with gluten free and vegan options.
Creamy Thai Coconut Chicken Soup by Rasa Malaysia.
Comforting Beef Barley Soup by Little Spice Jar.
Chicken Vegetable Soup by A Squirrel in the Kitchen.
Chicken soup with carrots, celery and leeks provide comfort and warmth.
Instant Pot Chicken Stock by Budget Bytes.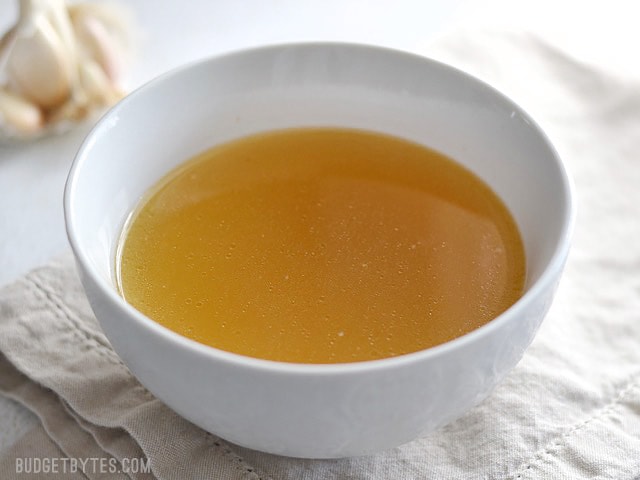 Amazing chicken stock, ready to be used in a number of recipes, can be ready in less than an hour.
Scrumptious Lentil Soup by What the Heck Do I Eat Now.
Enjoy another vegetarian soup option, with red and brown lentils, carrots, corn, and potatoes
Beef, Chicken, and Pork
All-in-one Instant Pot Chicken and Brown Rice by Super Healthy Kids.
This one-pot chicken dish includes everything you need in your meal-your protein, grains, and vegetables-except for fruit, which you can serve on the side.  A bonus about this recipe is that it is written for someone brand new to the Instant Pot and explains each step in detail.
Instant Pot Sloppy Joe Meat by My Heart Beets.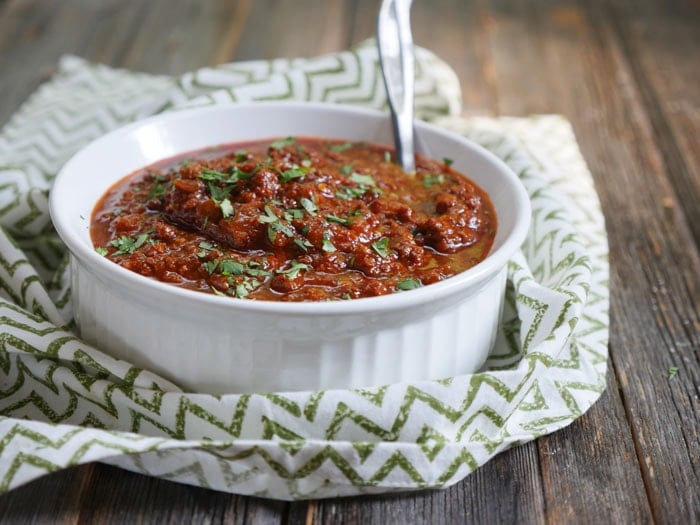 Sloppy Joes are a comfort food for many, and this healthier homemade version makes it to the table quickly by using an Instant Pot.
One Pot Spaghetti Squash and Meat Sauce by Skinny Taste.
How amazing is it that you can cook your squash right on top of your sauce?
Pressure Cooker Chili-Lime Chicken by Our Best Bites.
This delicious chicken can be used in salad, burritos, quesadillas, rice bowls, in sandwiches, and more.  If you prefer, skip the liquid smoke.
Instant Pot Pork Carnitas by Skinny Taste.
This recipe produces yummy Mexican pulled pork that you can use in tacos, taco salad, burritos and wherever else you are inspired to use it.
Paleo Instant Pot Mexi-Meatloaf by Predominately Paleo.
Instant Stew by The Domestic Man.
Beef stew is a winter favorite, and is a great Instant Pot candidate.  This recipe calls for red wine, but you can use more broth instead if you prefer.
Instant Pot Whole "Rotisserie" Chicken by A Pinch of Healthy.
It takes less than an hour to reap the reward of a tender, juicy, and flavorful whole chicken.
Easy One Pot Pressure Cooker Spaghetti Bolognese by Pressure Cook Recipes.
Instant Pot Salsa Verde Chicken by Cookies and Cups.
Yet another versatile shredded chicken to be used in so many ways throughout the week.
Lemon Butter Chicken by Jeannine Ross.
This mouthwatering recipe was adapted from Damn Delicious to make it Instant Pot ready.
Texas Beef Chili by My Heart Beets.
Tasty chili made is less than an hour is a win.
Stuffed Bell Peppers by Al Pravato.  We usually make our stuffed peppers on the grill, but first, we parboil the peppers while sautéing veggies and browning ground meat.  This Instant Pot recipe does everything in one dish, producing so much less to clean up.
Vegetarian Fare
Vegetarian Sweet Potato Chili by Cookie and Kate.
I've made several recipes from this site and have never been disappointed.
Chickpea Sweet Potato Spinach Curry by Vegan Richa.
Check out the notes section at the bottom of the recipe for Instant Pot instructions.
Instant Pot Vegetarian Chili by Center Cut Cook.
This vegetarian chili boasts a variety of beans, sweet potato, and corn.  It also calls for ½ cup of beer, but feel free to substitute water instead.
One Pot Pressure Cooker Penne Rigate Pasta by Pressure Cook Recipes.
Sides
Pressure Cooker Quinoa by Eat Within Your Means.
One minute of cooking for perfect quinoa.  Amazing!
Instant Pot Brown Rice by Our Best Bites.
No need to wait for your water to boil on the stove top then hope your pot doesn't boil over while cooking your brown rice using the Instant Pot for brown rice.
Fresh and Frozen Vegetables by Instant Pot.  This list shows you the cooking time for fresh and frozen veggies using the Instant Pot.
Perfect Baked Sweet Potatoes in the Pressure Cooker and Oven by Fat Free Vegan Kitchen.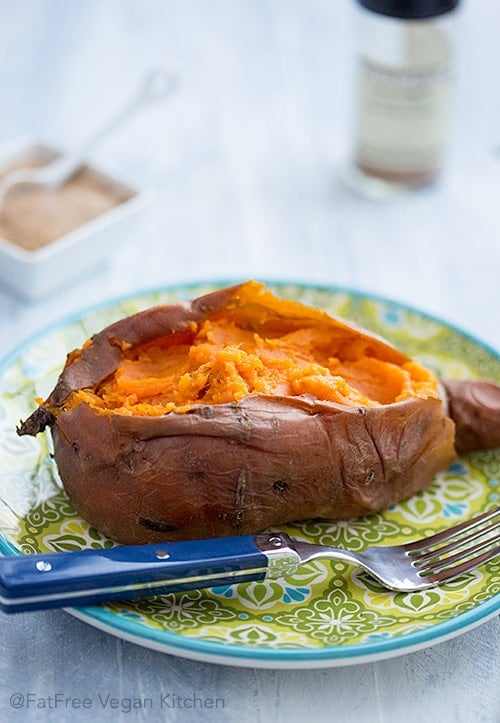 Instant Pots can lead to amazing and healthy lightning-fast meals that you never imagined you could enjoy on week nights.  Combining the swiftness with an easy to use appliance can make any cook-from novice to experienced- comfortable with Instant Pot's amazing capabilities.