Chicken nuggets made perfect for toddlers learning to chew!
We've all made chicken nuggets using bite size pieces of chicken, rolled in a breading, and baked, right?  We eat those a lot and love them!  But, I got to thinking about how hard that is for kids to chew! Sometimes, meat can be tough for toddlers without all their teeth.  One reason processed nuggets are so popular among little kids (beyond the salt, fat, and chemicals), is of course that they are easier to eat.  So, I decided to make our own 'Un-Processed' nuggets for a new dinner idea, and they turned out delicious!!
What was even more fun, was because we blended up the meat first, we could shape them! I didn't have a dinosaur mold to use, but I do have lot's of hearts and flowers.
And, before we begin- don't judge me on photography! I hate taking pictures of meat. Literally, I think it always looks ugly, no matter what! Here's my Toddler Perfect Chicken Nuggets Recipe.
To make these chicken nuggets
I started with:  five ounces of chicken breast (boiled for 20 minutes in water) TIP: if your chicken breasts come out too dry- your nuggets will ALSO be dry!  Don't over cook!
Then, I put the chicken in a blender, I put in
The cooked chicken breast
1 egg
Seasoned with salt
and blended it all together until smooth. (Bleh! Gross, I know!)
But then, all I did was pack little balls of the meat mixture into cookie cutters, and rolled them in bread crumbs. You obviously don't have to make shapes. I only made a couple until I got bored with it, and just made balls of nuggets.
Then, place on a cookie sheet to bake.  I drizzled with a little butter, so they would come out crispier.. totally optional!
Then, bake at 400 for about 10 minutes (you can flip half way though if you want both sides crispy.
Use your favorite dip, like honey mustard, spicy mustard, ranch, BBQ sauce, or whatever.
So, I've been dying all week waiting for my March Issue of Family Fun Magazine!  I'm hoping it will come today, because on page 37 they are featuring my plates!! If you haven't seen them, I usually like to use our 3 section plate, just cause it's easier to eat off of.  But today, I wanted to try out our 4 Section Myplate Plate!  As soon as I get that magazine, I will post a scan of the feature! I'm DYING INSIDE! Plates are here! 
PIN TO SAVE!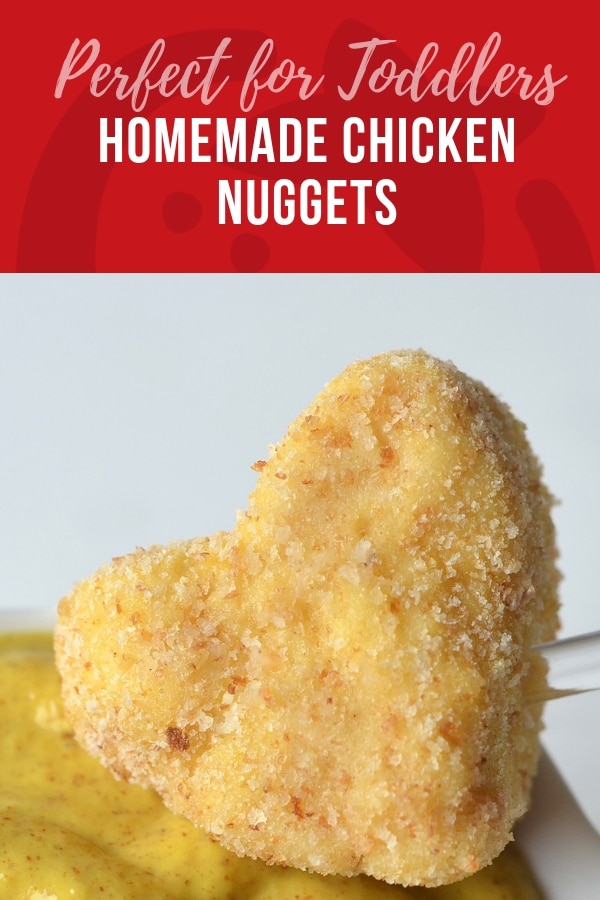 MORE HOMEMADE CHICKEN NUGGETS RECIPES FOR KIDS
VEGETARIAN NUGGET OPTIONS