Crispy Baked Tofu Nuggets
Dippable Baked Tofu Nuggets with a crispy whole grain breading are the perfect plant-powered lunch for vegetarians and meat-eaters alike!
After years of making one-off tofu recipes, I finally found a recipe that has turned tofu into a regular menu item at our house. It's all thanks to the cookbook author Nava Atlas!
These crispy baked tofu nuggets are my tweaked version of a recipe from her 2004 book, The Vegetarian Family Cookbook. I was lucky enough to find a copy of the book in a thrift store, and snatched it up. Because Nava is amazing and one of my personal heroes. Anyway.
We're not vegetarians; we love a good homemade chicken nugget. But we also love variety. And we know that part of our mission to raise healthy kids includes sharing lots of different kinds of foods with our little eaters.
What I'm getting at is this: anyone–including meat lovers– can cook and enjoy this plant-powered nugget that's sustainable, low in fat, high in protein, and irresistibly dippable!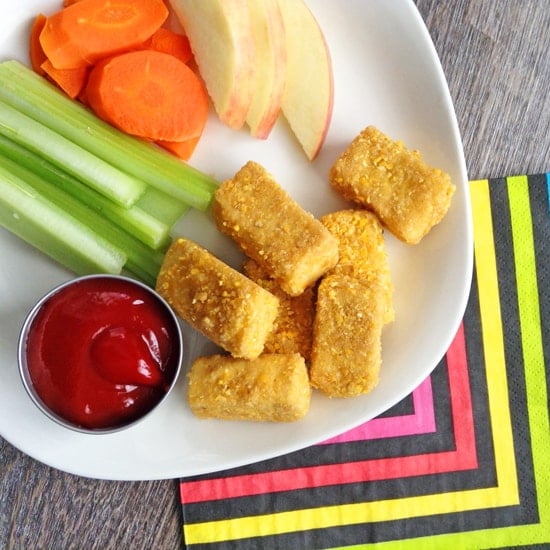 The prep and cooking is easy and fun… my kids like to help with this one. (I like how I don't have to worry about them picking up germs from raw meat or eggs.) Here's how to make it.
Shake it Up!
First cut two blocks of extra-firm tofu into rectangles (make sure it's labeled EXTRA firm!) and pat each one dry. I do this with a flour sack towel, but paper towels work, too.
Next, combine the ingredients for the whole grain breading in a gallon sized freezer bag. Dip the nuggets in EVOO, then toss them into the bag, and shake until the nuggets are evenly coated. (I like to do this in batches, so the party doesn't get too crazy in there.)
Line up the nuggets on a baking sheet, and bake. (They can be close together… they're not going anywhere.)
Serve the hot, crispy nuggets with your favorite dipper, like ketchup or barbecue sauce, and a side of green veggies. And watch lunch disappear!
I like to batch-cook everything so we have leftovers. But with this recipe, that's hard to do. My family usually eats most of them in one sitting.
What I have noticed, though, when I can manage to squirrel some away for another meal, is that the leftovers are fantastic. Dare I say, even better than fresh.
Just be sure to reheat them in an oven of some sort (toaster oven or regular) so the breading crisps up again.
Enjoy!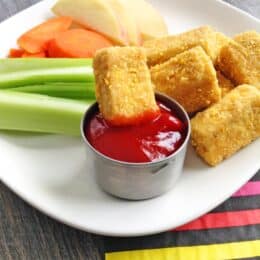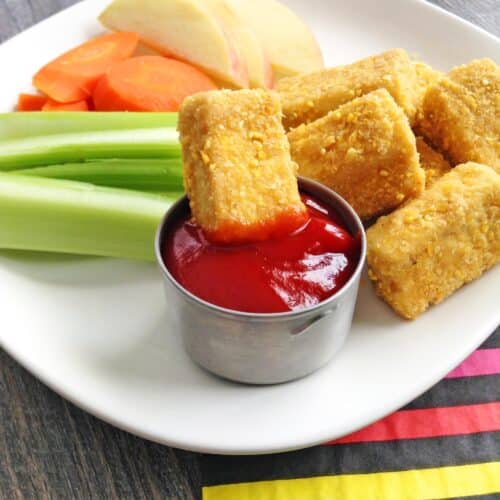 Ingredients
32

ounce

Tofu, firm

1/2

cup

olive oil

1/2

cup

flour, whole wheat

1/2

cup

Cornmeal

1 1/2

teaspoon

salt

1/4

teaspoon

garlic powder

1/2

teaspoon

onion powder

1/4

cup

nutritional yeast
Instructions
Preheat oven to 400 degrees and line a baking sheet with parchment paper or a silicone mat.

Drain the blocks of tofu, and cut each block into six rectangular slabs.

Pat the slabs with a towel until they are good and dry, then cut each slab in half twice to make four nuggets per slab.

Pour the olive oil into a medium-sized mixing bowl, and set aside.

In a gallon freezer bag, combine the whole wheat flour, cornmeal, salt, garlic powder, onion powder, and nutritional yeast.

In batches, dunk nuggets into olive oil, then add them to the bag and shake until they're well coated.

Arrange the nuggets close together on your baking sheet.

Bake for 20 minutes, flip, then bake 15 minutes more.

Serve hot with ketchup, barbecue, or your favorite sauce for dipping.