Teaching Kids The ABC's Of Essential Vitamins
Kids are smart!  Teaching them what healthy food can do for them is an inspiring way to get them excited about eating good food.  One thing I love to teach when I'm visiting classrooms is about which Vitamins are essential, and WHY we need them!  Not only do the kids get it, they start looking for foods they need for the essentials. So, for another Letter-V post, it's vital to talk Vitamins!
To start, I have different foods that are high in essential vitamins (or photos or flashcards). The discussion starts with:
"Essential Vitamins are the ones that our bodies can not make itself. We must get these vitamins from foods! This is why it's so important to eat foods that have essential vitamins. These include:"
| | | |
| --- | --- | --- |
| Essential Vitamins: | Purpose | Which Foods Have it? |
| A | Keeps our eyes, skin, teeth, and bones healthy! | Yellow and orange foods like carrots. |
| B | Converts food into energy! | Meats, nuts, fish, dairy |
| C | Heals wounds, fights bugs! | Citrus fruits |
| D | Essential for strong bones and teeth! | Milk, Dairy and The SUN! |
| E | Keeps our Heart Healthy and arteries clean. | Nuts, avocados, pumpkin |
| K | Keeps our blood healthy and clotting properly | Broccoli, Brussels sprouts, cabbage, eggs. |
A few charts I have found that can be helpful can be found here: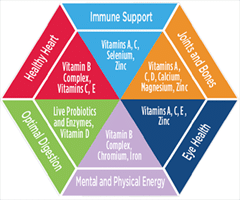 I also found this fun experiment you can do with your kids that can teach them visually what foods have Vitamin C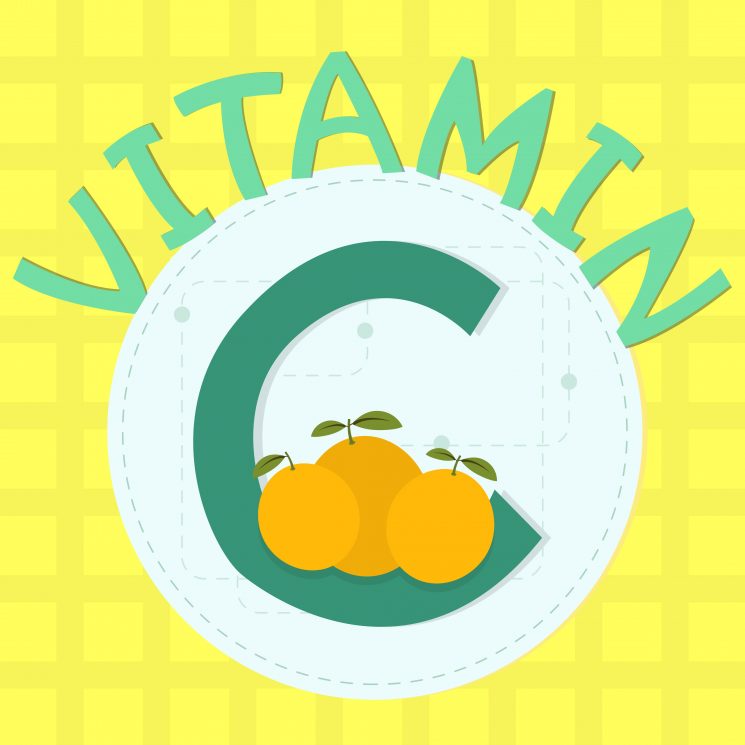 Vitamin C
You will need:
1/2 teaspoon cornstarch
1 cup water
iodine
More water
Eye dropper
Medium sized bowl
Several smaller bowls
Crushed vitamin C tablet dissolved in 1 cup water
Various beverages orange juice, orange soda, cranberry juice, grapefruit juice, punch, etc.
Mix 1/2 teaspoon cornstarch into 1 cup cold water; dissolve mixture by heating. Measure 1 cup water into a bowl add 1 teaspoon of the cornstarch mixture. Using an eye dropper add 4 drops of iodine and stir. The mixture should be a pale blue. Put 2 Tablespoons of the mixture into several small bowls. Using a clean eye dropper add the vitamin C solution to one of the blue mixtures. In another bowl add orange juice, another orange soda, etc. Make note of how many drops it takes before the blue color to disappear.
Discussion
and orange soda do not have vitamin C. If a food does not have vitamin C the solution
will not change color.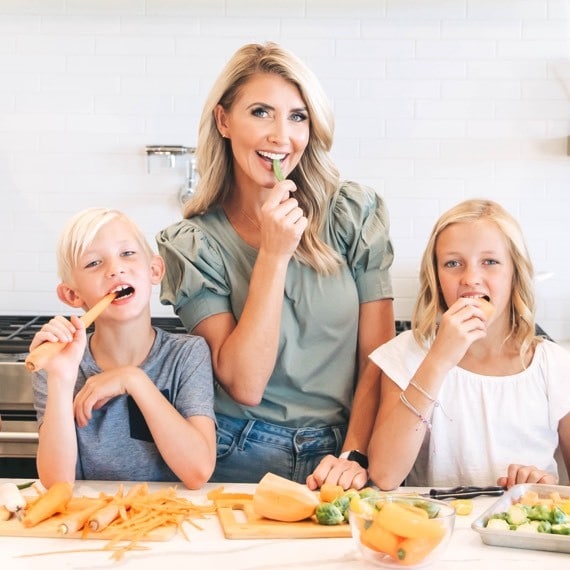 Natalie Monson
I'm a registered dietitian, mom of 4, avid lover of food and strong promoter of healthy habits. Here you will find lots of delicious recipes full of fruits and veggies, tips for getting your kids to eat better and become intuitive eaters and lots of resources for feeding your family.
Learn More about Natalie