This sweet potato toast is the best thing since sliced bread- literally!  And it couldn't be easier.  We just bought some sweet potatoes from Costco in a 10lb bag because we want to eat this every day.
Sweet potatoes are terrific for kids because they are
They contain Vitamin A!!  262% of the Daily Value in ONE small sweet potato!!
High in Vitamin C.  29% of the Daily Value in ONE small sweet potato!!
Beta – carotene 23,018 mcg!!  (I don't think there is a Daily value for beta carotene, but 23 thousand mcg seems like plenty!)
Sweet Potato Toast directions
Sweet potato toast is so simple. All it is; slices of sweet potato that you then cook in a toaster.  It's the perfect breakfast that the kids can also make themselves. In fact, toast is the first thing I believe my kids ever learned to make by themselves!   I would have loved it if we were able to start them on THIS toast from the beginning, so it becomes as familiar as regular toast! Haha
All you have to do to make this super easy snack or breakfast is:
Step 1 wash sweet potatoes
Step 2 slice them
Step 3 toast them!
Step 4 Top them with your favorite toppings.
Check out our quick video for more:

Other topping ideas!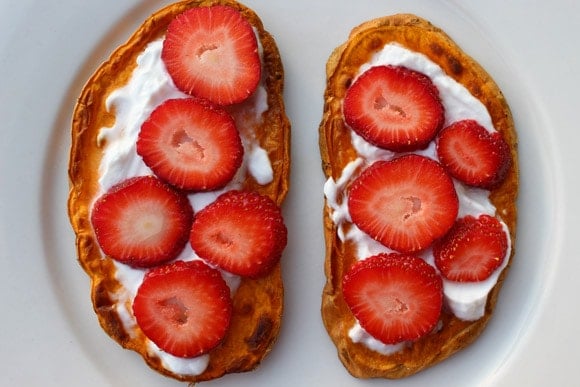 We are big fans of getting kids in the kitchen and also staying organized.   If you're interested in more recipes, snack ideas, and your dinner plan already mapped out for you, then check out our meal planning service! We take the deciding how and when to feed your kids healthy food off your plate and onto ours. With our registered dietitians creating these meal plans, you can also be sure that your kids are getting all the nutrients they need in a day.  We also make sure that we include plenty of fruits and vegetables so your kids can develop healthy habits for life!  So Check it out here!