Full of  goodness, this "Dinner Bowl" will be your new favorite meal!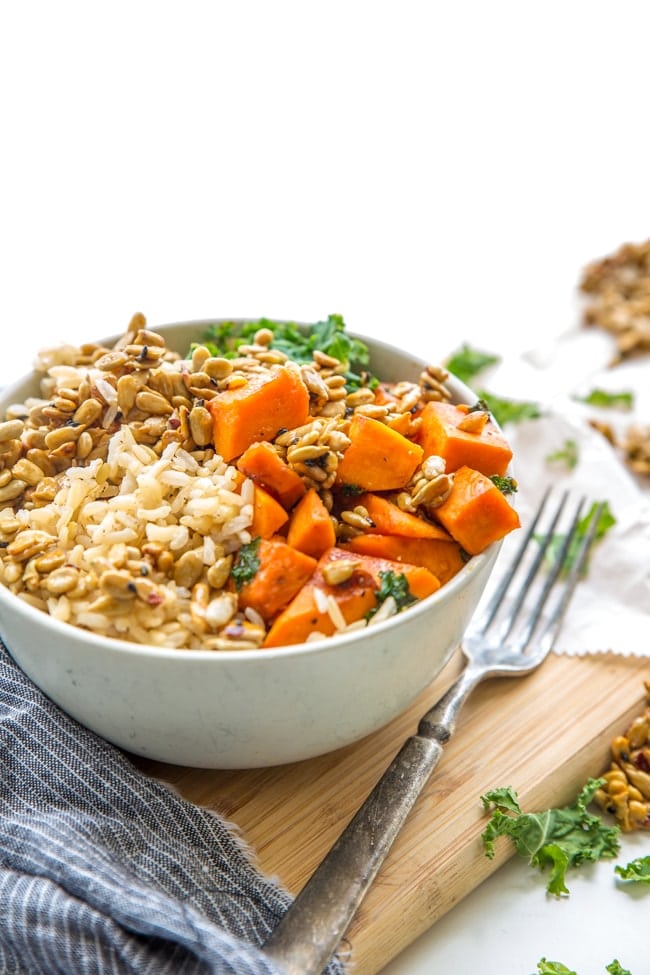 I can't wait to bring you this super easy recipe that you're going to love for your next dinner idea.
So this is what I have for you. I have no problems getting my kid to eat healthy. He's grown up with fruits, veggies, and grains. He eats when he's hungry. He stops when he's not.
All awesome healthy qualities of a 9 year-old kiddo. You know what we do struggle with though?  Screens! Oh my goodness, how the heck am I supposed to get the kid away from the Wii, TV, Netflix, and the Nintendo DS?
Just this week, he asked me if there was any way he could earn some money in order to buy a toy he's been eyeing. I told him I had plenty of chores he could help me out on.
Well, that was 3 days ago. Any time he has had free time, he automatically goes to the screen of his choice. I mean, the kid has a chance to make some money, and I've even kindly reminded him that he had a goal to work toward and that I wouldn't just give him the money for no reason.  "I know," he says…. and then just continues staring at the screen.  Finally I just had to push him outside before I really started wondering where the heck I went wrong as a parent.
Is it because he sees me on the computer much of the time? Is it because we watch a fair amount of tv on the weekends?  We've tried time-limits. We've tried earning screen-time. I feel like we've tried it all. Yet it all just turns into a screaming match.  So, I wanna hear it. What advice do you have for me as a mama to a screen-obsessed 9-year-old?  Thank goodness dinner doesn't turn into a screaming match!
Knowing that I can serve up a bowl of nutritious food and have it gobbled up by him makes me feel like I'm at least doing something right.
The thing about this bowl is that it comes together so easily and is perfect for the hot months when you aren't wanting to spend a whole lot of time in the kitchen. You can make Rice or quinoa ahead of time. Same goes for sweet potatoes.
And the sunflower brittle – oh my, it can totally be made ahead of time BUT you're going to want to snack on it all day long if you do and then there may not be any left for dinner.
The best part about this salad is that it can be eaten either hot or cold. Personally, I like it cold, which makes it a perfectly hearty, yet summery meal.
Whatever fits your family's taste!
Now that I've shared this total crave-worthy Buddha Bowl, I have to make sure I'm hooking you up all over the place. I'm always getting all these questions about what materials I need for staying healthy. What food I eat. What gadgets I have. What spreadsheets I use. All of it. So I decided to actually put it all together in one spot.