Our best Homemade French fries recipe for crispy fries, every time! 
We all love them.  Admit it.   Hot, crispy, yet fluffy potato french fries.  It's ok if you don't want to admit it aloud.  Just like you don't want to admit that you have danced to Gangnam Style and busted a move.  But we all know its true.  The thing we don't love is feeding our kids greasy, fried, unhealthy french fries with very little nutrition left in them.
Potatoes are quite nutritious and the often get a bad rap – but look at all of the healthy benefits potatoes offer:
Potatoes are a good source of:
Potassium: Potassium is a mineral that is part of every body cell. It helps regulate fluids and mineral balance in and out of cells and in doing so, helps maintain normal blood pressure.
Vitamin C: Vitamin C is a water-soluble vitamin that acts as an antioxidant stabilizing free radicals, thus helping prevent cellular damage. It aids in collagen production; assists with iron absorption; and helps heal wounds and keep your gums healthy. Vitamin C may help support the body's immune system.
Fiber: Dietary fiber is a complex carbohydrate and is the part of the plant material that cannot be digested and absorbed in the bloodstream.  Soluble fiber may help with weight loss as it makes you feel full longer, and research has shown it also may help lower blood cholesterol.
How to make super crispy homemade French fries
Begin with some nice Russet potatoes.  You can use any potato, but the russet potatoes are great because they have the perfect level of moisture.
Peel the potatoes with a potato peeler. This is one area that the kids can get involved. Learning to use a potato peeler is a basic cooking skill that is easy for little hands to master.  After the potatoes are peeled, cut them in half lengthwise. If they are very large, you can cut them in half again to create sticks that are half as long.
Slice the long way and cut into even thin pieces.  The more evenly thick you can cut them, the more even they will bake.
Put them in a bowl of ice water and let them soak for about 20 minutes.  This helps remove starch and make them more crispy.  You don't have to soak them, you can just give them a good rinse if you don't have time.
Rinse well and then thoroughly pat them dry with paper towel. Make sure you get as much water off as you can.
Next put them in a ziploc bag with 1-2 tsp of oil and shake to coat.  Line a baking sheet with foil, and place a cooling rack on top of it.  Lay the potatoes on the cooling rack so that they are not touching.  Sprinkle with salt.
Bake at 450 degrees F for 30 minutes or until golden brown and crispy.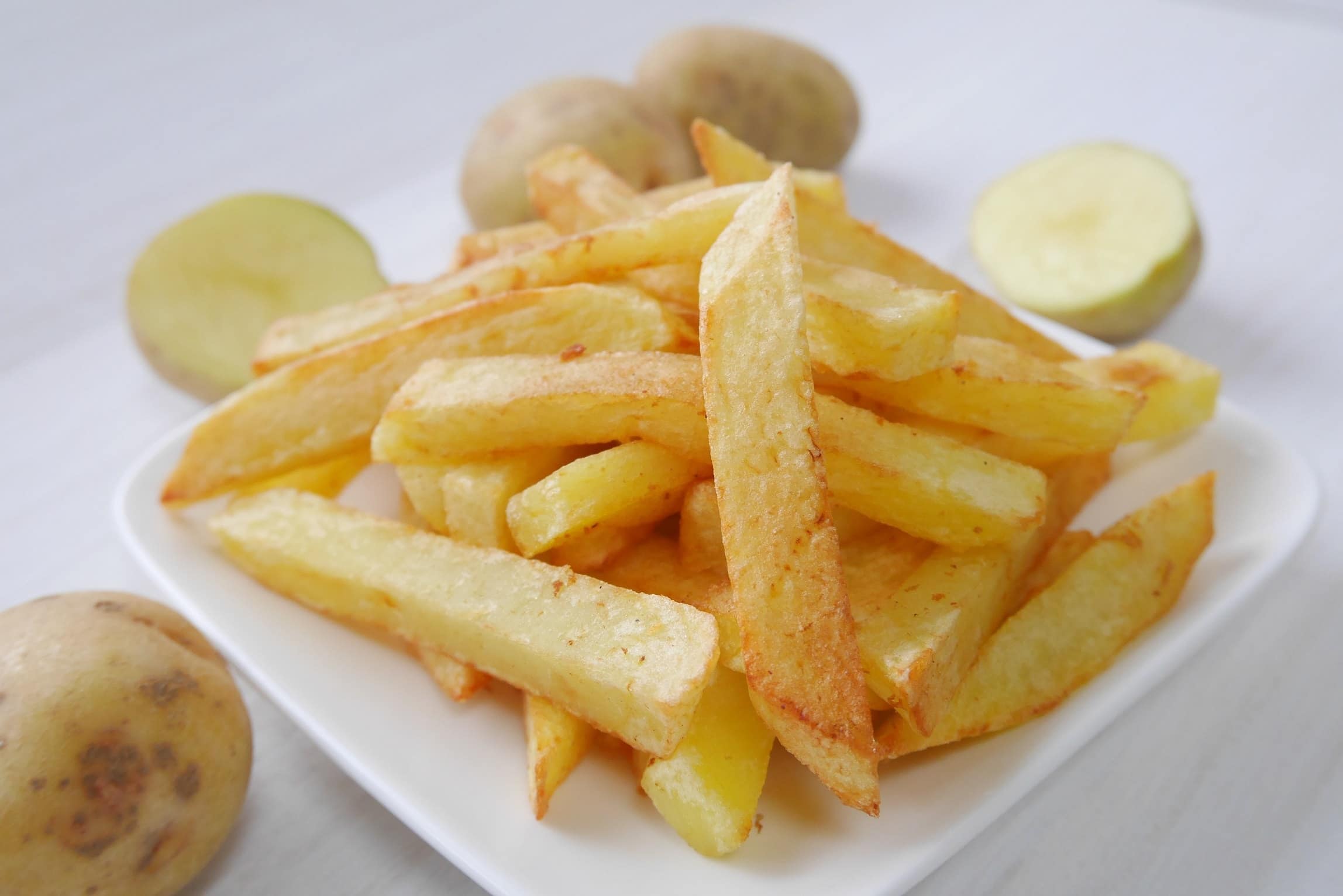 Serve with ketchup and enjoy!  These were SO good and the best part is that it just potatoes!  We don't make these often, but they are definitely a fun treat that my kids love to eat when we do.  And I feel great letting them eat them!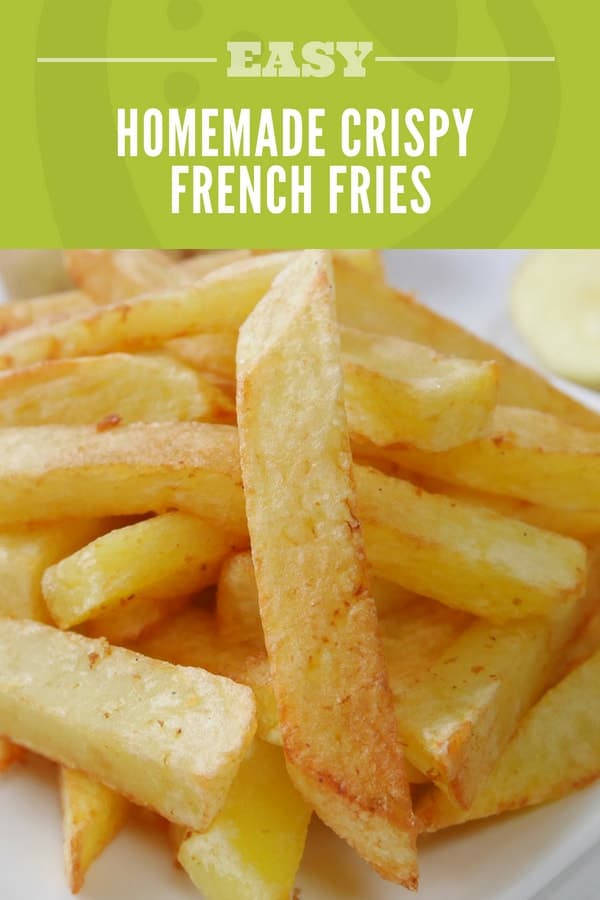 MORE RECIPES FOR HOMEMADE FRENCH FRIES