Healthy Bakery Style Strawberry Muffins
Healthy Bakery Style Strawberry Muffins feature fresh, juicy strawberries, lower sugar than other muffins and an amazing bakery style texture and flavor.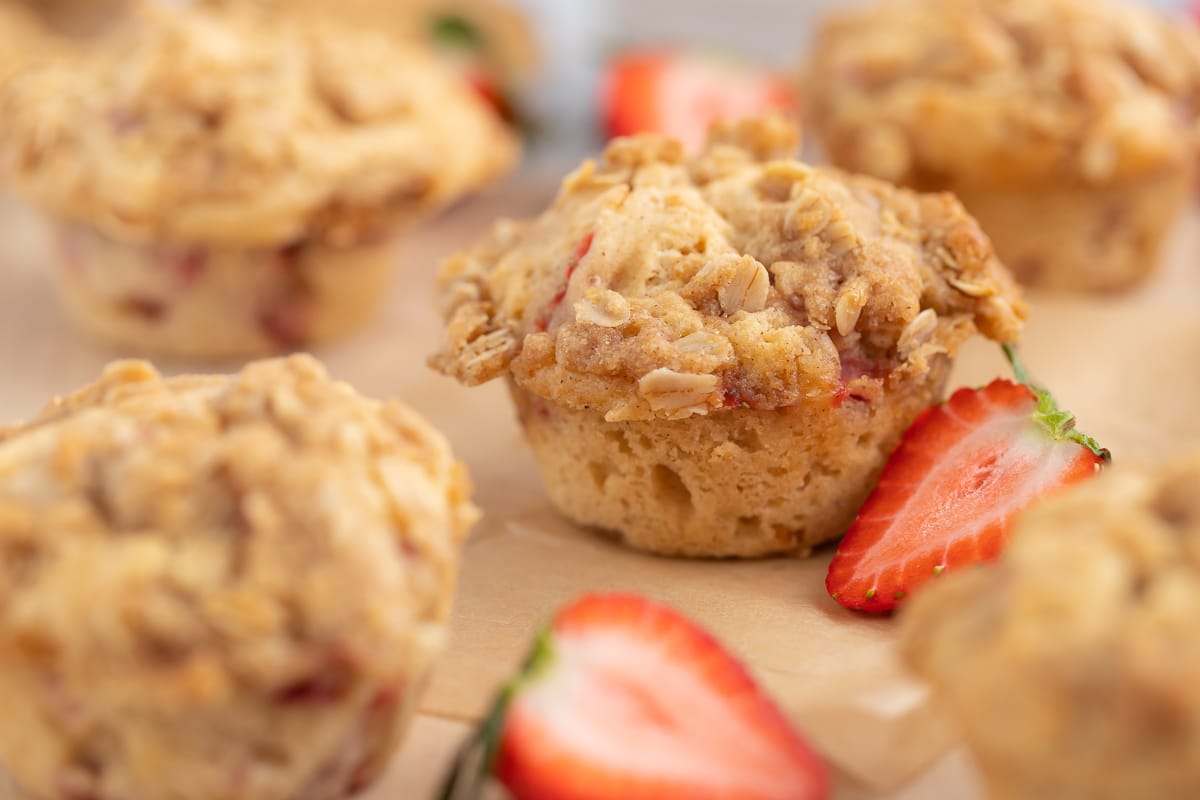 Tips for Making Healthy Strawberry Muffins
Tip #1: Use melted coconut oil for amazing flavor a loftier muffin with a more even crumb. Muffins made with oil stay moist and tender far longer than those made with butter.
Tip #2: If you gently toss the strawberries in the flour mixture, it will absorb some of the fruit's liquid and make them less likely to sink in the muffin batter.
Tip #3: Use room temperature ingredients. When ingredients are at the same temperature it is much easier for ingredients to come together to create an emulsion
Tip #4: Buttermilk and Greek yogurt give muffins a tangy flavor, but also help tenderize the gluten giving your muffin a softer texture. Its not the end of the world if you use regular milk vs. buttermilk, it just gives it that extra umph.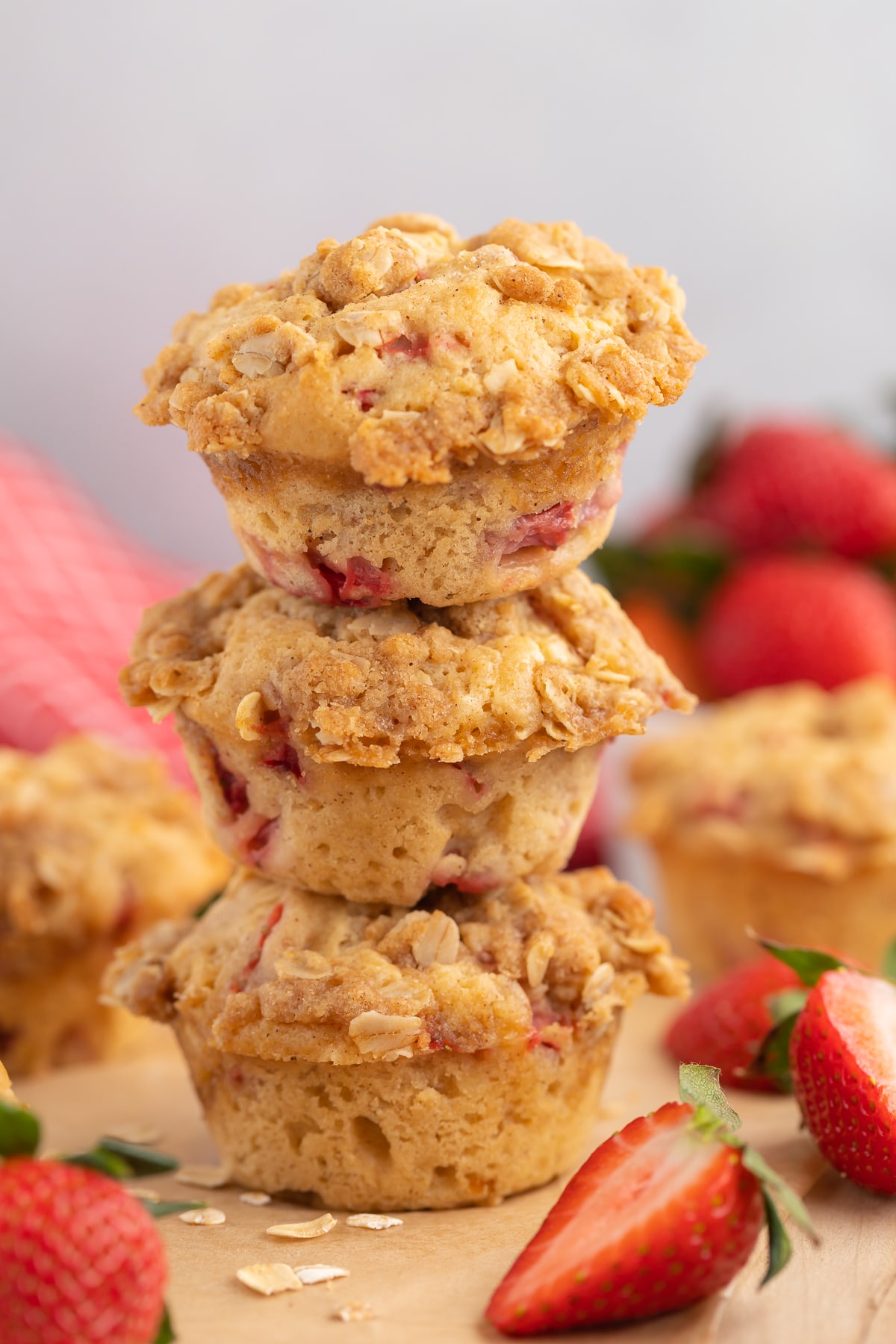 These muffins are really easy to make. Start by mixing your dry ingredients in one bowl, then toss the sliced strawberries in and stir them around until they're well-coated. In a separate bowl, mix the wet ingredients together. Then fold the wet and dry together. Sprinkle with your yummy oat mixture and they are ready to bake!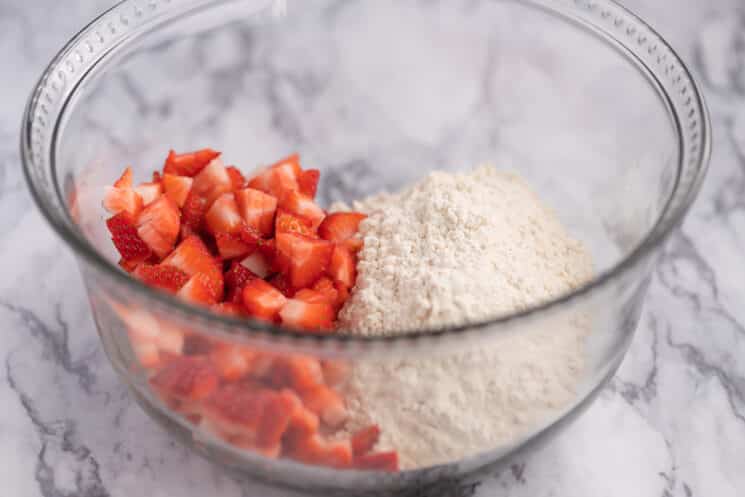 How to Choose Great Strawberries
This recipe is best when you use good, flavorful strawberries. And trust me: it's worth it to be choosy about your berries, especially if you're buying them from a supermarket. Look for most or all of these qualities to ensure that the strawberries you bring home are fresh, sweet, and juicy.
Berries that give off a sweet, fruity smell

Leaves that are bright green and intact

Berries whose deep red color runs all the way up to the hull.

Berry surfaces that look shiny.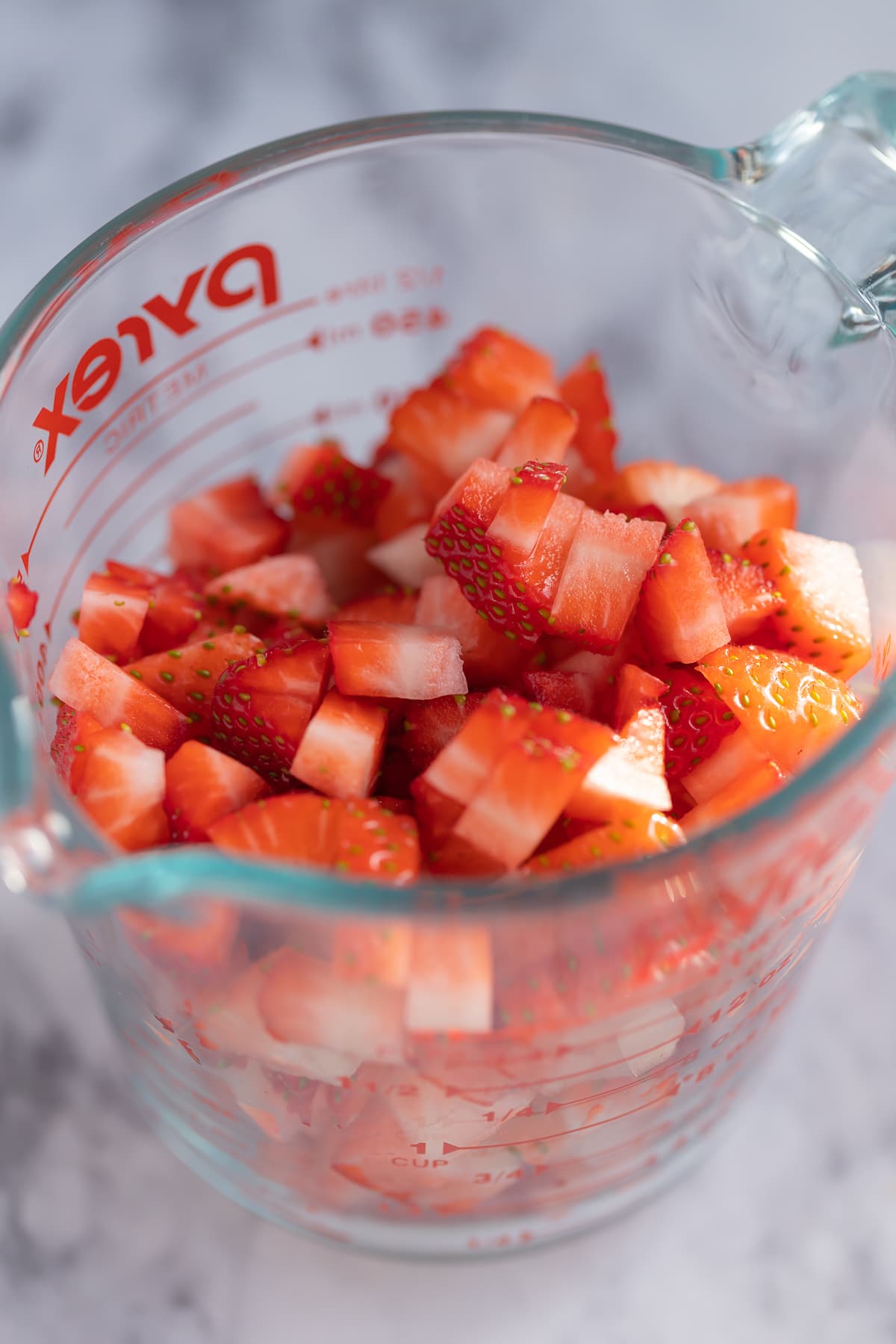 Whole Wheat vs. All-Purpose Flour in Muffins
It's true that using whole wheat flour in your baking will make the end product more dense and heavy. but maybe it's worth it?
Whole Wheat flour has a higher protein content, more fiber, nutrients and flavor than all-purpose flour. But because whole wheat flour includes all the parts of the wheat kernel – the bran and germ create problems with gluten formation which is why they produce a more dense end product.
Protein content of flour determines how much structure a baked good will have. Bread flour has more protein which gives the gluten more strength and more elasticity which gives bread a chewy texture while cake flour has lower protein and gives a lighter more tender texture.
So basically, the type of flour you choose will have a big impact on the texture of your muffin. I like to play around with using whole wheat and all-purpose. 50/50 seems to be too much for these muffins, but 60/40 I like 🙂
You can also use whole wheat white flour which gives you an amazing end product with all of the benefits of whole wheat flour. The only downside in my experience is the cost of whole wheat white flour. It is harder to find and much more expensive.
Try our Healthy Apple Muffin and Fruit and Veggie Muffins as other whole wheat muffins options!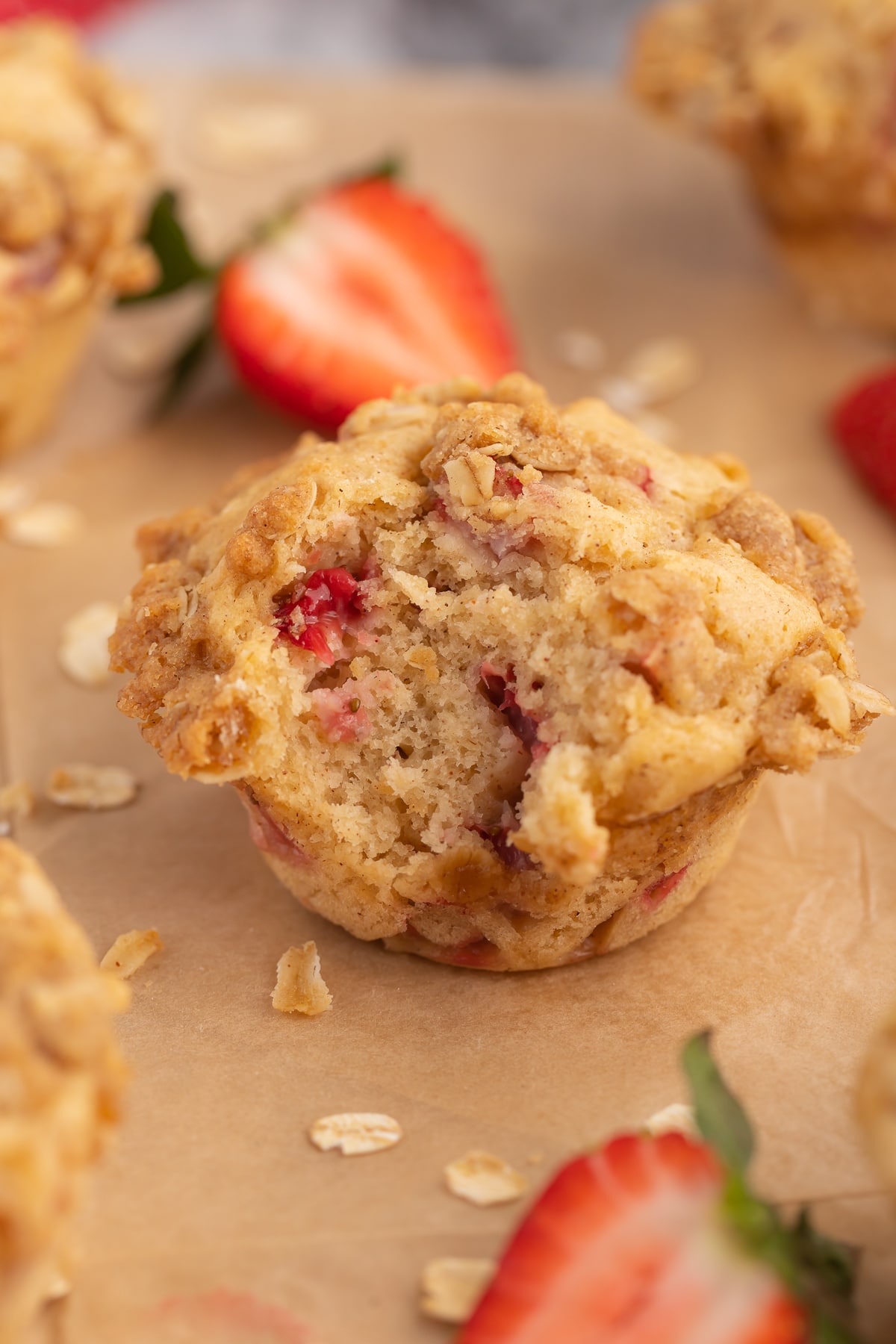 Questions about making Strawberry Muffins
These are the most commonly asked questions I have gotten about making these strawberry muffins.
Question: Can I make these with frozen strawberries? The answer is yes, but they won't turn out as well. In my experience, they will leave slightly soggy spots around the strawberries and bleed color a bit more. If you have ever used frozen blueberries vs. fresh in blueberry muffins, that is the same difference with frozen strawberries vs fresh in this recipe. You can always let the strawberries thaw a bit, and then pat the extra liquid with a paper towel before adding to the batter. That should help!
Question: Can you replace the coconut oil with vegetable oil? Yes you can! The difference will be with the flavor. Coconut oil gives a subtle hint of coconut, and in these muffins with the strawberries tastes amazing! But the end result of the texture of the muffin will be the same with vegetable oil.
Question: If I want to make mini muffins, do I need to change the time and baking temperature? Keep the baking temperature the same, but cut the baking time in half.
Question: Can I use honey instead of maple syrup? Yes, you can substitute honey for maple syrup 1:1 ratio. Honey has a much different flavor than maple syrup, and you will likely be able to taste the difference. But some people prefer the taste of honey to maple syrup, so if that is you, then go for it! Honey is also less sweet than maple syrup so keep that in mind.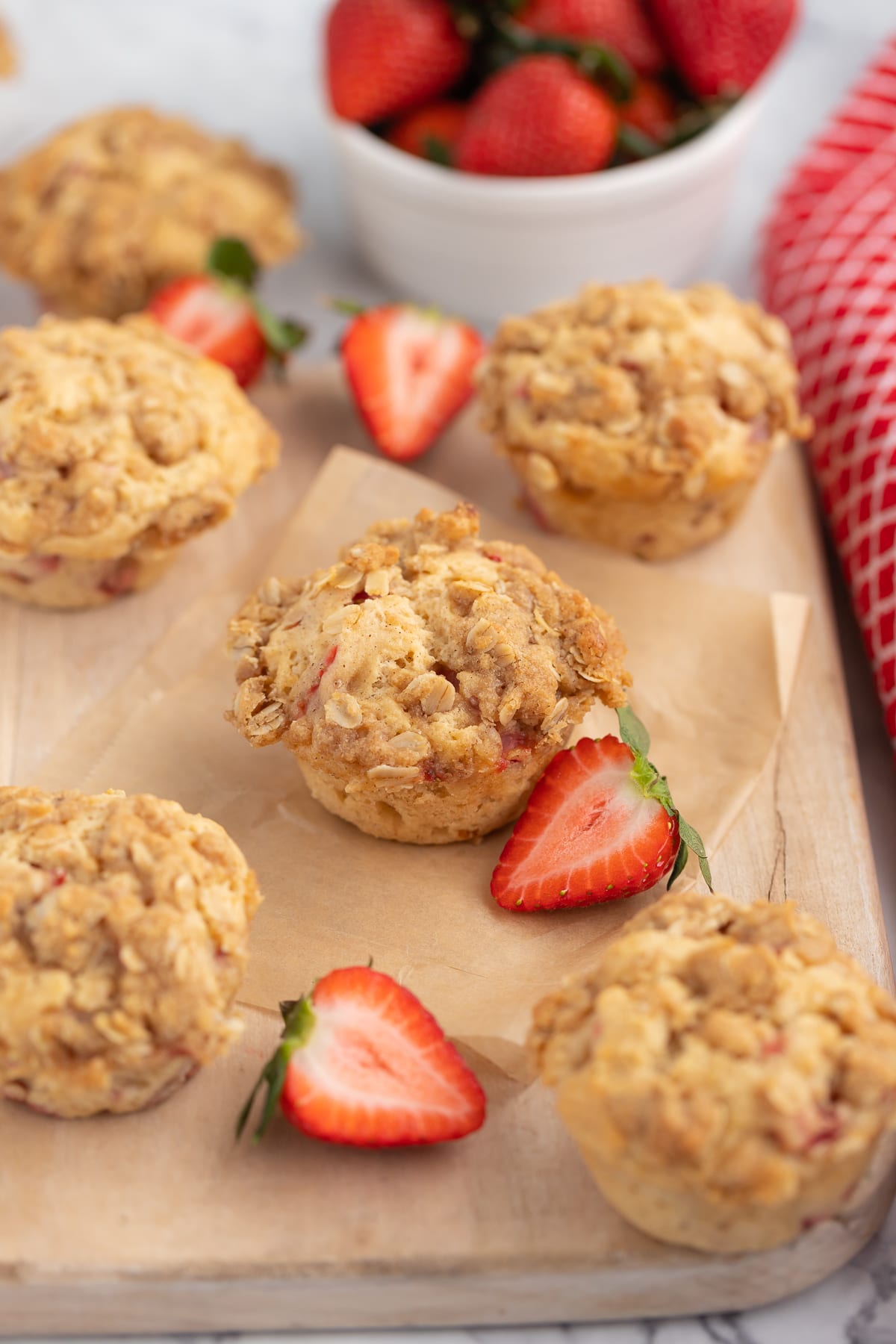 Healthy Bakery Style Strawberry Muffins
These fresh strawberry muffins are tender, moist and subtly sweet with a delicious crunchy oat crumb topping.
Instructions
Preheat oven to 350 F, and grease a muffin tin (or use a silicone muffin pan.)

In a large bowl, mix flour, baking powder and cinnamon.

Fold in finely diced strawberries and stir to coat.

In a separate bowl, whisk together eggs, yogurt, buttermilk, coconut oil, vanilla, and maple syrup.

Pour wet ingredients into dry ingredients and stir until well-combined. Do not over-mix.

Portion batter into muffin pan, filling about 3/4 full. (You should get 18 muffins)

In a small bowl, mix together the oats, flour, brown sugar and cinnamon. Pour in melted coconut oil and mix until combined with a fork. Sprinkle evenly on top of each muffin.

Bake 30-35 minutes, or until muffins are completely set and golden brown. These are best eaten same day or next day.
Nutrition
Serving:
1
muffin
|
Calories:
182
kcal
|
Carbohydrates:
25
g
|
Protein:
3
g
|
Fat:
8
g
|
Saturated Fat:
6
g
|
Polyunsaturated Fat:
1
g
|
Monounsaturated Fat:
1
g
|
Trans Fat:
1
g
|
Cholesterol:
21
mg
|
Sodium:
63
mg
|
Potassium:
92
mg
|
Fiber:
1
g
|
Sugar:
11
g
|
Vitamin A:
38
IU
|
Vitamin C:
9
mg
|
Calcium:
60
mg
|
Iron:
1
mg
www.superhealthykids.com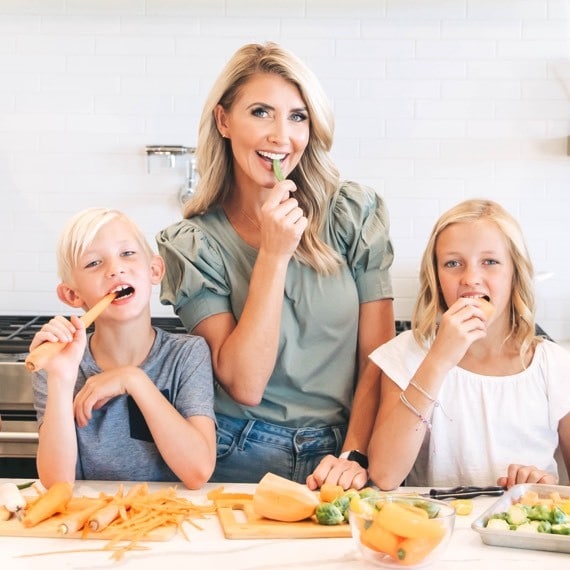 Natalie Monson
I'm a registered dietitian, mom of 4, avid lover of food and strong promoter of healthy habits. Here you will find lots of delicious recipes full of fruits and veggies, tips for getting your kids to eat better and become intuitive eaters and lots of resources for feeding your family.
Learn More about Natalie