Simple Solution For A Healthier Home
Just like that, the calendar has turned to August! Every August, my shopping list is always the same: New backpacks, clean underwear, socks without holes, and 2 or 3 outfits that are meant to go together. Last year, we added lunch supplies to our back to school shopping. As a food blogger, and a mom who worries about the future of this planet for my kids, it surprised me that I hadn't considered lunch supplies.
So, I've found a way to get all my sustainable and adorable kitchen gear, without breaking the bank!
Meet the MightyFix
When I say this is the EASIEST way to make a change for healthy, sustainable products for your home, I'm not kidding. Not only is this solution easy, but cheap too (even free for your first month- no strings attached). If you've had the desire to start collecting re-usable, environmentally friendly, food safe, kitchen stuff, MightyNest has a brilliant solution for reducing waste and saving money.
The MightyFix is an auto ship program, where you receive a new product each month. For $10 (no shipping), you will ALWAYS receive more than $10 worth of products. Literally cheaper than lunch itself! And as a subscriber you can order any of their 2000+ products and have then ship free with your MightyFix. This month I received these Lunchskins Reusable Sandwich and Snack Bags . These are made from European pastry bags, lightweight, moisture-proof, and are dishwasher-safe.
I LOVE THE MIGHTYFIX! I really think, it's the smartest way to start making small changes at home, one step at a time, one month at a time. Every month I receive incredible products that help our family make healthy choices and live more mindfully. Other items that have come in the MightyFix include: the Tidy Dish Cloths to help us reduce our use of paper towels and Bee's Wrap to replace one-time use plastic wrap.
Did you know that the average family goes through 500 plastic baggies per year, just for school lunch! I know we were using our share, because i bought plastic sandwich bags at Costco, by the case load.
But if there is one thing I love about a new school year, is our opportunity to start fresh! To start new habits, new routines, new methods. It's easy to ease your kids into new things as they hunker down into a new routine. Last year, and this year, we decided our lunches can be waste free! The average kids school lunch creates 67 lbs of waste EVERY YEAR! It requires a lot of resources to get rid of that trash—that's work and $ on the school, the community, and the planet.
THE BEST PART!!
As a subscriber, MightyNest is literally giving you these items and your first month FREE!! What?!?!? Yes. Seriously, I think they were nervous about making this offer, so there are only a limited number of people they can share this free month with. But they are so convinced that you will love this program, that you will want to keep getting that little box of goodies every single month.
Order subscriptions to MightyFix for a friend, grandma, sister, Uncle. You can't lose! So, to re-cap, Subscribe today and you'll get 1 Reusable Sandwich Bag + 1 Reusable Snack Bag as your first month's fix! Get your first month free + get free shipping on anything else from MightyNest! Hint: it's a great way to get all your back-to-school essentials like reusable lunch gear SHIPPED FREE.
Don't wait! There really is only a limited number of slots available, and only for a limited time (that's not just marketing, there just really isn't enough product to give these free to every body!)
OK- Back to lunch and these AWESOME, re-usable bags. You could use the lunchskins for sandwiches, but we also use them for homemade items, such as:
We are slowly switching out everything in our cupboards to environmentally friendly and healthier products. Every time I toss our plastics out, I know I can check MightyNest for an appropriate replacement. They truly are my go-to resource for all things healthy home, and during back-to-school season they are THE place for reusable lunch gear.
Your Must – Have Lunch Items:
Since I was getting free shipping anyway, these are the new lunch items I chose for this new school year to be sent with my first MightyFix. With the lunchskins for free., I also got:
Imagine, getting a new package each month in the mail, that you can open with your kids and step closer to healthier living.
Enter your email address here, and you'll be emailed the special coupon code for your first month free!
This post is sponsored by MightyNest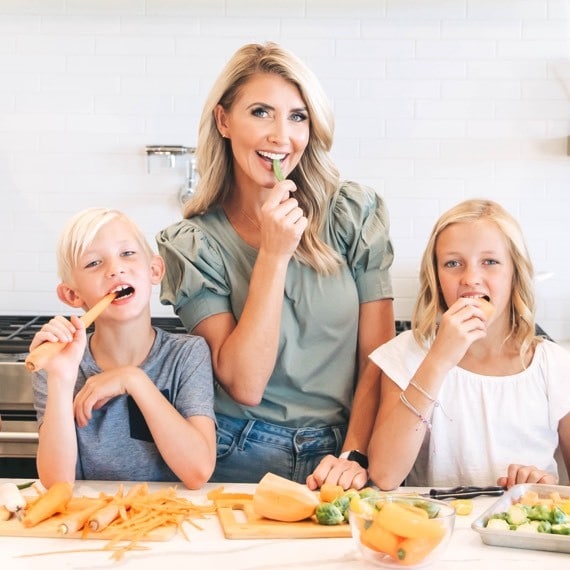 Natalie Monson
I'm a registered dietitian, mom of 4, avid lover of food and strong promoter of healthy habits. Here you will find lots of delicious recipes full of fruits and veggies, tips for getting your kids to eat better and become intuitive eaters and lots of resources for feeding your family.
Learn More about Natalie