These simple quinoa breakfast bars are flavored with toasted coconut and chocolate chips, making for a healthy and delicious on-the-go breakfast treat that you and your kids will love!
Hi everyone! My name is Alyssa and I'm the blogger behind, Simply Quinoa, a healthy food blog featuring wholesome and delicious recipes, all with a little quinoa twist. That's right, every single one of my recipes has quinoa in it!
Since you're a reader here on SHK, then I'm sure you already know how awesome quinoa is. It's a complete vegetable protein – making it great for vegetarians and vegans! – and it's a complex carbohydrate meaning it will digest more slowly and help keep you full for longer. Quinoa is also packed with hard to find minerals like manganese, magnesium and phosphorus.
So basically, quinoa is a true superfood!
OUR LATEST VIDEOS
While I love to incorporate quinoa into all of my meals, my favorite way to enjoy quinoa is with breakfast. I think it's the ultimate breakfast food. It will give your kiddos energy when they go to school and it will fuel you through a long workday ahead.
These quinoa breakfast bars are the perfect example of a balanced, nutritious and delicious breakfast. We combine protein-rich quinoa, fiber-rich oats, low-glycemic coconut sugar, with some banana, flaxseed, nut/seed butter, toasted coconut and a few dark chocolate chips. They're flavorful, slightly sweet and have a brownie-like consistency.
Unlike many packaged granola or breakfast bars, these are naturally low in sugar and fat and are high in the things – like fiber and protein – that keep us feeling full, fueled and energized. And let's be honest, that's exactly how we want to start the day, right?
They're also very super to make. You just mix all the ingredients together, pour them into a square pan and bake them for 20 – 25 minutes. I recommend making them the night before so you can allow them to cool completely – they'll be much easier to slice that way. And once you have sliced them, you can simply store them in an airtight container.
And while I adore their simplicity, my favorite part about these breakfast bars is that they're totally portable. So many of us have busy mornings and little time to prepare a nutritious meal! These are a great option to quickly get you out the door. You can wrap them up and take them with you on the go, or even just hand them to your kiddos as you're all getting ready in the morning.
These Coconut + Chocolate Chip Breakfast Bars are the ultimate breakfast treat. They're free from gluten, dairy, eggs, soy and can be easily made nut-free. I know you and your family will absolutely love them!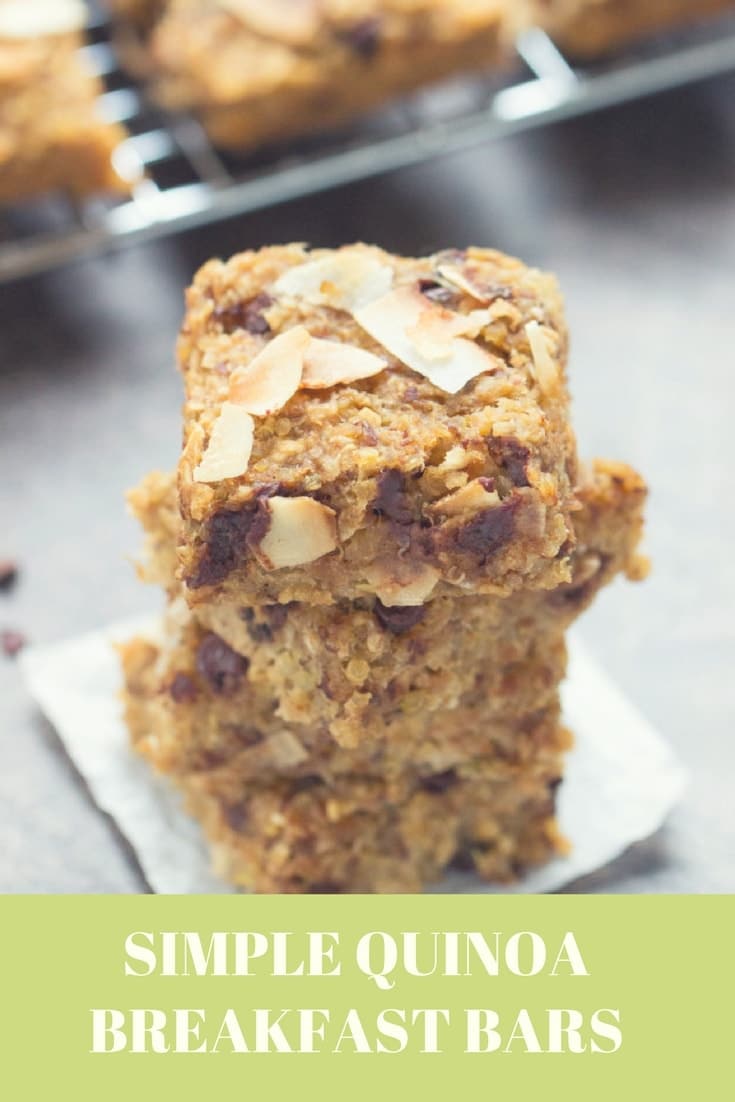 BIO
Alyssa is the blogger behind Simply Quinoa, a gluten-free website dedicated to healthy food, always with a little quinoa twist. I love showing people how to make healthy food easy and delicious!