Whether you're dealing with food allergies/intolerances or are just trying to clean up your diet, there are certain things you feel calling to you every once in a while. Maybe it's pizza. Maybe it's cookies.
For us? It's ice cream.
When our family went gluten and dairy free a few years ago for our daughter, we more or less gave up ice cream. We've scratched the itch with banana ice cream fudgecicles (so good!) and the occasional pint of a coconut milk ice cream from the grocery store.
But I have fond memories of making ice cream as a family growing up, and I didn't want my kids to miss out on homemade, ice cream maker ice cream.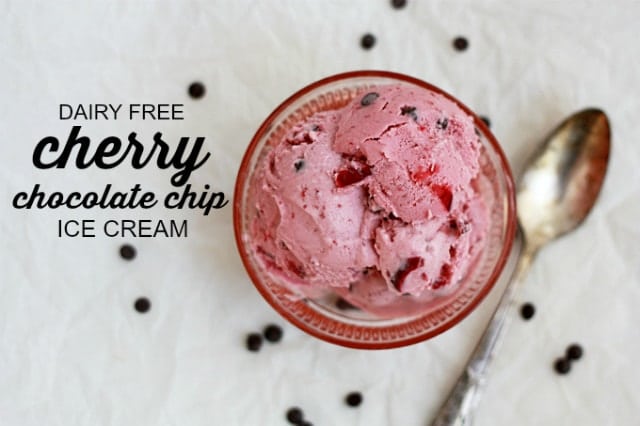 This is an incredible (INCREDIBLE!) recipe for dairy free cherry chocolate chip ice cream. It's got the rich, creamy feel of traditional dairy ice cream, without loads of extra sweeteners and lots and lots of fresh cherry flavor. The secret? The flavor and almost all the sweetness come from cherries.
Whether you decide to scoop this onto cones, sandwich it between two cookies or graham crackers for an ice cream sandwich, or enjoy it straight from a little ice cream bowl, this ice cream lends the old-fashioned, homemade ice cream vibe you love without extra additives, dyes, or sweeteners. It's actually not very far nutrition-wise from a coconut milk and cherry smoothie!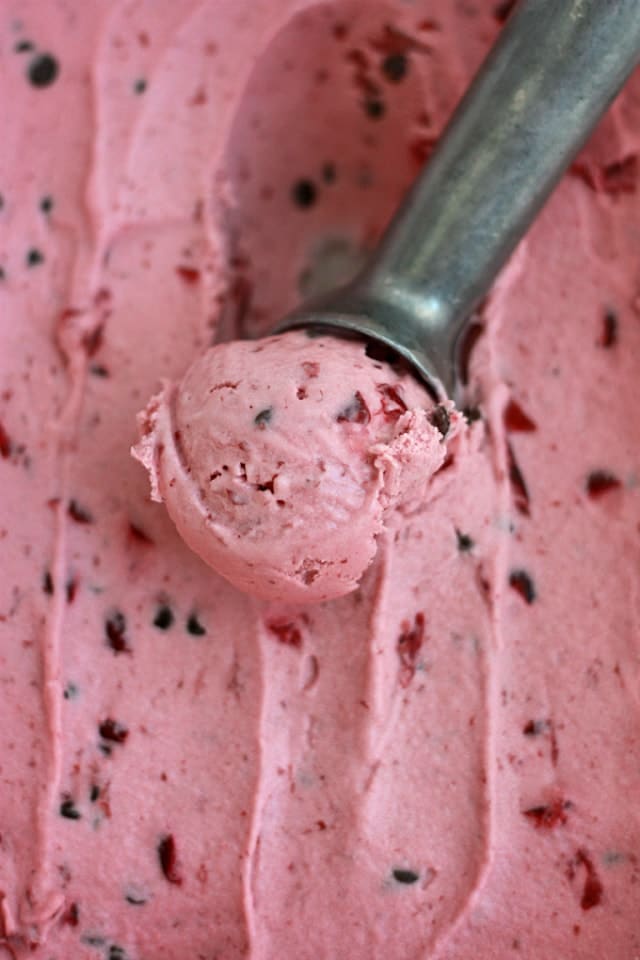 P.S. The chocolate chips are purely optional, but I love the little crunch from a mini chocolate chip. You could certainly substitute carob chips or cocoa nibs in their place.
One last note: One optional ingredient in the recipe you may not be familiar with is grass-fed beef gelatin. Gelatin contains proteins that can aid in digestion, gut health, joint health, and hair and nail growth. If you are vegan or avoiding beef products, you can substitute guar gum in its place. Neither is essential to the recipe, but using either gelatin or guar gum will give your ice cream an extra smooth, cohesive texture. Thanks to Spunky Coconut for this great tip!
Emily lives, loves, and cooks at One Lovely Life, where you can find healthy meal ideas, book recommendations, and fun ideas for learning and playing with your little ones.