An excellent source of fiber and protein, roasted chickpeas make a super healthy snack! They're also budget-friendly and filling, so kids won't be back begging for more snacks before the next mealtime. This recipe is a perfectly basic first-time recipe. If you'd like to branch out with fun flavors like ranch and barbecue, check out our other post on Roasted Chickpeas, Four Ways.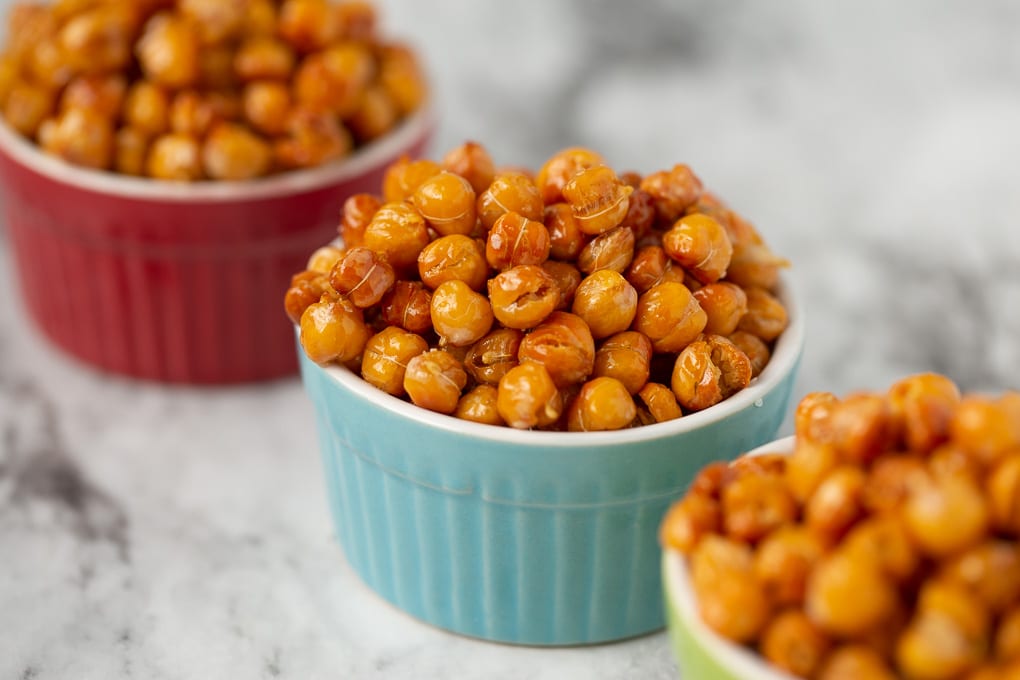 You've heard about the goodness of roasted chickpeas. Now you're ready to try them for yourself!
With just a few simple, affordable ingredients, you can make your own fresh version of this super snack that's packed with plant proteins, fiber, healthy carbohydrates, and phytonutrients.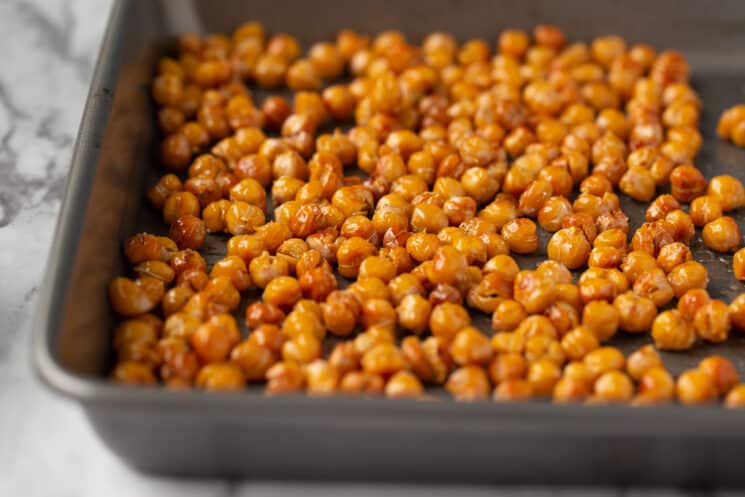 How to Roast Chickpeas
First, drain a can of chickpeas, spread them on a baking sheet, and pat them dry with a paper towel. The drier, the better! You can even leave the baking sheet out on your kitchen counter for a half hour to let some of the moisture evaporate off.
Roast your chickpeas in a preheated oven for about 30 minutes. We like to cook them at 400 F… not too low and not too high. This helps them cook evenly all the way through.
When the beans are nice and crisp, transfer them to a bowl and add a touch of extra virgin olive oil (if you have an oil mister, this is a great use for it.) Then your seasonings. Toss to combine and serve.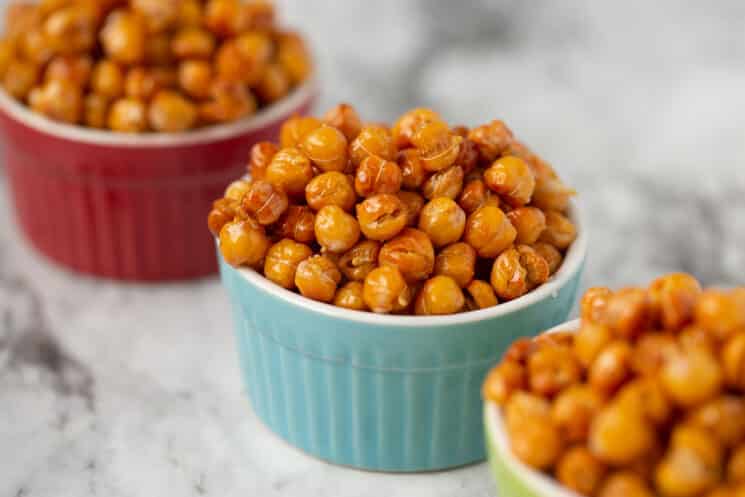 The Key to Getting Super Crunchy Chickpeas
Have you tried making roasted chickpeas before, but ended up with soft, chewy, or soggy beans? This is probably NOT what you were going for.
Here's the secret to super-crisp beans: leave OFF the oil until the beans are cooked. Oiling the chickpeas BEFORE baking seals in the moisture and prevents those gorgeous garbanzos from developing the crunchy interiors you're after.
So… roast your chickpeas plain FIRST, THEN add oil and seasonings when you're done. Easy!
Serving Ideas for Roasted Chickpeas
Eat them plain
Toss them on top of a green salad
Add them to trail mix
Pack them as a side in a snack box or lunchbox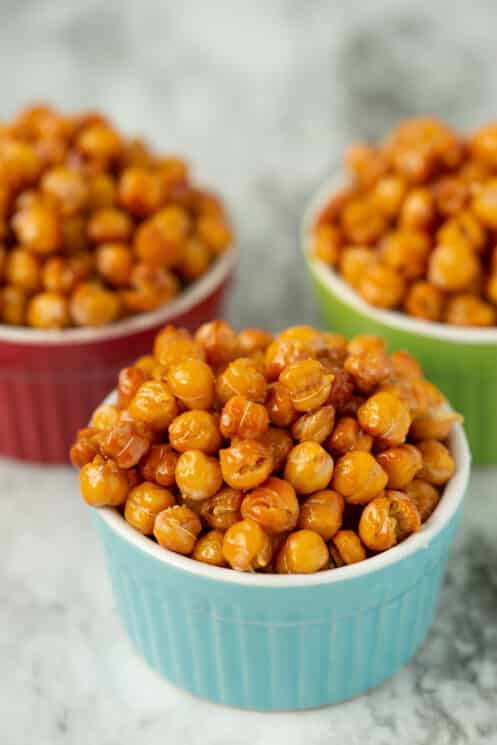 What Makes Chickpeas So Healthy?
While you're munching on your savory and addicting chickpeas, take a look at why these humble legumes are so nutritious.
Chickpeas are loaded with protein: 15 grams per cup! Perhaps even more importantly, chickpeas provide your kids with a ton of fiber… fully half the daily recommended amount at 12.5 grams per serving. Most kids need more fiber, and this snack is a completely painless way to do it.
Taking a look at the big picture, legumes like chickpeas can prevent certain long-term diseases like heart disease, cancer, and diabetes. So establish that chickpea habit early!
Tips for Storing Roasted Chickpeas
Even if you make the world's crispiest chickpeas, you still might find that the leftovers start to soften on day two and beyond. An airtight container can help, but often doesn't completely prevent them from losing their crunch.
One surefire way to have great leftover chickpeas is to roast them again, just for ten minutes, so they can get their crispiness back. You can even do this in your toaster oven.
Refrigerate your chickpeas if you plan to store them for more than a day or two.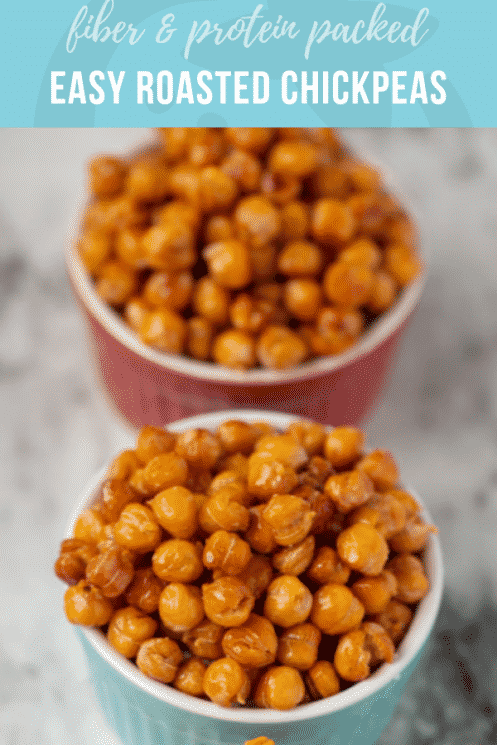 Roasted Chickpeas
Crunchy roasted chickpeas are packed with fiber and nutrients, and easy to make at home.
Instructions
Preheat oven to 375° F. Drain and rinse chickpeas, then pat dry with a paper towel.

Arrange chickpeas in a single layer on a baking sheet and roast for 30-35 minutes, shaking the pan every ten minutes. They will be golden brown and crunchy on the inside when done, not moist. Watch carefully so they don't burn.

In a medium bowl, combine the salt and garlic powder.

Remove chickpeas from the oven when done and toss with 2 teaspoons of extra virgin olive oil. Immediately toss with seasoning while hot.

Cool before serving.
Nutrition
Calories:
96
kcal
|
Carbohydrates:
15
g
|
Protein:
6
g
|
Fat:
2
g
|
Sodium:
369
mg
|
Fiber:
5
g
www.superhealthykids.com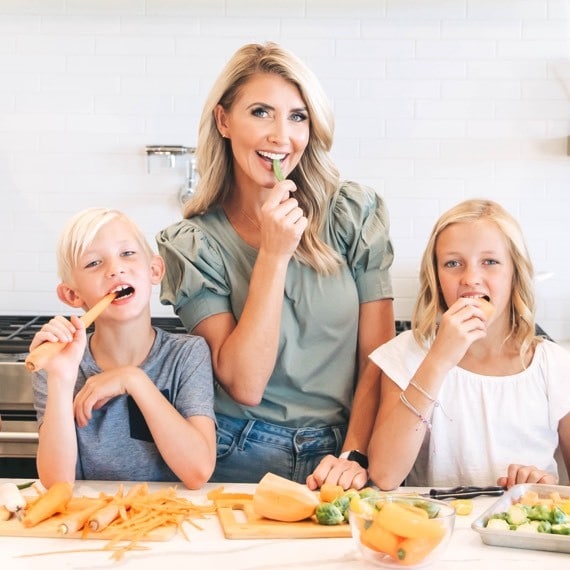 Natalie Monson
I'm a registered dietitian, mom of 4, avid lover of food and strong promoter of healthy habits. Here you will find lots of delicious recipes full of fruits and veggies, tips for getting your kids to eat better and become intuitive eaters and lots of resources for feeding your family.
Learn More about Natalie