Chicken and Veggie Stir Fry (Freezer Meal!)
Prep a tasty and healthy chicken and veggie stir-fry, freeze it, and have it ready for your next busy weeknight. This tasty freezer meal recipe uses a special but simple technique to ensure that your veggies stay bright and fresh-tasting.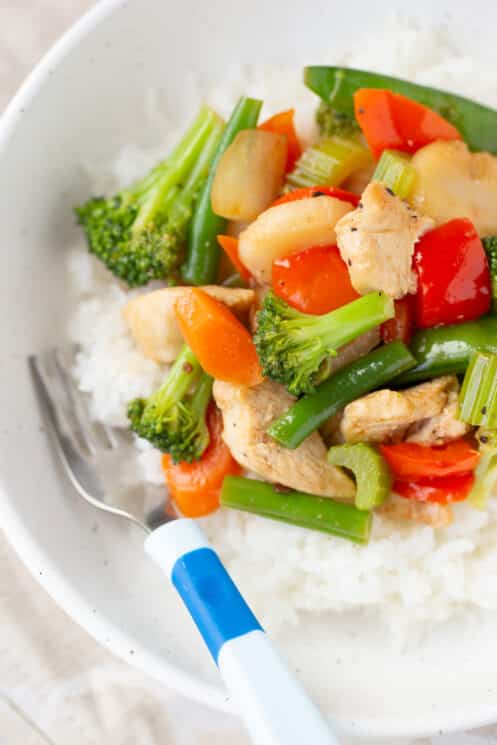 The lure of the quick frozen dinner… we feel it, too! It's what makes those pre-made frozen stir-fries so tempting at the store.
Maybe you've never thought to make a freezer meal stir fry at home, but it's actually pretty easy to do. And when you make it yourself, you can make it with love, care, and tons of fresh veggies!
This freezer meal is SO GOOD, filled with colorful produce and lean white meat chicken in a sweet and savory Asian-style sauce. Make a batch this weekend for a quick, homemade weeknight meal the next time you need one, fast.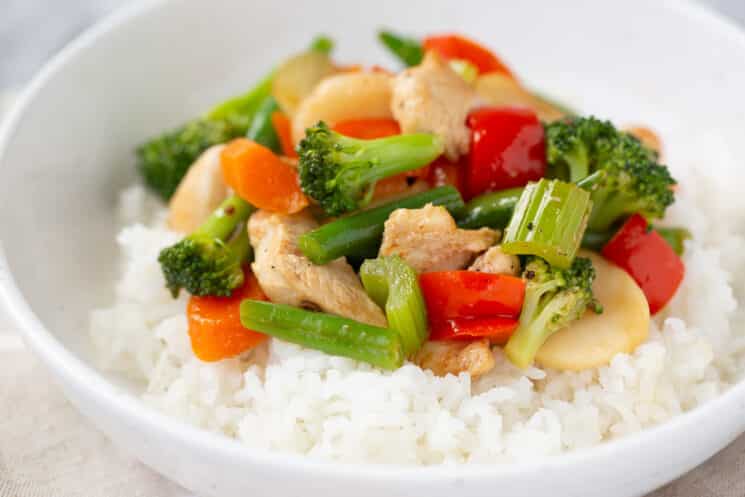 5 Reasons to Love This Freezer Meal
You get a gorgeous rainbow of veggies in your meal. Broccoli, carrots, green beans, and celery boast a whole host of vitamins and minerals, plus healthy fiber and antioxidants.
You can cook once and stock up your freezer. Double or triple the recipe to make three future meals in one sitting. It's not much extra work (only one set of dishes to wash) and
You can skip the side dishes. With rice, chicken, veggies and sauce, this meal provides a nourishing blend of protein, veggies, and carbohydrates. It's a complete meal in a bowl.
You can customize the veggies based on what you have (and like). Not loving peppers (or any other veg on our list?) Feel free to switch it up. Purple onions, mushrooms, snow peas, asparagus, and baby corn all work great.
It tastes irresistible! The sweet-and-savory Asian-style sauce adds a bold flavor to these simple ingredients that kids and adults love!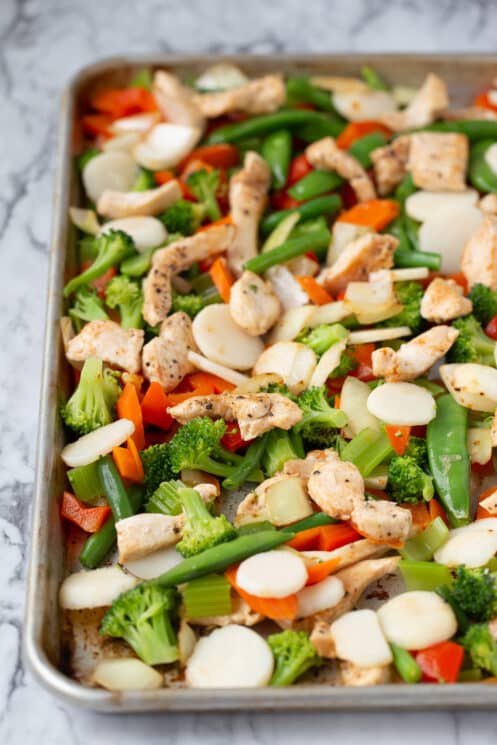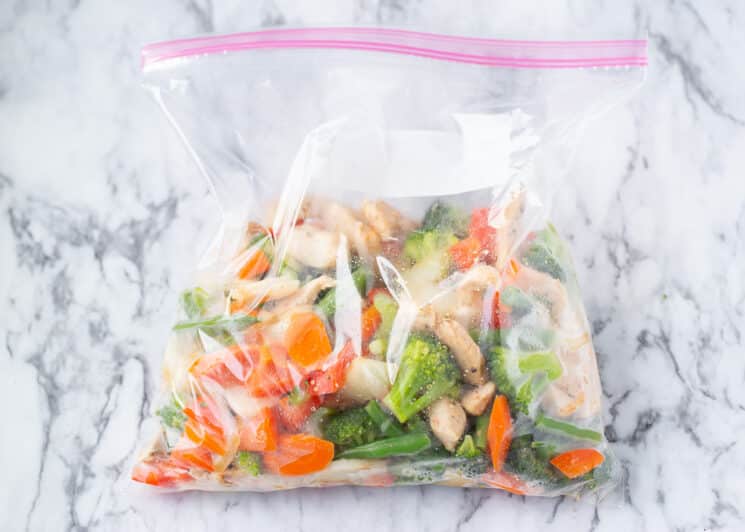 How to Freeze a Stir-Fry So It Stays Bright and Fresh
Choose the best veggies. Any fresh, colorful, chunky veggie will work. We used broccoli, carrots, green beans, pea pods, bell pepper, and celery. But feel free to get creative!
Blanch your veggies. This just means you'll give your veggies a quick bath in boiling water. This step is vital! Blanching helps veggies stay flavorful and vibrant in the freezer. And it helps them tenderize quickly in the pan during the eventual reheating stage.
Spread out the veggies and cooked chicken on a baking sheet, and par-freeze. This prevents the veggies and chicken from freezing together in a giant clump.
Store the stir-fry in a zip-top bag. Press as much air as you can out of the bag as you can.
Store the sauce in a separate baggy tucked in with the veggies. Add the sauce to the stir-fry after you've warmed it up.
Use up your freezer meal within two months for the best taste and texture. It's perfectly safe to eat it beyond two months, but you might find it starts losing it's flavor, or the meat starts turning tough.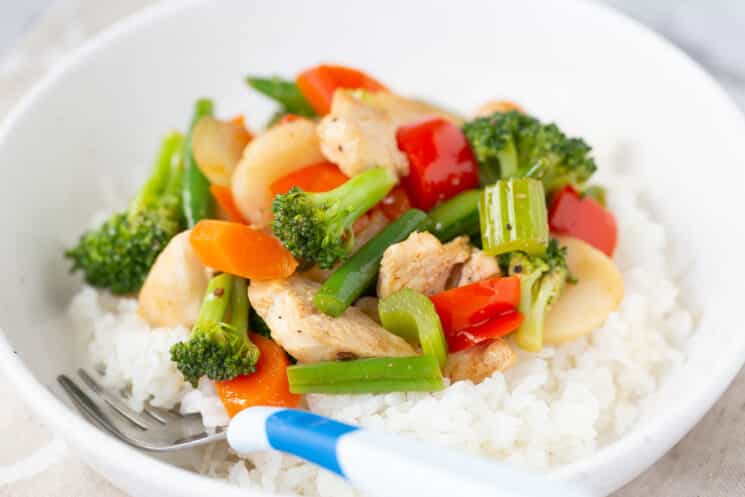 How to Reheat Frozen Stir Fry
You have two options for defrosting this frozen stir-fry. If you've planned ahead, you can transfer it from freezer-to-fridge a day ahead of when you plan to make it. It should be defrosted (or mostly defrosted) by the time you're ready to cook.
The other, last-minute option is to run the whole freezer meal (in the bag) under cold running water for about 20 minutes, until defrosted.
Once it's defrosted, you can simply toss it in a pan with a touch of olive oil or butter and warm it up. It'll take less than ten minutes!

Wait until the last minute or two to add the sauce; this prevents burning and keep your veggies tender-crisp.
Serve your stir-fry over cooked rice or quinoa.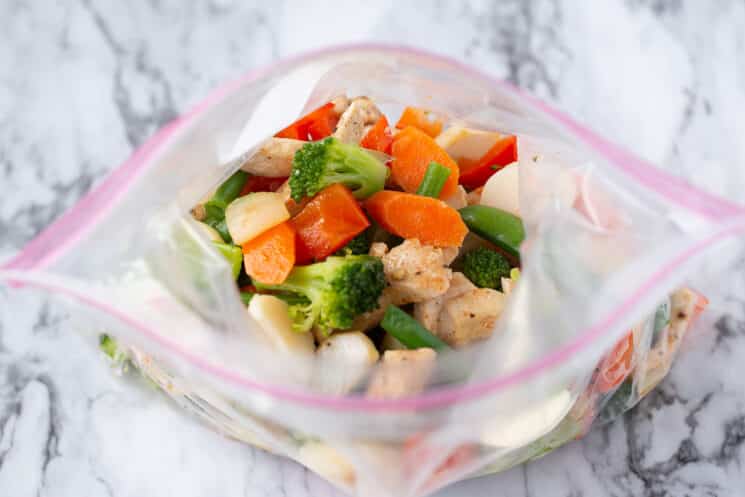 More Fabulous Freezer Meals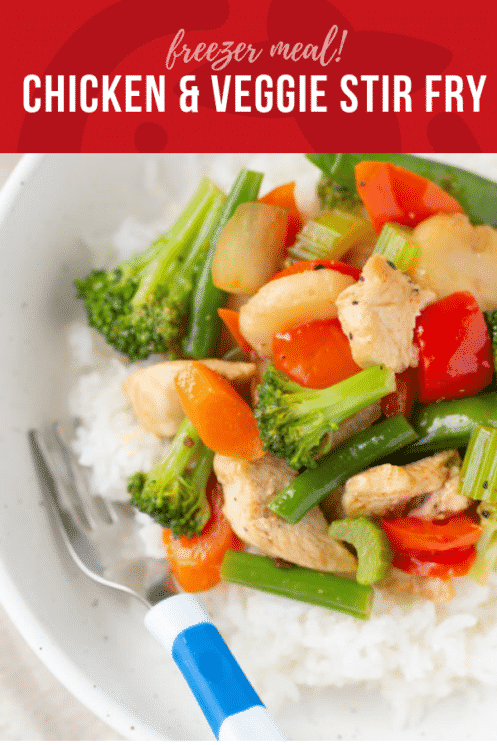 Chicken and Veggie Stir Fry (Freezer Meal!)
Prep a tasty and healthy chicken and veggie stir-fry, freeze it, and have it ready for your next busy weeknight. This tasty freezer meal recipe uses a special but simple technique to ensure that your veggies stay bright and fresh-tasting.
Ingredients
For the Stir Fry
1

cup

broccoli florets

2

stalks

celery

sliced

1

red bell pepper

chopped

2

carrots

peeled and sliced

1

cup

green beans

cut

1/2

cup

water chestnuts

drained

1

pound

chicken breasts

cubed
For the Sauce
6

tablespoons

soy sauce

gluten free if you like

3

tablespoons

rice vinegar

1.5

teaspoons

sesame oil

1.5

tablespoons

brown sugar

1/2

teaspoons

dried ginger
Instructions
Boil a small pot of water to blanch your vegetables. Line a baking sheet with parchment paper or a silicone mat.

Add the veggies to the pot of boiling water one at a time and blanch for 30-90 seconds, until each veggie turns brightly-colored and barely starts to turn tender. (Thin veggies like snow peas will blanch much faster than thicker veggies like broccoli.) Place the veggies on the baking sheet as they come out of the pot. Set the baking sheet aside.

Heat a pan with a drizzle of olive oil over medium-high heat. Cook the cubed chicken in a single layer, turning every few minutes as the meat browns, and until it is fully cooked. This takes about ten minutes.

Spread out the blanched veggies and cooked chicken on the baking sheet and freeze 1 hour.

Meanwhile, mix up the sauce. Whisk all sauce ingredients in a bowl, then transfer to a small zip-top bag.

Place the par-frozen chicken and vegetables in a gallon-sized zip-top bag and place the sealed baggie of sauce inside. Freeze up to 2 months.
To Defrost and Reheat
If possible, place the frozen stir-fry in the refrigerator the night before you plan to eat it, so it can defrost. (If you're getting it ready at the last minute, you can defrost the mixture by running the bag under running water in about 20 minutes.)

Place the thawed stir-fry in a large pan with a touch of oil or butter and cook until heated through. Toss with the sauce during the last minute or two of cooking.

Serve over cooked rice or quinoa.
Nutrition
Calories:
244
kcal
|
Carbohydrates:
20
g
|
Protein:
30
g
|
Fat:
5
g
|
Sodium:
1941
mg
|
Fiber:
4
g
|
Sugar:
11
g
www.superhealthykids.com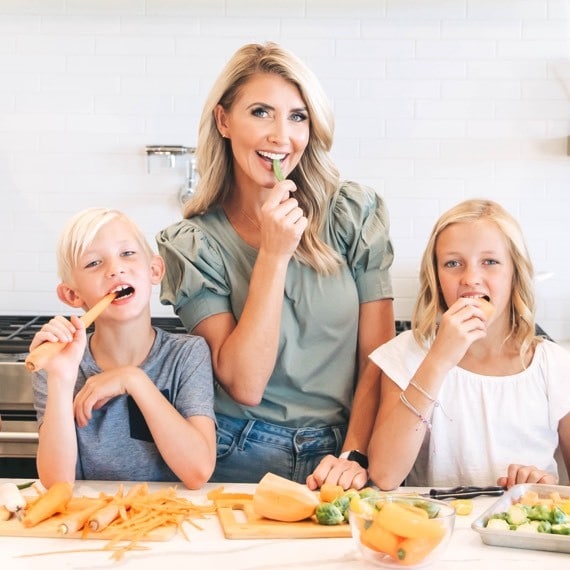 Natalie Monson
I'm a registered dietitian, mom of 4, avid lover of food and strong promoter of healthy habits. Here you will find lots of delicious recipes full of fruits and veggies, tips for getting your kids to eat better and become intuitive eaters and lots of resources for feeding your family.
Learn More about Natalie