Vegan Gluten Free Cupcake Recipe
Delicious vegan, gluten free cupcakes from the cookbook, Vegan Beans from Around The World.
Recently I helped organize a health fair at my children's elementary school. Our focus was to show the school's families and the surrounding community how fun and simple it can be to add more health to our daily lives by having physical activity stations and vendors to showcase their businesses.
A suggestion by a school staff member was to invite a home-based baker and cake decorator. Naturally, I just looked at her in an odd sort of way. My defense was that we were supposed to be encouraging healthy habits and that this event was not a wedding or party planning event. She went on to explain that this baker also had vegetarian and gluten-free options. In the end, she did not showcase at our event. Evidently I was not the only one wondering how cupcakes were going to fit in as a healthy option for a "healthy lifestyle". You know, the lifestyle we were trying to encourage at the health fair.
So where am I going with this? It is birthday week and yes, we do deserve to have a fun day that includes a cake and maybe ice cream. On the other hand am fully aware that some people do live healthy, fulfilling lives as vegetarians and vegans. I respect this and thought it would be great to share this Vegan Gluten Free Cupcake Recipe. I recently tried it from a book I had reviewed called Vegan Beans from Around The World
I personally am not vegan, but I do eat a plant-based diet and love that my family embraces my Meatless Mondays by enjoying plant-based meals that day. My kids are truly hard to sell when it comes to substituting the "sweeter" side of life's indulgences so I was pleasantly surprised when they praised this cupcake. I try my cooking and baking the same way I try coffee, which is without anything added to it. So we tried this cupcake without the icing first. My son said it was like a muffin, which means, it really did not need icing (if you so desire).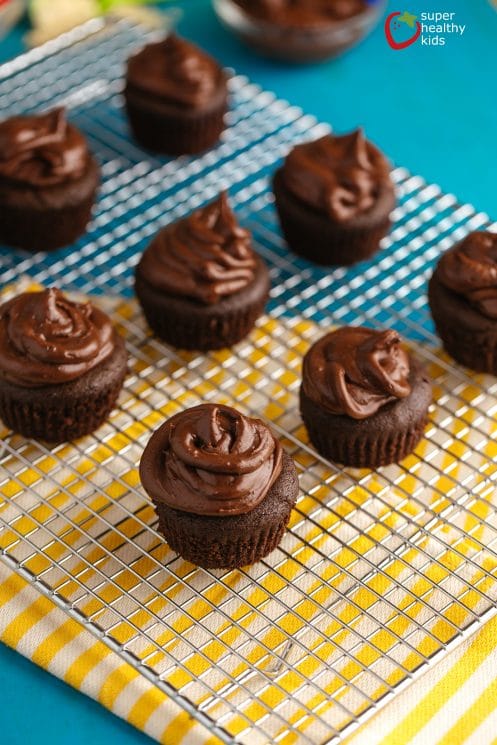 I opted to go with icing I bought at my local Whole Foods Market bakery. I chose this because I know they color their icing with foods such as spinach and beets. Just in case you are looking, here is one recipe for chocolate icing I found on a quick search. It is a vegan imitation to butter cream icing and here is an additional recipe that is a cream cheese flavor.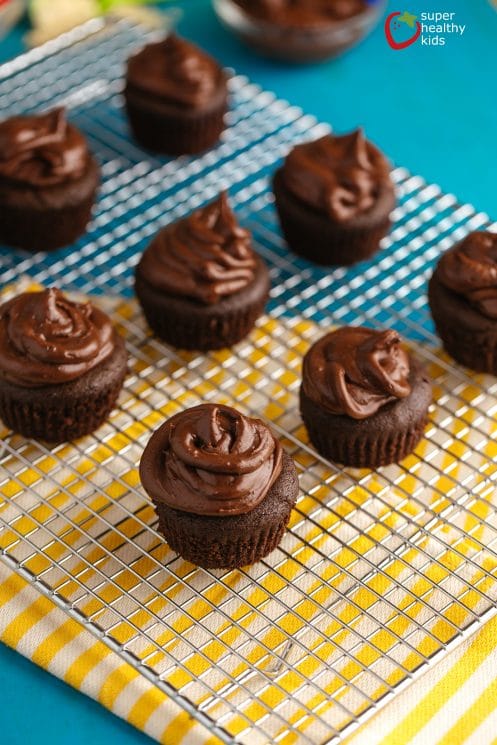 Although this is a sweet treat, these cupcakes provide fiber and protein, too! Please let me know if you are going to try them. Check back in to let me know how they turned out. Enjoy your upcoming celebration!
Ingredients
12

standard

cupcake liners

2 3/4

cup

flour, gluten free

1/2

teaspoon

salt

3/4

cup

cocoa powder, unsweetened

1 3/4

cup

sugar

1 1/2

teaspoon

baking powder

2

teaspoon

baking soda

2

tablespoon

flaxseed, ground

1/4

cup

water

2

teaspoon

vanilla extract

1/2

cup

coconut oil

1

cup

soy milk

1

cup

water
Instructions
Preheat oven to 350 degrees. Place cupcake liners into a muffin pan.

Mix ground flax with 1/4 cup of water and allow to sit while gathering and mixing other ingredients.

Sift flour (we used chickpea (gram) flour), salt, cocoa, sugar, baking powder and baking soda in a large bowl.

In a separate smaller bowl, mix together flax eggs (the water and flax that has been sitting), vanilla, oil, milk (we used almond milk) and boiling water.

Mix wet ingredients into dry ingredients. Pour an even amount into each cupcake liner.

Bake on middle rack for 20-25 minutes and check for doneness by inserting a toothpick into a cupcake, looking for minimal residue, which will indicate that they are finished baking. The tops should be firm when they are done, too.

Allow to cool before icing.
Nutrition
Calories:
312
kcal
|
Carbohydrates:
54
g
|
Protein:
5
g
|
Fat:
11
g
|
Saturated Fat:
8
g
|
Sodium:
323
mg
|
Fiber:
5
g
|
Sugar:
31
g