An amazing way to teach your kids about other cultures is through food. In Ireland, "Irish Soda Bread" is made by using baking soda as it's rising agent, rather than yeast. It is reported this was used instead because of the soft wheat they grow. This site is a fun look into the evolution of the soda bread and contains several recipes. They say traditional and pure soda bread is only made with flour, baking soda, salt, and soured buttermilk. The only thing I changed here is I made my own buttermilk (because we didn't have any). To make your own buttermilk, all you need is to add:
1 cup milk
1 TBL lemon juice
Let milk and lemon juice sit for at least 5 or more minutes.
I love the simplicity of this recipe! Almost like the artisan bread.  Fewer ingredients, and little cooking time is always appealing to me.  I love also the incorporation of whole wheat flour (the finer you have it ground the better, as the flour in Ireland is very soft).
Irish Soda Bread
2 cups white flour
2 cups whole wheat flour
1 1/2 tsp. baking soda
1 tsp. salt
Mix dry ingredients together. In a separate cup, measure:
14 ounces of milk (about 1 3/4 cup)
2 TBL lemon juice
Let wet ingredients sit for five minutes or longer. Add to the dry ingredients and mix until flour is moistened and slightly knead. It should not be over-mixed. Place ball of dough onto a pan, and bake at 425 for 30-45 minutes.
In keeping tradition, we should have eaten our bread with some Irish stew, but we opted for some corn chowder instead.
Wade will eat anything I make. He's a good sport.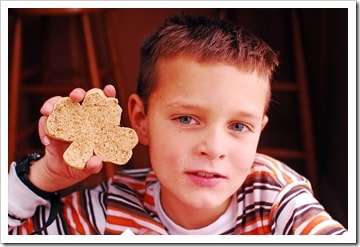 The kids felt like it was a bit bland, but overall, I think it wasn't bad.
I could not have put together any letter-I posts this week without the help of Chelsea, Abigail, Mom Said, Emily (Iguana anyone?), Mary, Venessa, and Drama Mama! Thanks ladies!
---