Healthy Irish Chicken and Dumpling Soup Recipe
You'll feel lucky you found this healthier version of Irish chicken and dumpling soup – it's so hearty and delicious! We added extra veggies, cut out unnecessary fat, and made our dumplings out of whole wheat.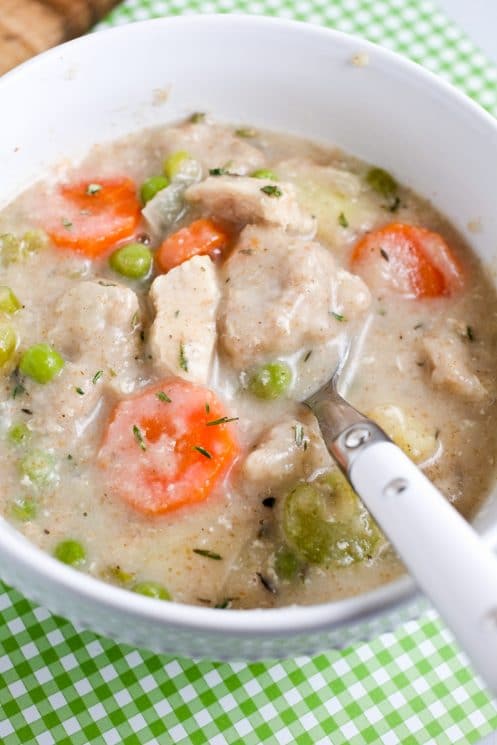 I first made Irish chicken and dumpling soup in college. I hosted a group of friends for dinner on St. Patrick's day – and it was a hit!
Since then I've made healthier changes here and there, and each has only made me like it more! I've omitted canned cream of chicken soup or cream and made dumplings out of whole wheat instead of Bisquick. I've added extra veggies too, of course.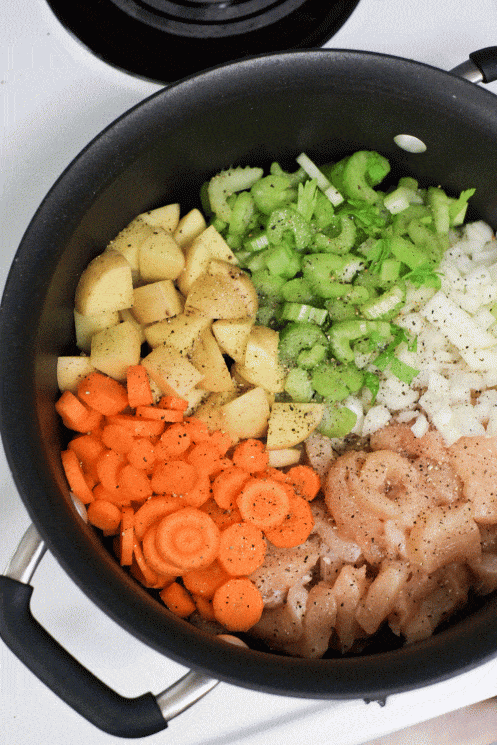 What we love about healthy chicken and dumplings
Of course we love the veggies! A few stalks of celery, a handful of carrots, a cup of peas, and a couple of potatoes. Boil this all up with some chicken breast and whole wheat dumplings and you have quite a well-rounded meal.
The soup base is simply low-sodium chicken broth. I worried we might miss the creaminess of adding condensed soup, but I don't miss it one bit. The dumplings let off extra flour that helps to thicken the soup really nicely.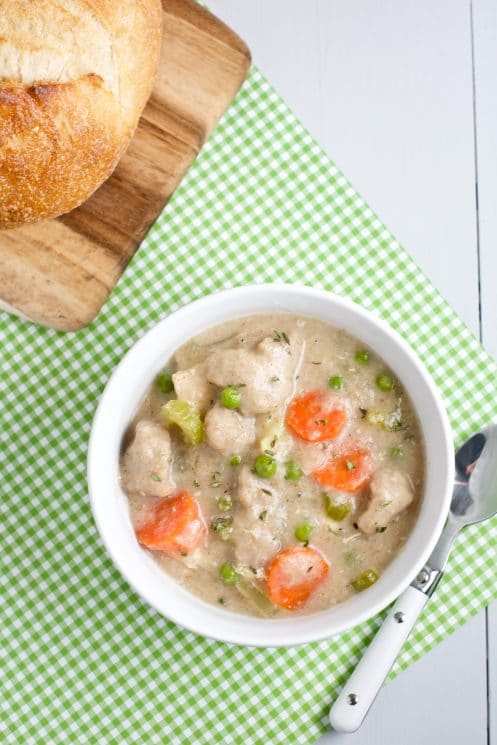 Whole wheat dumplings really help make this a filling and healthy meal too. They are definitely distinctly whole wheat, so if your family prefers regular flour that also works. Whole white wheat would be ideal if you want top nutrition with less wheat-ness. Olive oil was a great alternative to butter that is used in some dumplings, and they still turned out fluffy and well-cooked.
Making Irish Chicken and Dumplings
First chop your carrots, celery, onion, and potato. Potatoes took the longest to cook for me, so I recommend cutting them on the small side. Also slice up the chicken breasts into thin, small strips. You're welcome to use thighs if you prefer – I have heard they work wonderfully.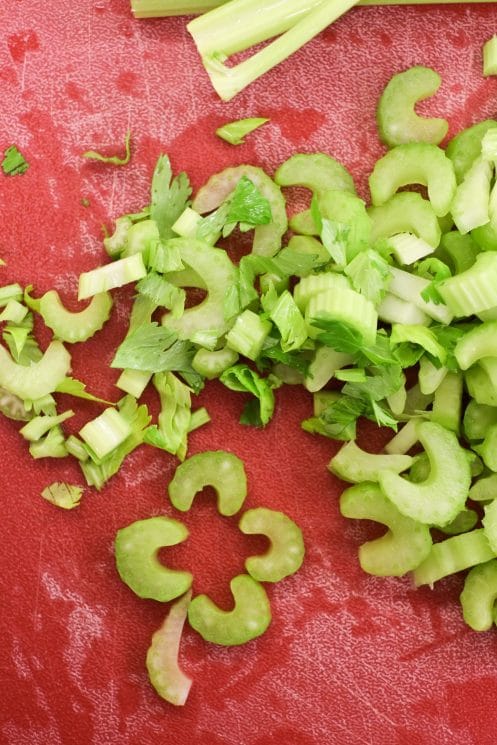 Dump all veggies, onion, and chicken into a large pot. Add salt, pepper, thyme, and low sodium chicken broth. Bring the pot to a boil, stirring occasionally. Then cover and turn down the heat to medium-low and allow it to simmer for 10 minutes.
Meanwhile, mix up the dumpling dough. In a small mixing bowl, add flour, salt, and garlic powder. Add milk and oil and mix until combined.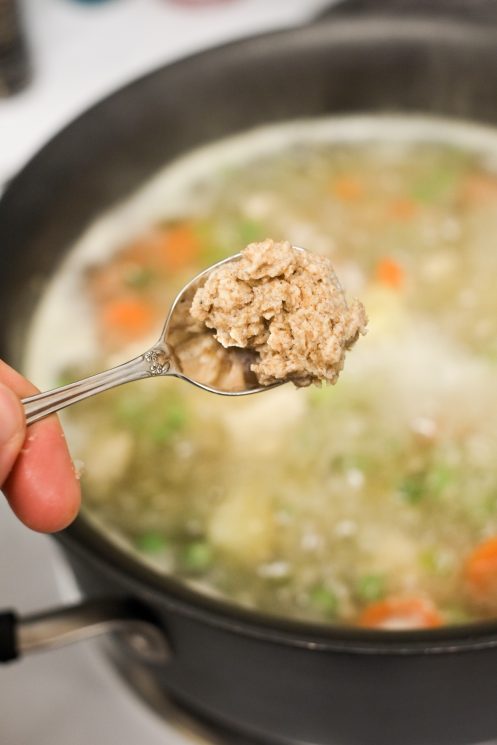 Once the pot has simmered for 10 minutes, bring the heat back up to medium-high and add a cup of frozen peas. At a rolling boil, drop teaspoonfuls of dumpling dough into the bubbling pot. Once all the dough has been dropped in, cover the pot once more.
Keep the pot covered for 15 minutes and reduce heat only enough to keep the pot from boiling over. You need to keep a boil going but don't want a mess. Do not remove the lid during this time, since the dumplings are not only boiling but steaming.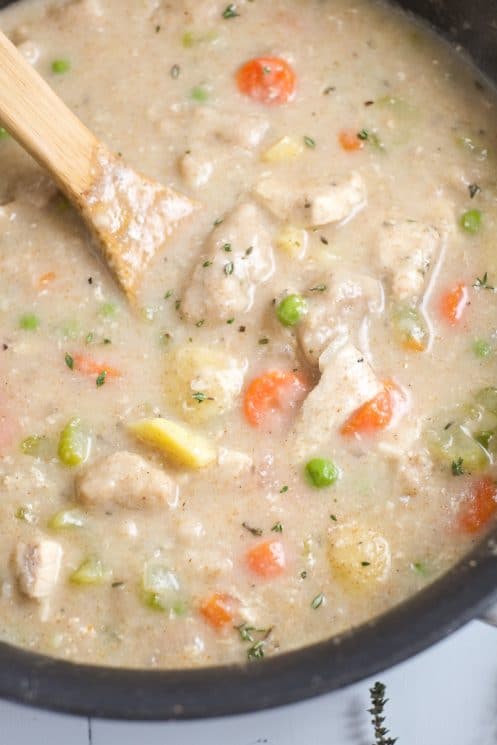 Check your veggies and chicken to make sure they are cooked through (they should be). And that's it!
How to Make a Perfect Dumpling
Here are my tips on helping your dumplings come cooked, fluffy, and not gooey.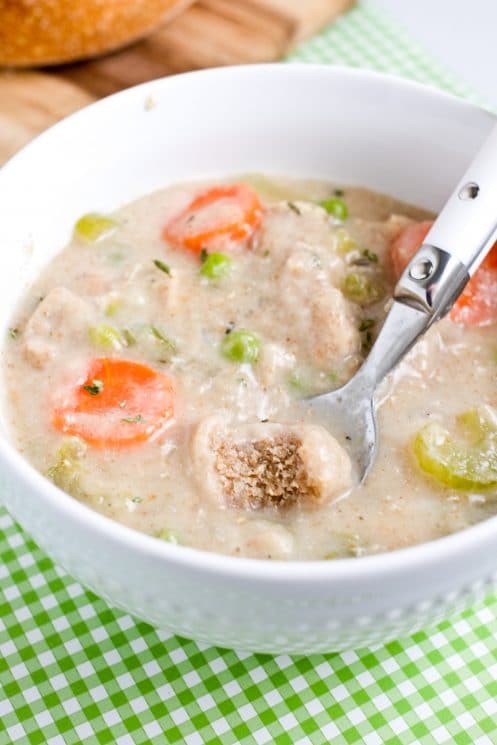 When mixing the dough, you want it to be wet but not drippy. Mix until well combined but don't mix more than you have to.
Make fairly small and consistently-sized dumplings. Dumplings will expand, so unless you like them the size of biscuits I recommend making them about teaspoon-sized. This also allows kids to fit them in their small mouths!
Don't drop dumplings in the soup until it is at a rolling boil. They need to be dropped in while it's really hot!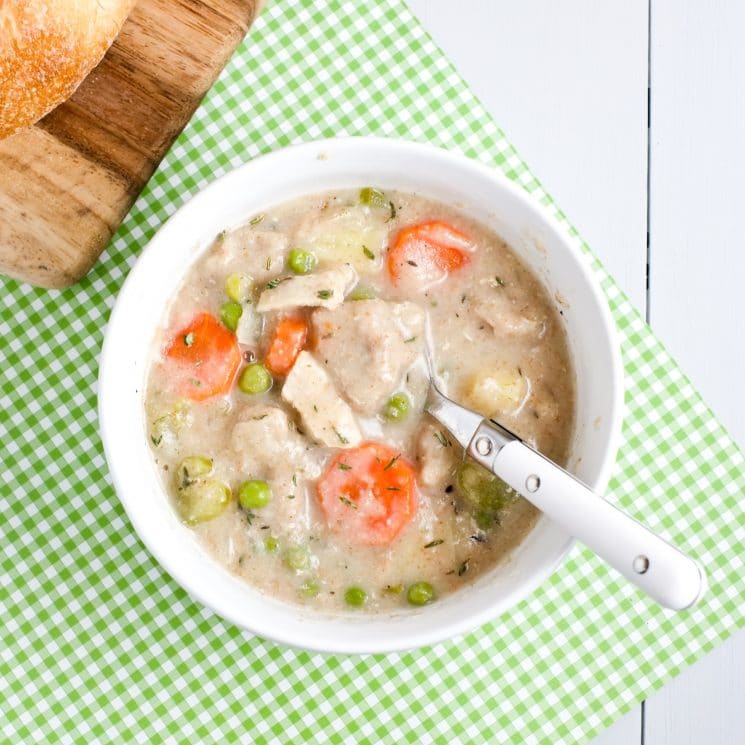 Cover the pot once all the dumplings are in and do not remove the lid until cooking time is over! For small dumplings I covered the pot for 15 minutes without even a peek (larger would need maybe 5 or so more minutes). They need the steaming and boiling to cook thoroughly.
Dumplings will cover the top and may look like they blend together, but don't worry. They will all be distinct and separate in the end.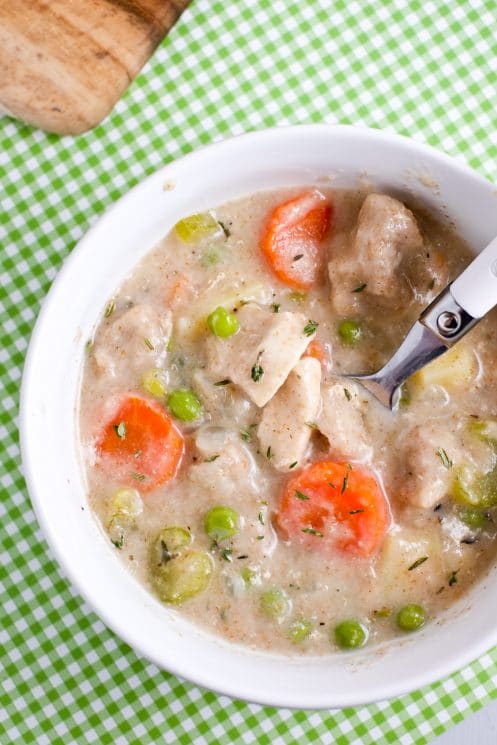 Sometimes making dumplings takes a little trial and error, so don't be discouraged! It's pretty fun to make and eat them once you get the hang of it.
Enjoy this hearty soup with a side of Irish soda bread!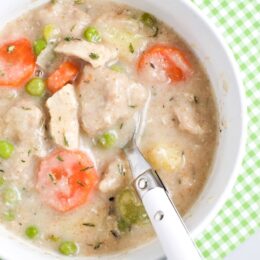 Ingredients
1

pound

chicken breast

1/2

medium

onion

3

medium

carrot

2

stalk

celery

1

medium

russet potato

1/2

teaspoon

thyme, dried

1

teaspoon

salt

1/4

teaspoon

black pepper, ground

5

cup

chicken broth, low-sodium

1

cup

green peas, frozen
Dumplings
1

cup

flour, whole wheat

2

teaspoon

baking powder

1/2

teaspoon

salt

1/4

teaspoon

garlic powder

1/2

cup

milk

2

tablespoon

olive oil
Instructions
Cut chicken breast into thin, bite-sized slices. Peel and slice carrot. Chop celery and potato into small pieces. Finely dice onion.

In a large pot, add chicken, veggies, broth, and seasonings and bring the pot to a boil over medium-high heat. Cover and reduce heat to simmer for 10 minutes.

Meanwhile, mix together the dumpling dough. Stir together flour, baking powder, salt, and garlic powder. Then add milk and olive oil and mix until combined.

After ten minutes, add 1 cup of frozen peas and return to a boil over medium-high heat. Once at a rolling boil, drop teaspoonfuls of dumpling dough into the boiling water until all dough is used.

Cover the pot and reduce heat to medium, keeping it at a boil without bubbling over. Keep closed for 15 minutes while dumplings cook/steam.

After 15 minutes, remove lid and check to make sure veggies, chicken and dumplings are cooked. Dumplings should be cooked in the center rather than doughy. If needed, keep the pot boiling for a few more minutes until all parts are cooked to your liking.